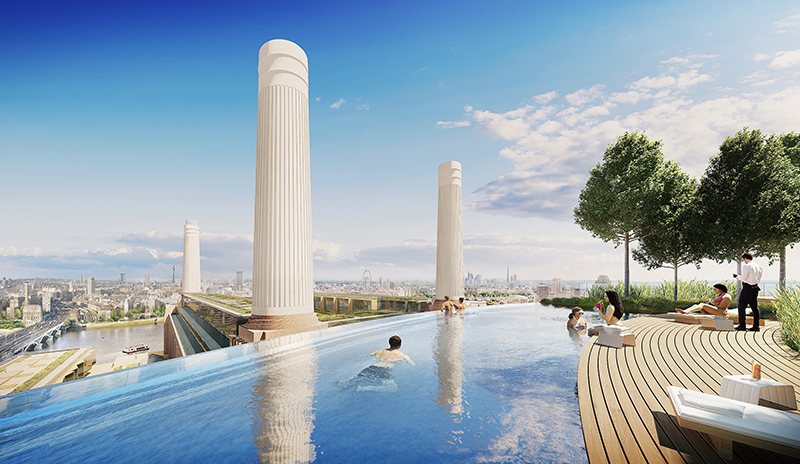 On behalf of the Battersea Power Station shareholders, Battersea Power Station Development Company  and art'otel® are pleased to confirm the signing of a hotel management agreement with lifestyle hotel operator art'otel®. The hotel will be developed by Battersea Power Station and managed by PPHE Hotel Group, owner of the art'otel brand.
art'otel london battersea power station is planned to open in 2019, in a building designed by Foster + Partners and set around the historic Grade II* listed Battersea Power Station. The 160 plus -bedroom luxury lifestyle hotel will offer incredible guest amenities with a number of show-stopping skyline floors boasting panoramic views leading up to the stunning Roof
Garden designed by the New York High Line team, James Corner Field Operations. This jewel in the crown features an outdoor rooftop pool and bar overlooking the iconic chimneys. Beneath the beautifully curated gardens a signature destination restaurant and double height bar with wraparound views across the Power Station and London skyline will become a favourite go-to destination in the area.
Guests will be welcomed by a public gallery; a multi-purpose creative space offering a rotating calendar of exhibitions, as well as cultural and artistic events supporting established and up-and-coming artists alike. With a lounge and café sitting alongside, the space will be a welcoming destination for guests and visitors to enjoy the ever – changing cultural offering. Battersea Power Station's much-loved silhouette on London's skyline will be transformed into a pioneering, creative and commercial destination within the emerging Nine Elms on the South Bank cultural district.
art'otel is a contemporary collection of hotels located in cosmopolitan centres across Europe that fuse exceptional architectural style with art-inspired interiors. With a powerful combination of world-class art from some of the world's most exciting artists and best-in-class service delivered by a talented team, art'otel offers a hotel experience like no other. art'otel redefines the traditional hotel experience by allowing guests to live within the creative process, surrounded by captivating art. At the brand's heart lies the art itself. The signature art'otel artist is yet to be revealed but is likely to be an acclaimed local or national artist.
Rob Tincknell, CEO of Battersea Power Station Development Company commented;
"We are incredibly excited to be announcing this important transaction and for it to be with such an innovative hotel company. The selection process to find the right brand and operator
was a very competitive and thorough one, involving the leading hotel brands from around the world. art'otel was a standout winner, a brand unlike anything we have seen in London to date, and it is particularly fitting for it to have art at the very heart of the brand and the hotel itself. I am confident that together with art'otel we will deliver a beyond expectations hotel."
Boris Ivesha, President & Chief Executive Officer, PPHE Hotel Group added; "We are delighted to be a part of the London of tomorrow. The Battersea Power Station Development will transform London's skyline; creating a new destination and hub for local communities, visitors and residents. As a Company we take pride in opening hotels, restaurants and bars in areas which are embarking on new urban and community journeys and the Battersea Power Station project is a spectacular example of this. art'otel perfectly complements the shareholders of Battersea Power Station's vision and we look forward to working together to create a new chapter in London's history over the next four years."
art'otel is part of the PPHE Hotel Group which operates a majority of their 38 hotels under two distinct brands, Park Plaza Hotels & Resorts and art'otel. art'otel london battersea power station is expected to be the first art'otel to be opened in London.
The hotel's design style will draw inspiration from the award-winning art'otel amsterdam, which fuses innovative design with urban, discussion-provoking art curated and created by Atelier van Lieshout; which opened in 2013. Sitting in the middle of the Battersea Power Station development art'otel will form the very heart of the new neighbourhood which will become one of London's most vibrant new riverside destinations as well as a global attraction. Attracting a genuine mix of some of the most exciting global businesses alongside local British businesses and brands to occupy shops, offices and restaurants, A place is being created where people will live, work and visit 24/7 within a thriving new Battersea community.
art'otel will be an integral part of Phase 3, Electric Boulevard which is set within the £8 billion Battersea Power Station development project, Europe's largest privately funded urban regeneration project which will, when complete deliver over 17,000 direct and indirect jobs at the development. Rafael Viñoly architect and masterplanner for the project designed the masterplan to allow a phased development approach which takes place from west to east.
Phase 3 of the Battersea Power Station development has been designed by Gehry Partners and Foster + Partners. In addition to art'otel, Phase 3 will comprise over 1,300 residential homes, a new pedestrian high street lined with shops and restaurants known as The
Electric Boulevard; a new public park and community hub known as The Prospect and a new Battersea Power Station London Underground Station,
Homes within Phase 3 of Battersea Power Station are available with prices from £1.4m for a 2 bedroom. For more details on Battersea Roof Gardens (Foster + Partners designed) and Prospect Place (Gehry Partners designed) the Pavilion marketing suite and show apartments are open Monday – Saturday by appointment. To book to meet the sales team please contact: sales@bpsdc.co.uk or call +44 (0)207 501 0678.
Phase 3 by numbers
1,305 new homes
250m long High Street
250m roof garden with stunning views of London
160 room luxury hotel
103 affordable homes
57 flagship stores, High Street favourites, restaurants & cafes
1 new Zone 1 Northern Line tube station
1 new Public Park – called Prospect Park
1 new children's playground designed Gehry Partners
1 community hub designed by Gehry Partners
1 new medical centre
1 leisure club
Battersea Power Station
Battersea Power Station is at the heart of one of central London's largest, most visionary and eagerly anticipated new developments, which will see this vast 42-acre former industrial brownfield site become home to a community of homes, shops, cafes, offices and 18 acres of public space. The outline planning application for architect Rafael Viñoly's masterplan for
the site was approved by Wandsworth Council and the Mayor of London in 2010 and approved by the Secretary of State and permission granted in August 2011.
The £8bn project will see the creation of a vibrant, mixed-use development, a new town centre for London serviced by an extension to the Northern Line and the restoration of the Grade II* listed Power Station. Battersea Power Station is contributing up to £211m to the NLE, which was guaranteed by the Chancellor of the Exchequer George Osborne in the Autumn Statement of November 2012. According to Prime Minister David Cameron, it is the 'jewel in the crown' of central London's significant regeneration area, Nine Elms on London's South Bank.
The overall project is divided into seven phases, with each designed by a range of specialist architects. These include SimpsonHaugh and Partners and De Rijke Marsh Morgan (dRMM) in Phase 1 (Circus West), Wilkinson Eyre Architects in Phase 2 (The Power Station), and Foster + Partners and Gehry Partners in Phase 3 (The Electric Boulevard, Battersea Roof Gardens and Prospect Place.)
Construction work officially began with Phase 1 on July 4th, 2013 – the 80th anniversary of this historic building. The overall development is anticipated to be completed in 2025, with The Power Station itself expected to be open to the public for the first time in over 30 years in 2019.
The Battersea Power Station site is owned by a consortium of Malaysian investors comprising S P Setia, Sime Darby and the Employees' Provident Fund. The development management of the project is being undertaken by British based, Battersea Power Station Development Company.
About art'otel®
art'otel is a vibrant hotel brand which fuses art and life. With a powerful combination of world-class art and best-in-class service, art'otels offer a hotel experience like no other. art'otel aims to set the standard for the future of hospitality by opening guests' minds to new experiences and challenging perceptions of what a hotel is and should be. Each art'otel is linked to a dedicated signature artist.
The art'otel collection consists of six hotels located in some of Europe's most cultural cities, including art'otel amsterdam which opened in September 2013, and the brand's signature artists include Warhol, Baselitz, Sultan and SEO among others.
art'otel is fully owned by PPHE Hotel Group Limited which owns, leases, operates, franchises and develops full service upscale and lifestyle hotels in major gateway cities and regional centres, predominantly in Europe. PPHE Hotel Group's portfolio comprises 38 hotels offering a total of more than 8,300 rooms, with new developments and extensions in the pipeline, adding approximately an additional 1,500 rooms.
PPHE Hotel Group's shares are admitted to trading on the main list of the LSE (Standard Listing).
Source : Company