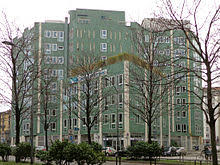 PATRIZIA Immobilien AG, the global partner for pan-European real estate investment, announces that it has acquired the Palazzo Montedoria office building in Milan from BNP Paribas REIM for one of its single investor funds. The Palazzo Montedoria building is considered a landmark in Milan. Designed by the late architect Giò Ponti, it offers around 6,000 sq m of lettable space, is BREAM certified and its location in the new CBD of Porta Nuova means it is well-connected to the city's transportation infrastructure.
Marco Grassidonio, PATRIZIA's Country Manager & Head of Asset Management Italy, commented: "The office real estate market in Milan has shown excellent growth over the last few years and is expected to build on this momentum. This landmark acquisition represents a key milestone for PATRIZIA in Italy and confirms the company's ambition to continue investing in Italy across all asset classes as an important region for diversification of our clients' portfolios."
This acquisition increases PATRIZIA's assets under management (AUM) in Italy to EUR 530 m, and takes its pan-European office AUM to around EUR 14.5bn.
Source : Company