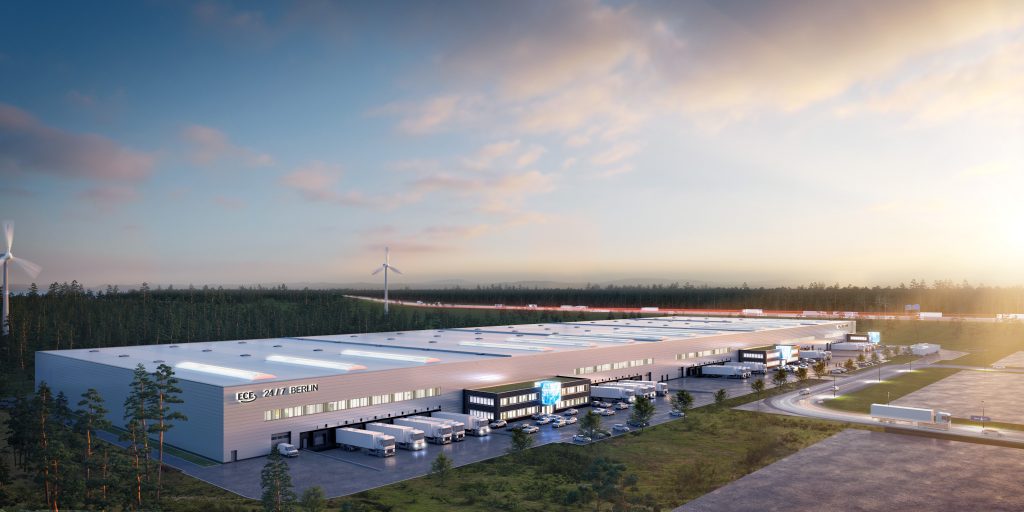 ECE responds to the increasing demand for premium logistics facilities by planning four new logistics centers with an overall floor space of 246,000m² at four premium locations which are well-connected to the local transportation network.
The construction of the first project will already commence in December 2019: The "Logistik Center Berlin Süd I" is located at Königs Wusterhausen, south of Berlin, only about 5 kilometers from the city border and only one kilometer away from the Berlin beltway (A19) and is therefore well connected to the local transportation network. In addition, Berlin-Schönefeld airport is only 15 to 20 minutes away and the location allows for a 24/7 use without restrictions.
This state-of-the-art facility has a logistics space of 56,000m² and can be divided into units of 5,000m². Thus, the building allows for individually-sized spaces, flexible leasing terms for different tenants, or the leasing of the entire facility to a single user. The property also encompasses separate office and social areas with premium furniture. The "Logistik-Center Berlin Süd I" will be available in the fourth quarter 2020.
ECE is planning further logistics centers at three locations with a floor space from more than 40,000m² up to approximately 90,000m². Their completion is slated for 2020, 2022, and 2023.
All logistics facilities are extremely energy-efficient and are planned to meet the highest sustainability standards. ECE strives to receive a DGNB gold certification for them. Due to the sustainable construction method and the low-energy consumption the tenants will benefit from low ancillary costs.
Source : Company