di Paola G. Lunghini.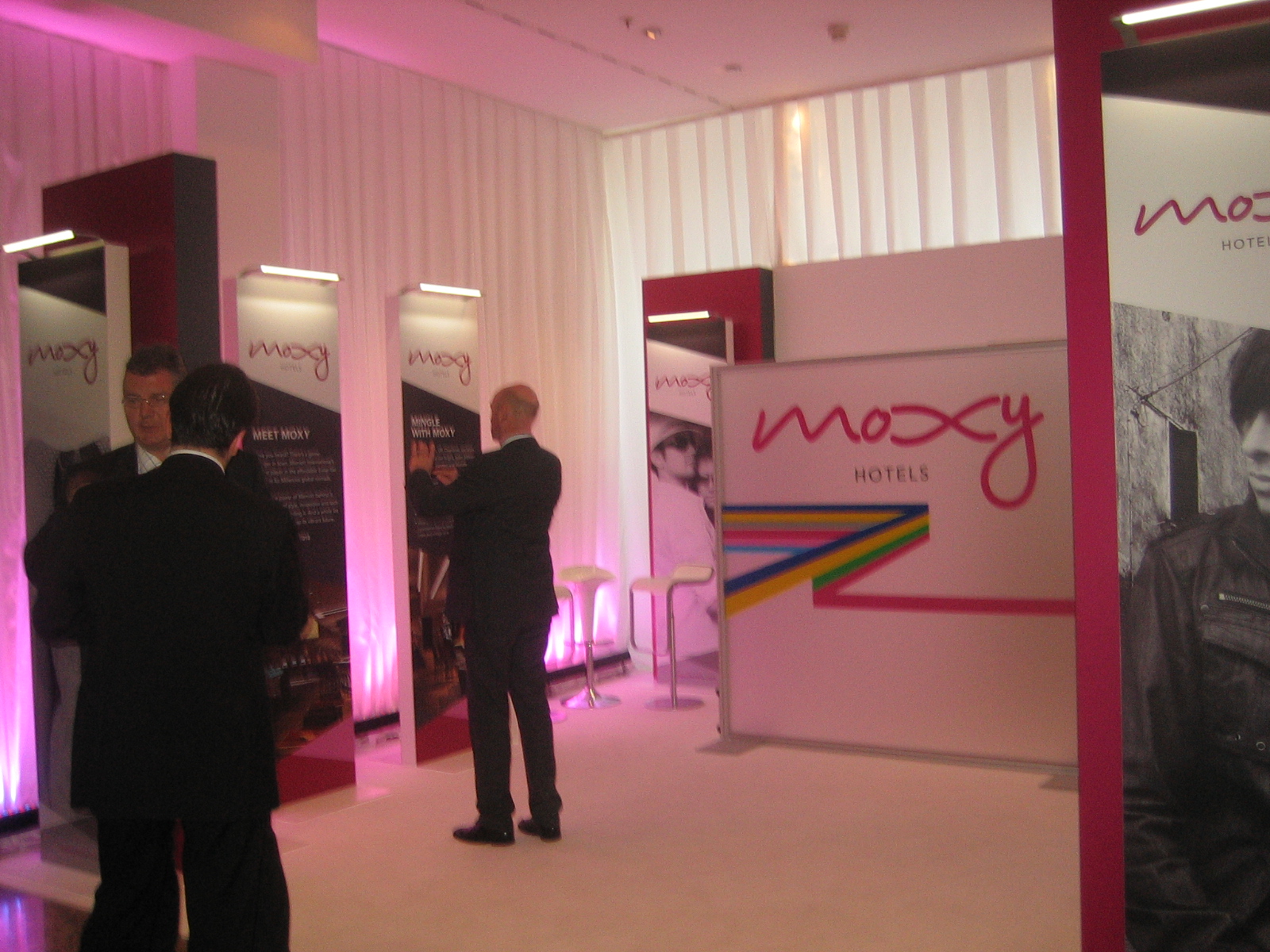 Tra i vari  annunci  che hanno trovato nell' IHIF- International Hotel Investment Forum di Berlino ( 4-6 marzo us) il loro naturale palcoscenico, molti riflettori ha attirato Marriott che -alla lodging industry  convenuta all' Hotel  InterContinental per il più importante proprio meeting annuale-  ha presentato il nuovo brand :  Moxy Hotels, che debutterà  in Italia, e precisamente  a Milano , nei pressi dell' aeroporto di Malpensa, all' inizio  del 2014.
Solo due anni di studi per sviluppare la formula, ci sono voluti.
Poiché  il programma  prevede l'apertura di circa 150 Moxy – in franchising –  in dieci anni e  in dieci Paesi europei  (oltre a Milano  i primi a partire saranno a Bruxelles, Amsterdam, Oslo, Amburgo, Monaco, Liverpool, Dublino, etc ) , e quindi c'è fretta,  «Marriott is working closely with Inter Hospitality who will be the initial developer and owner of the first Moxy Hotel properties. Marriott has selected Nordic Hospitality to be its first franchisee to operate the brand. Nordic Hospitality is an experienced hotel operator that currently manages several Marriott brand hotels in Scandinavia».
Circa 150-300 saranno  le camere, mediamente, tutte rigorosamente  uguali ma " seducenti", con bella biancheria,  free WIFI of course,  Tv a 42 pollici,  inaspettate amenities  nei bagni, e altre piacevolezze. Ma «each room will also feature a floor to ceiling signature "art wall" that is hand selected to reflect the local city or surroundings».  Inoltre , Moxy offrirà « healthy continental breakfast and an evening bar featuring wines by the glass and local brews».

Guai a chiamarlo low cost, il Moxy ( quanto mi piace questo nome!)  : si dice «economy tier, three-star hospitality segment»  ( pare che il prezzo della camera si possa aggirare intorno ai 60 euro).

Arne Sorenson, Presidente e  CEO of Marriott International, è apparso molto soddisfatto della nuova creatura, che sarà sì economica, ma stylish e " vibrante " , anche nelle parti comuni, perché « Moxy is the essence of the next generation traveler, not only Gen X and Y but people with a younger sensibility, for whom contemporary style is paramount».   E  Arne ritiene che «Marriott will lead the way in redefining the traditional economy hotel experience throughout Europe».

Di Marriott International tutto si sa : è «a leading lodging company based in Bethesda, Maryland, USA with more than 3,800 properties in 74 countries and territories and reported revenues of nearly $12 billion in fiscal year 2012. The company operates and franchises hotels and licenses vacation ownership resorts under 18 brands».
 
Ma chi è Inter Hospitality Holding B.V ? Eh eh, la società « was established in January 2012 to create long term value for the Property Division of Inter IKEA Group by developing and investing in hotel properties and student properties across Europe. Currently its focus is on acquiring sites for hotel development in Germany, the United Kingdom, Italy, Netherlands, Belgium and Austria. Inter Hospitality is located in Amsterdam, the Netherlands».
Nordic Hospitality AS, invece, è « a Norwegian hotel management and development company operating Marriott hotels in Scandinavia under franchise agreement. The company's pipeline currently includes hotels in Poland, Finland and The Netherlands. In August 2012, a new central office in Amsterdam was established to support development and operations for the new Moxy Hotels».
Si parla di un investimento , per ora , di 500 milioni; ma i  partner avvertono che «the number of Moxy  we plan to open in the future, and timing and locations of those openings, and the features of the to-be-opened hotels are all "forward-looking statements" within the meaning of federal securities laws, and are not historical facts. We caution you that these statements are not guarantees of future performance and are subject to numerous risks and uncertainties. Risks that could affect the forward-looking statements include changes in market conditions; economic conditions in Europe, competitive conditions in the lodging industry; and the availability of capital to finance hotel development. Any of these factors could cause actual results to differ materially from the expectations we express or imply in this press release. We make these forward-looking statements as of February 19, 2013. We undertake no obligation to publicly update or revise any forward-looking statement, whether as a result of new information, future events or otherwise».

In ogni caso, nello stand  di Marriott ( si veda la foto  ) si poteva visitare il mock up della camera,  con tanto di bagno. Se non ricordo male, sono complessivamente  17 metri quadri . Più che decentissimi .

Ancora una cosetta : Marriott dichiara pubblicamente ( addirittura sul depliant illustrativo) che i concorrenti del nuovo brand sono Ibis, Holiday Inn  Express, Hampton by Hilton e citizenM Hotels , e Motel One. Tanto per avvisarli, vero…

Ma Motel One , intanto, non sta certo a guardare. La catena  low cost  ( fondata nel 2000 in Germania  da Dieter Müller ,  che ne è CEO , opera  oggi  con 42 Hotel , di cui 22  in proprietà e 20  con long- term leases, per un totale di oltre 9.200 camere ),  ha  28 alberghi in pipeline , di cui dieci già in costruzione , e ha iniziato la penetrazione in Europa : Austria, UK, Benelux e CEE.
Nel 2016 aprirà il flagship berlinese, sito in pieno centro ( proprio di fronte al Waldorf Astoria ; 582 camere su 18 piani) . L' investitore è Strabag Real Estate.