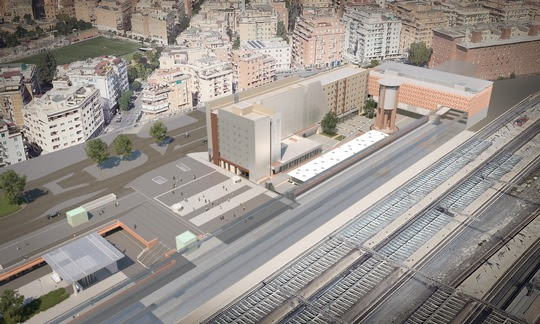 Benvenuti in the Eternal City. The new build IntercityHotel Rome Tiburtina will become Deutsche Hospitality's first hotel in the Italian capital once it opens for business in 2024. Located directly adjacent to Tiburtina mainline railway station and within the immediate vicinity of Rome's old quarter, this market launch by Deutsche Hospitality will offer around 311 rooms, a restaurant, a bar and six conference rooms. The project is being realised in conjunction with Progretto Tiburtina S.R.L., a subsidiary of MTK Group AG, with which Deutsche Hospitality has already successfully collaborated on the recently opened Jaz in the City Vienna.
"Rome is a highly significant strategic location for our continuing growth in Italy and in South-eastern Europe," said Marcus Bernhardt, CEO of Deutsche Hospitality.
"I am highly delighted that we have become involved in a further project with Deutsche Hospitality," added Delf Stüven, CEO of MTK Group AG. "This real estate development in Rome is another milestone for MTK Group AG. In 2019, we already completed our first Italian project in Venice/Mestre. The four hotels we constructed were handed over to internationally renowned operators and subsequently sold to an international fund."
The IntercityHotel Rome Tiburtina will represent Deutsche Hospitality's first ever presence in Europe's oldest capital.
Source : Deutsche Hospitality