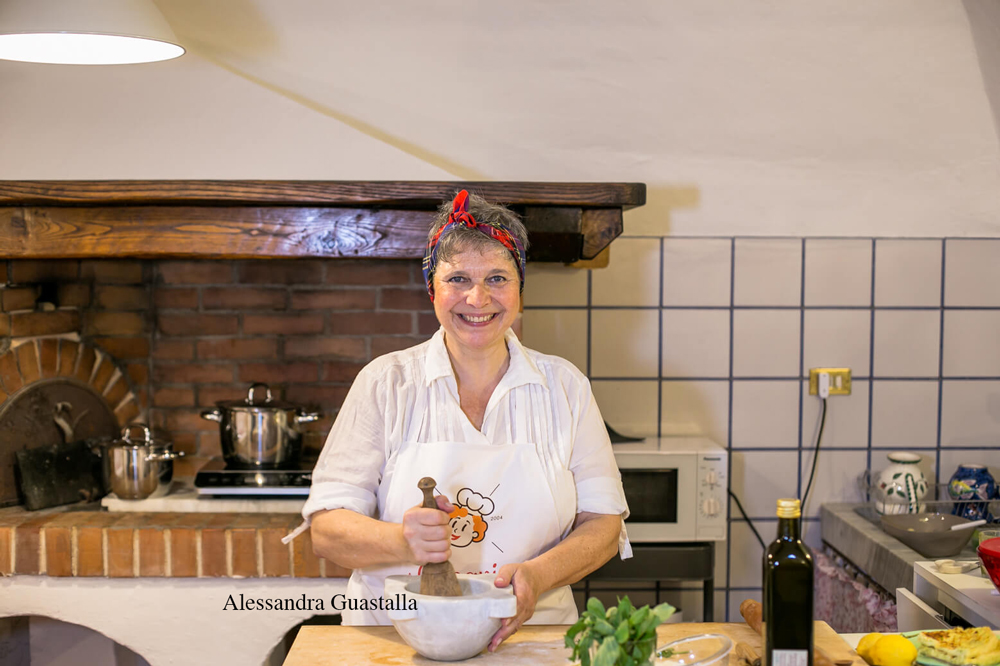 Summer 2017 is all about 'wanderlust'. Everyone wants to get off the well-trodden tourist path and discover Italy's best-kept secrets, where local traditions are still a vital part of daily life and authentic regional cooking truly reflects a town's cultural heritage. Here, in little towns buried in sweeping valleys, in tiny villages perched on rocky hilltops or on wild beaches, it's time for a secret escape. Immerse yourself in the beauty of Italy's hidden towns and villages, with the only guide you'll need – a Cesarina.
What could be better than spending your holidays discovering the best of Italy, following an itinerary of food experiences with Le Cesarine? This network of passionate home chefs has been working for over 12 years to preserve Italy's culinary heritage and keep people's connection with their regional history and traditions alive.
To discover the real Italy, you can travel through the country stopping off at the Cesarine's houses along the way, which are spread out all over Italy. Passing through Italy's smaller towns and villages, you can build your own personal itinerary and follow the footsteps of the finest food and wine, all in the name of 'buon vivere'.
Learning about Italy's culinary herirage with Le Cesarine is an absorbing experience, a journey for the senses through the flavours and colours of times gone by. So, how do we get started? Today, we're going to imagine an itinerary that takes us through the secret, undiscovered towns and villages of Italy. Let's begin in the north, in the tiny town of Zuccarello, perched on the banks of the river Neva, where you can discover the area's magical cuisine with our Cesarina Alessandra. She prepares classics from Liguria, such as gnocchi al pesto and her town's specialty, the San Bartolomeo cake.
Following the theme of Italy's history, we arrive in the magnificent rennaissance town of Pienza, nestled in the hills of Siena, where the memories of Tuscany's illustruous past live on in Angela's cooking. This Cesarina prepares delicacies such as hand-rolled 'pici' pasta, and feeds her guests' imaginations with delicious and colourful "rifatte" vegetables.
Taste, memories and passion are what form the fabric of Italy's culture, and this is plain to see in towns such as Formia, which is home to thousands of years of history, from the Romans, to the Barbarians, to the present day. Cesarina Mariella's table is always laden with fabulous food, a celebration of the sea and its wonderful produce. She begins with a marinated anchovy starter, with an octopus 'tiella', before a generous plate of 'spaghetti alla Formiana', which combines tomatoes, clams and striped prawns… And if that isn't enough, we also have a classic 'frittura di paranza', a triumph of sea flavours. In the very south of Italy, you will find the beating heart of Sicilian tradition in Modica. There, Cesarina Giovanna delves into the history of the island's fascinating cuisine, with delicate ricotta and marjoram ravioli, cavatelli pasta with a meat sauce, and sweet chocolate treats. Modica is world-famous for its typical chocolate, and Giovanna uses it in her 'mpanatigghi', a delicious local dessert prepared according to her family recipe.
Let's return to the north of Italy, and pop in for a visit of Dozza Imolese, one of the most enchanting medieval towns in the Appenines between Emilia Romagna and Tuscany. It is filled with murals and surrounded by rolling hills.
Here, you can lose yourself in the town's incredible history and satisfy your curiosity by attending one of the many food festivals in the area. Once you're tired from all that exploring, take a break at Maria's house, where she will delight you with her unique take on traditional flavours. From red garganelli pasta with ragù sauce to vegetables with crispy ham, and 'zabaione' gelato with a hint of balsamic vinegar, you'll learn all about the region's fascinating culinary heritage at the table.
Now, we're heading to the foothills of the Lessini mountains, where you can discover the rich culinary history of Soave, where our Cesarino Aristide lives. The town's cuisine features polenta, served with 'erbette', similar to chard, and cheese fondue, as well as meat-cooking methods that have been in use here for centuries. The region is also home to several prestigious wines, which are the perfect accompaniment.
It's an amazing experience to discover the hundreds of recipes that make up Italy's ancient culinary heritage, many of which are long-forgotten and almost impossible to find in local restaurants. Exploring towns that are a little off-the-beaten-track, you can discover Italy for yourself and have a taste of its incredible history, that goes back thousands of years. There's always something new to surprise you just around the corner, and it is sure to be an emotional and exciting adventure.
Getting started couldn't be simpler. At www.cesarine.it, you can search for the town or city that interests you, and you can then choose your favourite Cesarina and the date you'd like to book. In no time at all, you can book a world of new experiences and enjoy an unforgettable holiday full of memories you'll treasure forever. Not only will you appreciate and understand Italian food on a whole new level, but you will experience the authentic atmosphere and genuine welcome of real, everyday Italian homes.
For Le Cesarine, tradition is a sign of one's love and respect for the very land we live on and farm, where modernity doesn't mean losing our vital connection with our roots. These first-hand food experiences are created to express the culture of a population through the Cesarine, passionate individuals who keep the spark of tradition alive through their closely-guarded family recipes.
Source : Le Cesarine