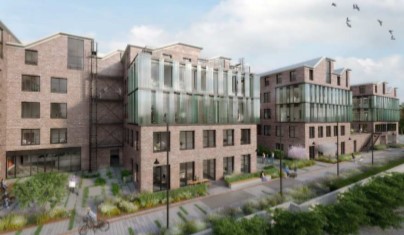 AEW announces the acquisition of New Eastside, a substantially pre-let office development located in Berg am Laim to the east of Munich's CBD. The asset has been acquired on behalf of a private German mandate from Optima-Aegidius Firmengruppe who developed the former factory of the Hawe Hydraulik Werke together with Competo Capital Partners and IKR.
The property is currently under development and, when completed in Q4 2020, will comprise c. 21,000 sqm of modern office space with roof terraces, green courtyards and an underground car park with 223 units.
The asset will be built to the highest sustainability and environmental standards and is targeting a LEED GOLD certification. "oliv Architekten's concept has established an office loft style Munich has not seen before.
The architectural design resembles New York's Eastside and is very well received by the tenants. Taking Munich's current market situation into account we are very confident that the asset will be fully let at completion", commented the Laub brothers representing the vendor.
Gereon Kohlgrüber, Head of Investment at AEW, commented: "We are very pleased to have secured this landmark development from one of Munich's leading developers on behalf of our clients. Munich's east comprises the city's most sought-after submarket and, once completed, the asset perfectly matches our clients' investment strategy."
New Eastside is located at the intersection of Streitfeldstrasse and Neumarkter Strasse with the S-Bahn being within walking distance offering fast transport to Munich's CBD. Reflecting Munich's strong and broadly diversified economic landscape and the limited availability of modern office stock, the asset is already 70% pre-let to two tenants, Gruner + Jahr and adesso AG who have both signed long term lease agreements.
Munich is the economic capital of Germany and the largest city in Bavaria. With a population of over 1.5 million, the city is a dynamic business location and is globally recognized as an international hub for science, research, media, finance and real estate. With the lowest unemployment rate in Germany, Munich has benefitted from 16 consecutive years of employment growth.
Source : Company