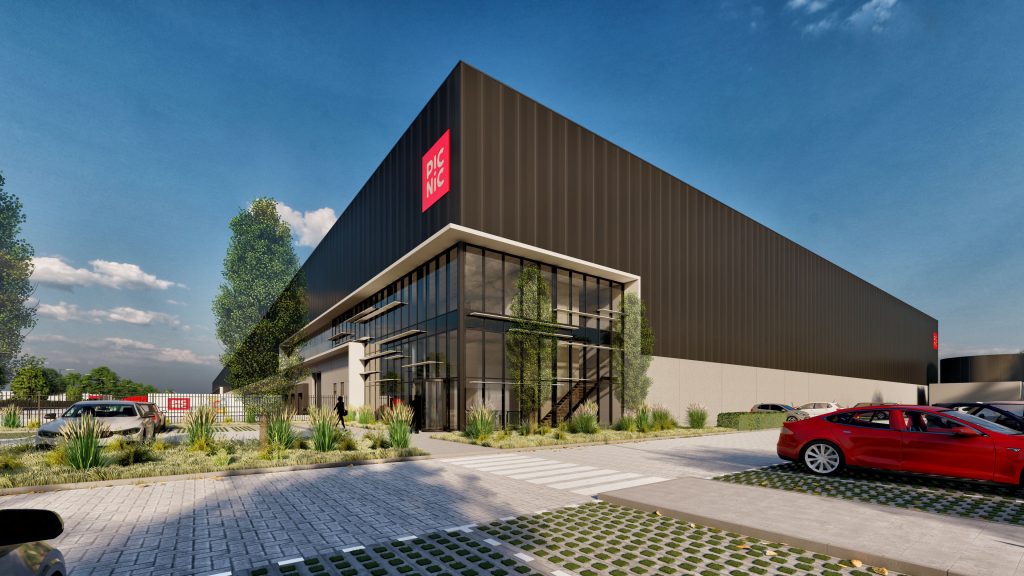 AEW, the global real estate investment manager, announces that it has agreed to forward fund, on behalf of its open-ended pan-European core fund, EUROCORE (the "Fund"), the development of a c. 49,000 sqm Grade A and fully automated logistics asset in Ridderkerk, near Rotterdam in the Netherlands. The high-quality and sustainable fulfilment center is being developed by Impact Vastgoed.
The development is pre-let to Picnic, a rapidly growing provider of online grocery deliveries, on a long-term lease. Founded in 2015, Picnic delivers a full range of groceries to millions of customers with a fleet of more than 1.500 electric delivery vehicles, operating in 150 cities throughout the Netherlands, Germany and France.
The property will house a fully automated system over three levels with ancillary office space and 360 car parking spaces. The scheme, which is being delivered by Impact Vastgoed, is expected to complete by the end of 2022. In line with the Fund's focus on sustainable buildings, the asset has
been designed to a high specification including heath pumps and an LED lighting system and is targeting at least a BREEAM 'Very Good' rating.
The asset is strategically located in the heart of the European logistics corridor running from Rotterdam towards Tilburg, Eindhoven, Venlo and the German hinterland, and is only 15 minutes from the Port of Rotterdam, the largest container port in Europe, with excellent connectivity to other major Dutch cities via the A15 and A16 highways. The development is situated on the Nieuw Reijerwaard business park, a major hub for food logistics across the Netherlands, which sits along the A15 corridor within the Rotterdam metropolitan area.
This represents the seventh investment on behalf of EUROCORE, which held its first close in January 2021 and has raised €470 million of equity commitments until now. The open ended fund aims to provide stable, long term income returns by investing in a diversified, future-proof portfolio of core logistics, residential and office assets in mature and growing markets in Europe's major cities. The current portfolio comprises assets in the logistics, residential and life sciences sectors across the Netherlands, Germany, Austria and Denmark.
Image source : DC Picnic
Source : AEW