AXA Investment Managers – Real Assets ("AXA IM – Real Assets"), a global leader in real assets investment and the leading(1) real estate portfolio and asset manager in Europe, acting on behalf of its clients, announces that one of its joint ventures, known as the Australian Student Accommodation Program Joint Venture ("ASAP JV"), has entered into binding contracts to acquire Urbanest, the owner of Australia's largest Purpose Built Student Accommodation ("PBSA") portfolio(2). The Urbanest portfolio comprises 6,805 beds across 14 operational assets located in four major Australian cities and will now be operated by Scape, a leading global operator, owner and manager of student accommodation assets with whom the ASAP JV has an established partnership.
The Urbanest portfolio is well diversified by location, being split across Sydney, Melbourne, Brisbane and Adelaide, with an offering ranging from premium studios to affordably priced twin share rooms and apartments. The modern, institutional grade portfolio has an average asset age of circa 4.5 years(3) and offers a wide range of on-site services and amenities for students.
The ASAP JV's pre-eminent portfolio of student housing assets in Australia will now total 10,315 beds, with the Urbanest acquisition adding to the recent acquisition of a 3,510 bed portfolio from the Atira Student Living platform in September 2019, which marked AXA IM – Real Asset's entry into the Australian student housing market.
The ASAP JV was formed in September 2019, with AXA IM – Real Assets, on behalf of clients, alongside Allianz, another global insurance group, and Scape, with APG, a Dutch investment manager entering more recently. The ASAP JV is an important part of AXA IM – Real Assets' strategy of accelerating its exposure to the alternative real asset sectors in the APAC region. Globally, AXA IM – Real Assets now manages a €2.8 billionstudent housing portfolio of over 25,000 student beds across six countries(4), on behalf of clients, including assets acquired through its recent acquisition of the Groupe Kley platform, one of the leading operators of PBSA in France.
Australia is the third most popular country for international students, behind the USA and the UK, and is forecast to overtake the latter in the near term(5). It currently has eight universities in the top 125 QS 2019 World University Rankings (and five in the top 50), which have experienced a combined 8.0% per annum growth in international students over the past 10 years, predominantly from Asia(6). Despite its popularity, the Australian market is characterised by a relatively low provision of beds versus more mature international markets, measured by penetration rate(7), providing a platform for significant future growth.
1 Source: INREV/ANREV Fund Manager Survey – May 2019 – in terms of assets under management
2 Source: JLL, Australian Purpose Built Student Accommodation Market Report May 2019
3 Source: Urbanest
4 Source: AXA IM – Real Assets data, unaudited
Pic : Urbanest Darling House, Sydney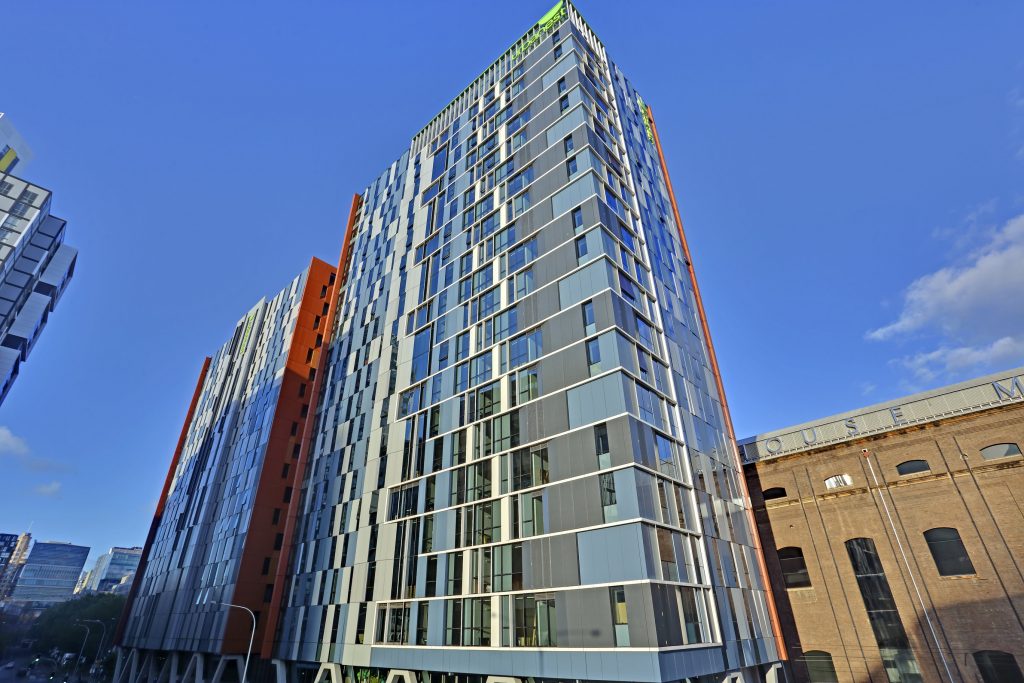 Source : AXA Investment Managers – Real Assets