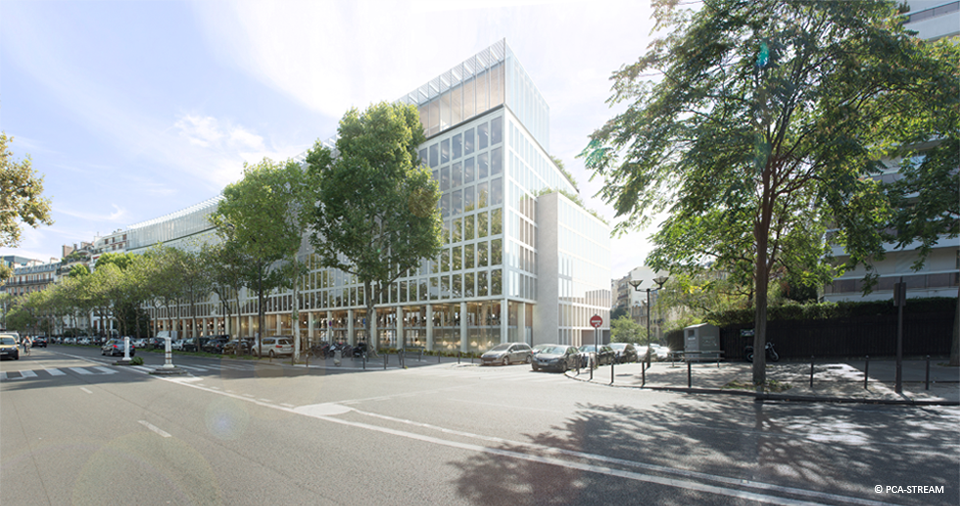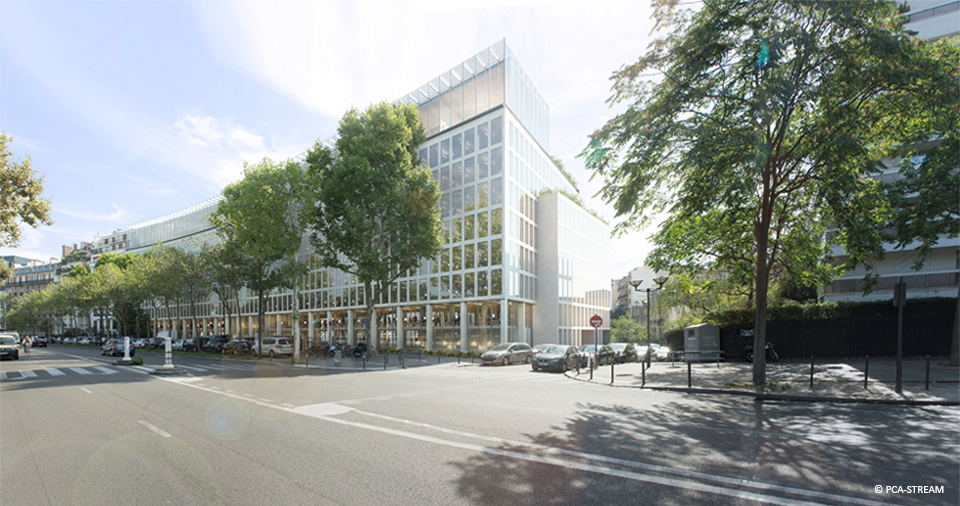 AXA IM Alts announces the delivery of FREEDOM, an office building located at 15-25 Boulevard de l'Armiral Bruix, in Paris' 16th arrondissement. It follows a significant redevelopment project undertaken on behalf of clients through AXA IM Alts' market leading Real Assets platform, which is the leading2 real estate portfolio and asset manager in Europe.
The 1960's office building is renowned for its large curved marble façade, which has been redeveloped while retaining the building's original character and includes energy-producing glass walls. The project was designed by architects at PCA-STREAM, with Leon Grosse responsible for the refurbishment phase, under the management of VINCI Immobilier.
The internal area has been completely redesigned, delivering 16,600 sqm across nine floors aimed at facilitating employee interaction and maximising access to light. Features include an auditorium, boardroom, open plan collaboration areas, two areas dedicated to catering and a panoramic gallery overlooking the gardens. The building offers spectacular views of Paris, the woodlands of Le Bois de Boulogne and the skyline of La Défense.
Among the few examples of naturalised architecture in Paris, the southern façade of the building includes 1,500 sqm of terrace space and decorative balconies. FREEDOM also offers access to 2,000 sqm of gardens accessible from the hall and the catering areas. A long-term lease has already been secured with Murex, the leading technology solution provider for capital markets.
Strategically located between La Defense and L'Etoile, in the Porte Maillot district, which is a major gateway into Paris, FREEDOM benefits from excellent transport links, with accessibility set to further improve as a result of the infrastructure upgrades delivered by the Grand Paris project.
In line with AXA IM Alts' global ESG strategy, FREEDOM applies for both the HQE Renovation "Exceptional" certification and the BBC Effinergie Renovation label. The project has also applied for the BREEAM Refurbishment 2015 "Very Good" and BiodiverCity certifications, which are in the process of being validated.
This real estate development highlights the expertise of AXA IM Alts, which has delivered more than 300 development projects in Europe since 2000, with a total value of 16 billion euros, and currently has 9.7 billion euros of development projects under management in 9 countries.3
Source : AXA IM Alts