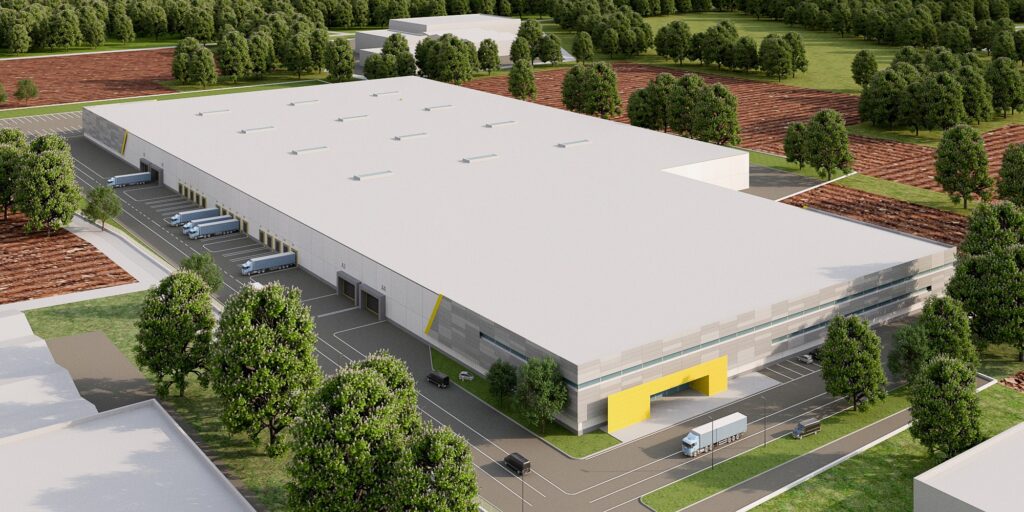 Barings, one of the world's largest diversified real estate investment managers, announces that it has acquired, off-market, a plot of land in South Verona, Italy, via an Italian real estate fund managed by Kryalos SGR. The land has been acquired for the development of a prime c. 75,000 sq m Grade A logistics complex with LEED certification, which will be developed by a specialist Italian logistics developer, Logiman Srl.
The scheme will be built in two phases, the first of which comprises c. 40,000 sq m of fully consented space due to be delivered in 2021. The second phase, involving the construction of a further c. 35,000 sq m of warehouse space, is expected to be completed in mid-2022.
The development is situated some 10 km south of Verona city centre, a prime logistics market benefiting from a favourable position at the intersection between the east-west and north-south European Core Network Corridors. The site is located in a prime location, suitable for both traditional logistics warehouses and for last mile, being in close proximity to the A4 motorway exit "Verona Sud", and not far from the nearest toll gate of the A22 motorway, which connects Italy, Austria and Germany.
Barings, on behalf of different clients, has already acquired a total of c. 190,000 sq m of logistics space in Italy over the last 18 months and has secured a pipeline of a further three transactions in Northern Italy, totalling an additional 150,000 sq m of logistics space, and intends to double its logistics portfolio in Italy in the near future.
Valeria Falcone, Portfolio Manager & Real Estate Country Head – Italy at Barings, commented: "The availability of modern, Grade A logistics space in the Italian market is decreasing due to the fast absorption of new speculative developments in key locations, such as Verona. This acquisition presents a rare opportunity to acquire a strategically located parcel of land for the phased development of a modern, high quality logistics scheme, including a last mile warehouse, that we are confident will appeal to the occupational market, as already confirmed by the current strong interest demonstrated by operators for the project."
Gunther Deutsch, Managing Director, Head of Real Estate Transactions – Europe at Barings, added: "We expect logistics to remain one of the most resilient asset classes in real estate, supported by the continued growth of the e-commerce market, which is still underdeveloped in Italy, and the increased focus on supply chain certainty in the wake of COVID-19. At the start of 2020 our ambition was to bolster our already overweight position in logistics on behalf of our core and value add investment strategies for our clients, and we have done just that. 90% of our transactions this year have been done off market demonstrating the strength of our local presence, the importance of which has been exacerbated by COVID-19. We have invested just short of €500 million into logistics in 2020 and in 2021 we are expecting to accelerate that, targeting the Nordics, the Netherlands, UK, Germany, France, Italy and Spain."
"Logistics – commented Paolo Bottelli, CEO at Kryalos SGR – is confirmed as a reference asset class for investors in this new market scenario and the current focus is moving towards logistics to be developed on strategic areas based on new needs and characteristics required by new operators."
Source : Joint release