Becken, a specialist for the development, revitalisation, asset and investment management of commercial and residential real estate, celebrated a traditional topping-out ceremony at the construction site of the "Hoch der Isar" quarter in Munich's Au-Haidhausen district on Thursday. Guest of honour and municipal representative was Clemens Baumgärtner, Rapporteur for Labour and Economy of the City of Munich, who addressed a key note to the guests. The hoisting of the topping-out crown marks the next milestone in the development of the residential quarter at Hochstrasse 75 in the Nockherberg locality. Since March 2020, Becken has been developing a total of 15,160 square metres of residential floor area on a plot of 8,550 square metres here, in the eastern part of Munich. The development will deliver 13 high-end houses that divide into a total of 185 ownership apartments. It is expected to be completed on time by year-end 2022/2023. Becken quoted a projected investment volume of 270 million euros.
Dieter Becken, Managing Partner of Becken Holding GmbH, had this to say in his address on occasion of the topping-out ceremony: "Featuring 13 different façades and building envelopes, the residential quarter we are building in Munich will develop a distinct identity. Among the most compelling aspects of the 'Hoch der Isar' development are its use of durable high-end building materials and its comprehensive service concept." Becken went on to say: "The new houses will radiate a very pleasant living ambience." The builder also thanked the municipal committees involved, especially the Design Advisory Board of the City of Munich, for the excellent collaboration. "It is a sheer pleasure to build in Munich," said Dieter Becken. His company intends to move ahead with further property developments in Bavaria's state capital.
As principal contractor, Becken is highly satisfied with the sales performance of "Hoch der Isar" so far. 83 percent of the ownership apartments are already sold. "It is a very strong sales performance at the time of the topping-out ceremony," said Dieter Becken.
Residential Quarter Focused on Diversity within the Building Cluster
Clemens Baumgärtner, Rapporteur for Labour and Economy of the City of Munich, had this to say: "The builder's idea to construct a quarter consisting of different residential buildings is the right concept for this place. As new urban quarter on the former grounds of the Paulaner brewery, 'Hoch der Isar' will benefit from its heterogeneity." Seeking to stimulate the diversity of the building cluster in the form of different façades, building heights, building envelopes and floor plans, Becken commissioned no less than three architectural firms. The design samples of the façade section for a total length of 500 metres, were submitted in August 2021 and were favourably received by the Design Advisory Board of the City of Munich as well as by Munich's Head of Urban Planning, Michael Hardi. Heico Zirkel, the Managing Partner of Gustav Epple Bauunternehmung GmbH, the company commissioned as general contractor, commented: "The fit-out works in the four- to eight-storey residential buildings are progressing as planned."

Becken bases the quarter's mix of apartment types on the changing accommodation needs during the successive stages of life. The supply of studio and two-bedroom apartments is aimed at single-person households of younger and elderly occupiers. Units of up to four bedrooms are available to multi-person households and families with children. The total of 185 residential units is split evenly between larger and smaller apartments. With its apartment mix, Becken seeks to engage people of all age groups so as to ensure a rich diversity of occupiers for the new residential quarter. Dwelling sizes range from 28 to 235 square metres. The completed units are expected to be handed over to their buyers in February or March of 2023.
Additional facilities at the "Hoch der Isar" quarter include an underground car park with charging points for electric vehicles. There are also two roof terraces for shared use by the community and a landscaped inner courtyard. "The open areas have a very high quality of stay, and will encourage people to hang out with their neighbours," as Dieter Becken pointed out. The service concept of the "Hoch der Isar" quarter includes a central lobby with white-glove amenities, a gym, a craft room, and a bicycle shop. There will also be a dedicated app for neighbourhood networking and for ordering services online.
The "Hoch der Isar" residential quarter is part of the development masterplan for the Nockherberg locality. Extending over a total area of 150,000 square metres and including 14,000 square metres of public green spaces, the site lies on the right bank of the River Isar between Regerstrasse, Hochstrasse and the Eiswerk complex. Residents will benefit from a newly constructed tram stop on Regerstrasse. By the time "Hoch der Isar" is completed in early 2023, five crèches and five day nurseries will be available in the vicinity.

Image credit: Becken Holding GmbH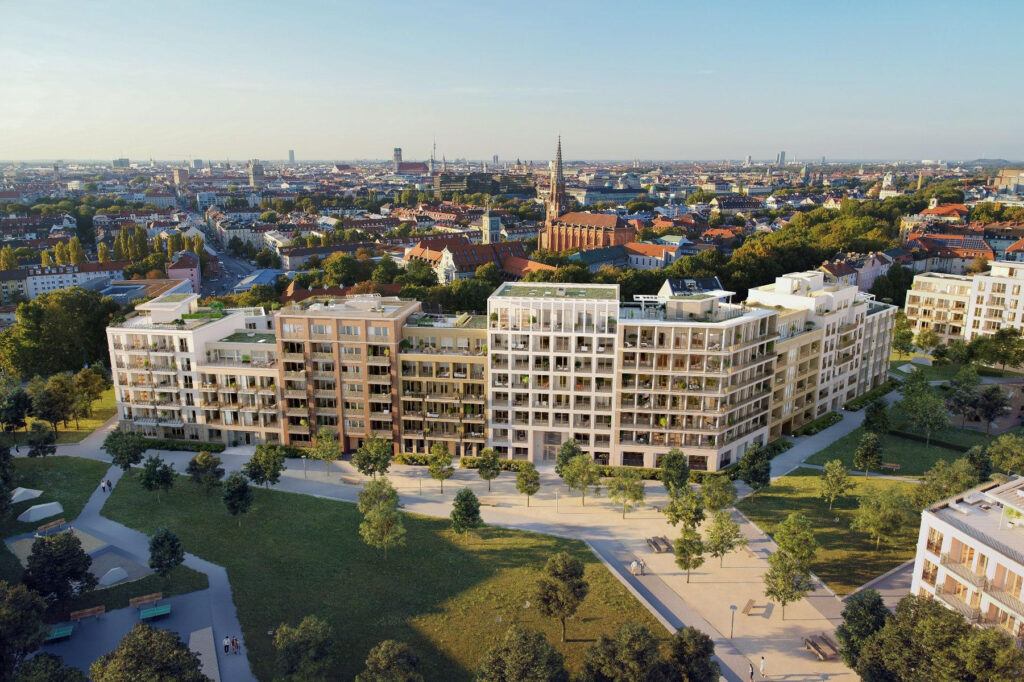 Source : Company