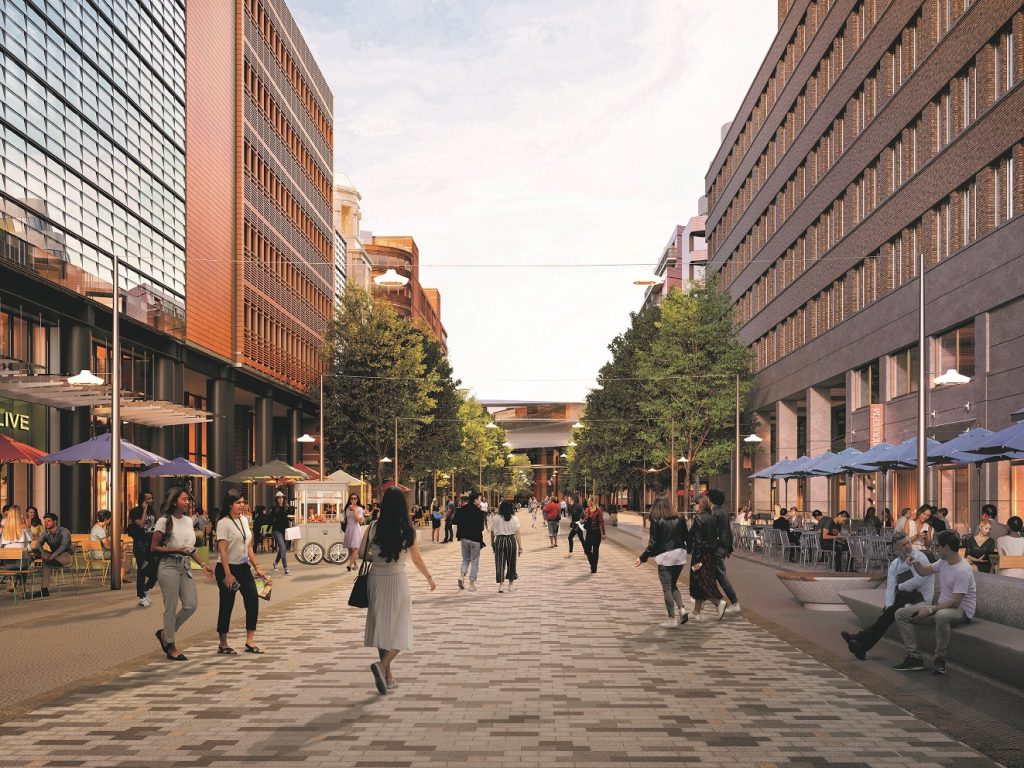 Brookfield Properties has unveiled plans for an extensive redesign of Potsdamer Platz in Berlin, aiming to create a green, pedestrian-friendly and vibrant quarter with high quality facilities by 2025. Brookfield Properties is working closely with Berlin's Mitte district on the planning. The plans involve 4,3 hectares of urban space, located between Potsdamer Strasse, Linkstrasse and Eichhornstrasse, which also incorporates 17 large urban blocks.
Leveraging Brookfield Properties' global placemaking expertise, the plans aim to open up the streets, alleys, and squares, and to improve the quality of the space to match the surroundings of the iconic Potsdamer Platz, creating high-quality, accessible space for local residents, workers, and visitors. The plans are designed to create modern and pedestrian-friendly recreational, green, and leisure areas with the introduction of sculptures and additional public seating. It will be the first district in Berlin to follow the "Berlin lighting concept" that combines environmental protection, safety and aesthetics.
Alte Potsdamer Strasse is to be converted into a pedestrian zone with premium restaurant spaces, including outdoor service. Marlene-Dietrich-Platz will also be redeveloped, with new paving installed, additional trees planted, and the installation of a large water feature and a natural rainwater garden. The design incorporates new public places to sit along the streets, squares and on the edge of the urban Piano Lake.
"We want to open up Potsdamer Platz"
Karl L. Wambach, Executive Vice President Europe at Brookfield Properties, said: "We have an ambitious vision for Potsdamer Platz. We want to open up Potsdamer Platz and create a greener space for socializing, public events, and greater all-day use. We envision the entire area around Potsdamer Platz as more energetic, more attractive and a richer experience for the community, workers, and visitors that use it. Together with the architectural and urban-planning firms of Schulze+Grassov and Behnisch Architekten, we look forward to transforming this space."
Stephan von Dassel, District Mayor of Berlin-Mitte, said: "We welcome the well-balanced plans and the owner's deep commitment. Both the pedestrian zone and the urban development quality and sustainability concept are, in the view of the district administration, very well suited to lead Potsdamer Platz into a bright future. The multitude of measures will help to further develop Potsdamer Platz as a vibrant urban quarter and cultural location on top of the times, with great attractive pull for the borough of Mitte and the city of Berlin as a whole."
Oliver Schulze, Co-Founder at Schulze+Grassov, elaborated: "Until now, the people of Potsdamer Platz have felt that the area is an austere and less-than-cosy urban space. The outdoor design from the 1990s doesn't respond to their expectations and standards. We intend to address weaknesses in urban planning, architecture and landscaping, while making the most of the area's existing strengths to deliver a new urban experience that responds to the people. As an urban space, Potsdamer Platz has tremendous cultural, social and architectural significance – our plans are designed to ensure the area does justice to it."
The new "Museum of the 20th Century" as a direct neighbour
Potsdamer Platz in Berlin-Mitte, in the heart of the German capital, benefits from excellent accessibility by public transport, a convenient location, around 2,100 parking spaces in its own multi-storey car park, around 30,000 office workers in the immediate vicinity, more than 110,000 visitors per day, plus versatile cultural and tourist amenities. Prominent sights and cultural sites in the immediately surrounding area include the New National Gallery, Berlin's Philharmonic Hall, the Culture Forum, Sony Center, and the Museum of the 20th Century, whose construction work has just begun. With its hotels, theatres, cinemas, casino, (Michelin-starred) restaurants, and cafés, Potsdamer Platz offers a richly diversified spectrum of cultural and leisure attractions.
A short while ago, the redevelopment of the Potsdamer Platz retail mall was kicked off. After a planned restructuring phase of around two years, the popular shopping gallery will reopen in an entirely new format. The mix of product ranges and tenants will focus on urban and cultural tourists, white-collar workers from nearby offices, local residents, and Berliners in general.
Source photo : © Tina Merkau and Brookfield Properties
Source : Company