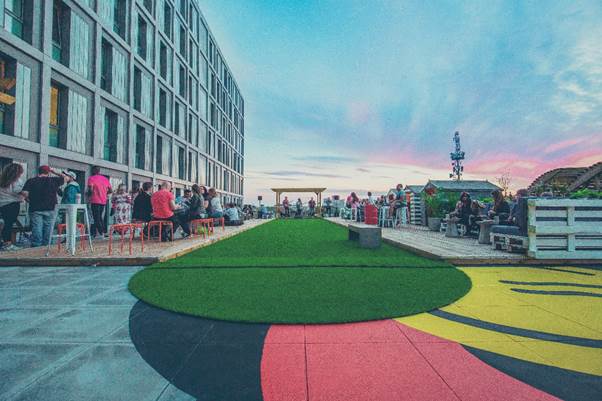 UK-based co-living pioneer The Collective has revealed it will be expanding to the US and Germany as its first international sites have been secured.
The business has raised more than $400 million to date – this equity and debt comes from a mix of UK and international financial institutions as well as family offices. Specifically, the funds have been used to acquire sites, develop new projects and build a market leading platform.
With 4,500 co-living homes now operational or under development in the UK, US and Germany, The Collective is involved in advanced negotiations to secure an additional 5,500 homes in these countries.
The US already has a prominent co-living market and The Collective will be amongst the first co-living innovators that are building large scale sites from the ground-up there – two sites have already been secured in the US and specific cities will be revealed in due course. By using a similar growth approach to its UK developments, The Collective also aims to catalyse the co-living markets in other European cities, starting with two new sites in Germany which will also be announced in the coming weeks.
The goal of The Collective's global expansion is to have a social, political and financial impact on the real estate markets in urban centres around the world, by influencing citymakers to invest in the alternative and innovative housing solutions that are provided by The Collective.
389A0188-Editar
The roof terrace at The Collective Old Oak (image courtesy of The Collective)
The Collective opened the world's largest co-living building in west London's Old Oak in 2016 with 550 homes. As evidence of its success, this has operated at an average 97% occupancy rate over the past 12 months. Two further London sites have been announced and are under development: a 250-room, 19-storey project in Stratford, along with a Canary Wharf location – both are set to open in 2019/2020.
The rapidly growing business, which plans to evolve through a hybrid of different accommodation offers, will provide shorter and more flexible stays in some of the upcoming projects in London and overseas. The Collective manages its sites on a day-to-day basis by creating a unique and welcoming community experience for its members through bespoke programming. With over six years' experience in co-living, The Collective has built a strong track record of designing spaces which encourage social interaction.
The Collective is now focusing its sights on creating the world's most advanced technology-enabled real estate platform. The business has a leading in-house technology team which is building software to support developing and operating its co-living spaces. The technology includes land acquisitions software, property and community management software and a consumer app to enhance members' co-living experience, while connecting them to its growing global platform.
London-born Reza Merchant, 29-years-old, opened The Collective's first building in 2012, and leads the business as founder and CEO.
"We believe co-living is the future of housing and we are excited to be rolling out our innovative model to key global cities, with a particular focus on the UK, US and Germany initially," Merchant said.
"Co-living is a new and important response to an increasingly fundamental problem. Our cities have not been able to keep pace with increasing population levels, growth in employment and a marked rise in single occupancy households. Coupled with global megatrends of people getting married and having children later on, dwindling communities, and an increased sense of disconnection and loneliness, this all points towards an extremely strong case for co-living globally. We are offering a completely new way for people to live – and through co-living, more people are meeting, new friends are being made and people's lives are being impacted in a meaningful way."
London's population grew at twice the rate of the UK between 2011-2015 [1], while employment levels are currently at a record low of around 4.3%[2] and single person households now make up 35% of the capital's housing stock[3]. The growing demand has led to an average home costing £500,000 – more than double the UK average and 60% higher than it was in 2007[4].
German entrepreneur Jonathan Teklu, an early investor in Airbnb, has invested in The Collective and has joined its advisory board. With his previous investment firm Springstar, Teklu led the international roll-out of Airbnb from 2011-2013. He commented: "The Collective has a deep understanding of how to create the best community living experience for young professionals. Its approach to not only operate buildings with state-of-the-art software, but also design and develop these spaces from scratch makes them the best positioned player in the market. I'm thrilled to help Reza and the team build a large and enduring company."
The Collective has doubled staff in the last 18 months to 70 people, demonstrating its ability to scale and execute efficiently. Recent hires include 'Forbes 30 Under 30' alumni Jill Ju who joined as investment director in October last year from Greystar, where she managed the £1 billion-plus student housing vehicle in the UK and led the company's fundraising and investor relations in Asia. The Collective's general counsel, Neil MacLeod, also joined the firm late last year from Schroder Investment Management, where he was responsible for the legal function of the firm's £12 billion-plus real estate business.
[1] ONS (2017)
[1] ONS (2017); Unemployment rate (aged 16 and over, seasonally adjusted)
[1] Savills (2017)
[1] ONS (2016)
The Collective is pioneering a new way for people to live: co-living.
The revolutionary London-based property company responds to a new housing need in major global cities, creating places that reflect and react to the aspirations and identities of people.
Having launched the world's largest co-living development in May 2016 in Old Oak, west London, The Collective drives a new standard in housing management and resident service. Its rapid growth is evident with 4,500 co-living homes operational or under development globally and two further sites underway in London's Canary Wharf and Stratford. Details around new projects in the US and Germany will be announced in due course.
The Collective actively manages its sites on a day-to-day basis, staying involved by creating a unique and welcoming community experience for its members through bespoke programming, thoughtfully-designed spaces and technology for people to connect with others.
Source : Company
[1] ONS (2017)
[2] ONS (2017); Unemployment rate (aged 16 and over, seasonally adjusted)
[3] Savills (2017)
[4] ONS (2016)