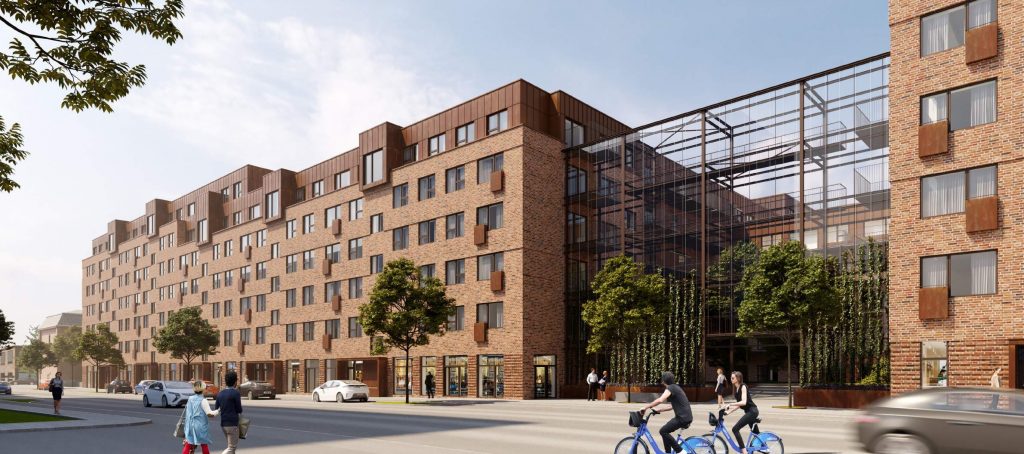 Europa Capital, the pan-European real estate investment manager, in partnership with Keystone Investment Management, announces that it has completed the sale of a 127-unit residential building on behalf of Europa Capital's pan-European value-add fund, Europa Fund V, to pan-European investment manager, PATRIZIA AG.
The circa 12,600 sqm asset, located in the suburb of Valby, was a forward commitment transaction contracted by Europa Capital in late 2016 with completion taking place on 1 March 2019, shortly after practical completion of the development. Since then it has focused on operationally stabilising all the apartments which comprise one, two, and three bedrooms flats.
Valby is quickly establishing itself as a popular residential area due to its close proximity to central Copenhagen, with excellent connectivity via local public transport and road networks, including a number of new cycle paths.
Alex Druttman, Director at Europa Capital, commented: "We have a continued focus on rapidly urbanising countries like Denmark where ongoing population trends offer opportunities to purchase assets for value-add strategies. Here we were able to apply proactive management to enhance the attractiveness of the investment to deliver attractive returns for our investors with this disposal.
"Copenhagen has a dense, historic and relatively protected city centre with limited opportunities to create new housing supply, which leads to increased demand for refurbished residential space and the growth of areas like Valby."
Europa Capital first invested in Scandinavia in 2007 and has since completed over €570 million in transactions. Most recently Europa Capital acquired an office in Stockholm that it will refurbish in partnership with Nordic asset manager, NCAP.
Source : Europa Capital
PATRIZIA AG, the global partner for pan-European real estate investment, announces that it has acquired a fully let, 127-unit residential asset in the Valby district of Copenhagen, Denmark, from Europa Capital and Keystone Investment Management A/S.
The circa12,600 sq m, newly built asset comprises a mix of one to four-bedroom apartments and townhouses with an average unit size of 95 sq m, including c. 500 sq m of commercial space divided on 6 units.
Situated in the newly development 'Valby Maskinfabrik', one of Copenhagen's popular residential areas, the building is in close proximity to Copenhagen's Central Business District with easy access to the public transport and road networks.
This acquisition increases PATRIZIA's total AUM in Denmark to EUR 1.5bn.
Nicolai Sehestedt Dalsgaard, Transaction Manager at PATRIZIA Denmark, commented "Denmark, hereunder Copenhagen, remains an attractive opportunity for institutional investments in the residential real estate sector. This is our second acquisition from Europa Capital and Keystone Investment Management A/S in Valby where we have acquired a high-quality and fully let asset that aligns with our investors buy and hold strategy, while generating an attractive risk adjusted return."
PATRIZIA AG has been active as an investment manager in the real estate market across Europe for more than 35 years. PATRIZIA's activities include the acquisition, management, repositioning and sale of residential and commercial real estate through its own licensed investment platforms. As a global partner for pan-European real estate investment, PATRIZIA operates as a respected business partner of large institutional investors and retail investors in all major European countries. PATRIZIA manages more than EUR 41 billion of real estate assets, primarily as an investment manager for insurance companies, pension fund institutions, sovereign funds, savings and cooperative banks and as co-investor.
Source : Company