The German real estate investment market continued its dynamic development in the third quarter as well. The transaction level in the first nine months climbed to more than €56 billion, an increase of 12 percent in a year-on-year comparison. Of this amount, €41.7 billion was accounted for by the commercial investment market (up five percent) and €14.5 billion by the residential investment market (up 38 percent). Yields remain under slight pressure, with prime yield expressed as an average of the Top 7 locations for office property therefore falling to 3.21 percent compared with the previous year's figure. This is the conclusion drawn in a current analysis prepared by the global commercial real estate services company CBRE.
"Investor demand, from both domestic and international investors, is driving momentum on the real estate investment market. This is well illustrated by the transactions involving the three tower blocks of Omniturm, Pollux and Gardentower in Frankfurt that changed hands within a few days in September. With the sale of several large portfolios, such as the Century Portfolio, the residential market also displayed a great deal of activity in the third quarter. The only constraint on the excellent performance of the German real estate investment market is the fact that supply that cannot keep up with demand," says Fabian Klein, Head of Investment at CBRE Germany.
Despite the short supply, there are no signs of the investment momentum slowing. "A new record year is in sight. We anticipate that investment activities will remain lively in the traditionally strong fourth quarter and estimate a transaction volume of more than €75 billion for the full year," Klein predicts. Consequently, the strong previous year's volume of €73.1 billion may be exceeded. With their regional diversity, legal certainty and attractive economic development, Germany's real estate investment markets remain one of the most important investor target markets.
Office real estate still the strongest asset class
Office real estate continues to be the strongest asset class of commercial property with a share of just under 36 percent in the transaction volume. The share of the Top 7 locations in the investment volume came in at 53 percent, which is around €29.6 billion, representing an above-average year-on-year increase of 21 percent measured against the overall market. The share of portfolios in the overall market also reported above-average growth of 17 percent to €23.6 billion. By contrast, the share of international investors dropped by six percentage points to 40 percent. Given the supply shortage on the investment market, alternative real estate investments (up 196 percent compared with the year-earlier period), along with land transactions (up 94 percent compared with the year-earlier period), are increasingly attracting investor attention.
Investment transaction volumes in Germany (quarterly figures)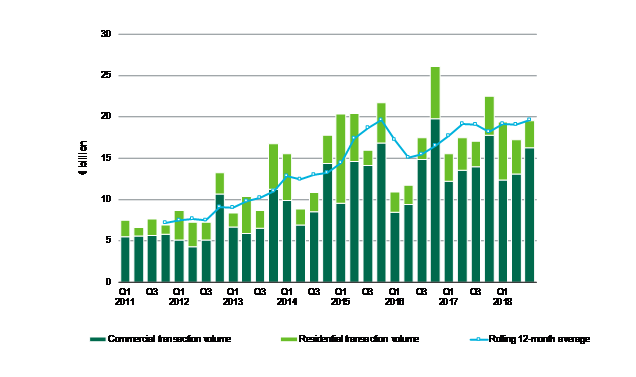 Source: CBRE Research, Q3 2018.
Top 7 investment markets
Source: CBRE Research, Q3 2018.