Intervista esclusiva  di Paola Lunghini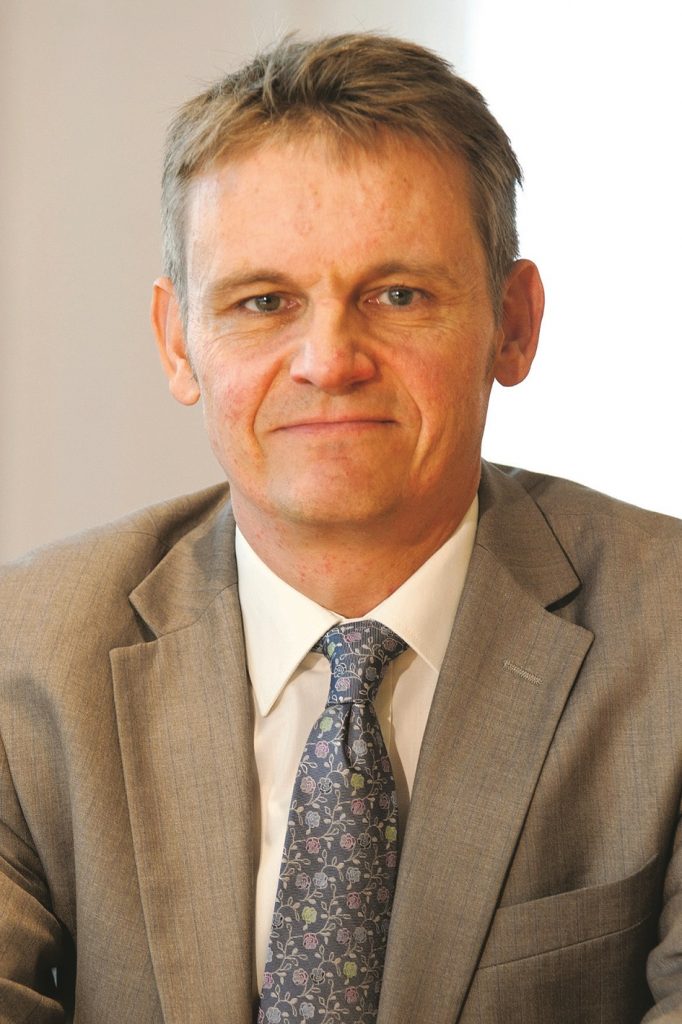 David has over 35 years of experience in private equity real estate, of which the last 25 years has been focused on core international real estate across multiple markets in Europe, North America, and Asia Pacific.
David is the lead Fund Manager for the M&G European Property Fund and has been the Fund Manager since inception of the Fund back in 2006. David oversees the fund management team and has been responsible for the establishment and growth of the M&G Real Estate platform in continental Europe.
Prior to 2006 David held various investment, asset, and fund management roles in global real estate for Prudential Plc (part of M&G Plc) and was responsible for establishing and managing their USD 1.5bn North American separate account portfolio. He was also part of the team managing the initial investment programme into core APAC markets for Prudential plc.
David sits on the M&G Real Estate Investment Committee and is a member of the Royal Institution of Chartered Surveyors (MRICS), the Investment Property Forum (IPF), the Urban Land Institute (ULI) and of INREV.
Q : Which are the " milestones" of your Company in the last few years?
A : M&G Real Estate is part of M&G plc's €89 billion private assets and alternatives business (as of 30 June 2022). It has been investing in Continental Europe since the 1980s. It opened its first office in Paris in 2011 to provide local presence in Europe. Since 2018, M&G Real Estate has a team dedicated to the Italian market, based in Milan and currently led by the Director Gabriele Inglese.
Q : Which are your winning factors?
A : M&G Real Estate is a leading financial solutions provider for global real estate investors, has a sector leading approach to responsible property management and is committed to continuously improving the sustainability performance of its funds.
Q : Which are, in your opinion, the determinants of success of a market ?
A : Depth and quality of local real estate teams are key to understanding individual country markets, and ensuring optimal risk adjusted returns. In addition, high quality research into individual markets and individual real estate sector themes is very important. These two 'bottom up' and 'top down' factors are key determinants of success in local markets. Within the last 12 months, M&G Real Estate has added 7 people to its local Real Estate offices across Europe, and is intending to grow these teams further over the coming year.
Q : Now you have a presence in 12 Countries: which are the best / worst performers?
A : One of the key benefits of being a large fund invested in 12 countries and over 70 individual assets is the risk mitigation through broad diversification. During the 16 years since the Fund was launched we have seen different countries and regions performing more strongly or weakly through different periods in the market cycle. So there is no consistent best or worse performer over all time periods. We have applied a tactical asset allocation approach to take advantage of these different cycles and themes. Currently, for example, we are tactically under-weighting central Europe, given the elevated risk factors in the region, and also due to concerns about too much new development increasing market vacancy. In contrast, we have over-weighted the Nordics tactically, as we have generally seen these economies recover more strongly from the global pandemic.
Q : What about your 2021 results?
A : The Fund's total return for the period from 1 January 2021 to 31 December 2021 was 8.3%, with a net income return of 2.9% and a capital return of 5.4%. The Fund continues to deliver attractive risk adjusted returns given our low risk profile, with an average leverage of just 13.4% (as a % of property valuation) during the course of 2021, and with low portfolio vacancy of just 3.9% as at 31 December 2021. The Fund continued to grow in size during 2021, with €443.6m of new subscriptions, and the GAV increasing from €4,216.6m (31 December 2020) to €5,158.6m (31 December 2021). It continues to be one of the largest and most diversified open-ended core funds in Europe.
Q : What have the major challenges in your business been in 2020-21?
A : Inevitably, one of the major challenges has been the impact of the global pandemic, with associated lockdown periods during this time. In real estate the impact was most significant on parts of the retail sector, most notably fashion retail. Fortunately, our retail strategy has been heavily focused on defensive food-store retail, with long leases and secure income streams. This segment of retail performed well during the pandemic, and continues to do so.
Q : Did you develop any new business themes during the pandemic?
A : The pandemic reinforced a number of themes that we were already following, especially in the office sector, where we expect clear 'winners' and 'losers' from the pandemic. The winners will be offices in core Central Business Districts (CBD) with good connectivity, transport, local amenities and high quality buildings with strong ESG credentials. The losers will be poor quality offices in weaker out of town locations, with higher vacancy and poor 'future-proofing' from an environmental perspective.
Q : And what will be in 2022-23: trends and issues?
A : An obvious issue for 2022 is the impact of significant inflation across Europe, together with rising interest rates. Fortunately, continental European real estate is relatively well positioned as a hedge against inflation, with nearly all lease contracts providing for annual CPI increases in rents. Additionally, funds with lower leverage will be more resilient to the impact of rising debt costs that we are now seeing in the region. During such periods of market turbulence we would expect core, low risk funds to perform better than higher risk value-add strategies.
The increasing importance of ESG will also continue to be crucial during this period, and for the longer term, as this is clearly a key structural development.
Q : Are there still opportunities for growth and where, geographically speaking and in terms of asset allocation?
A : We see good opportunities in high-quality office spaces located in strong Central Business District (CBD) locations, well-connected to public transport, reflecting modern hybrid-working models and with excellent ESG credentials. As for the hotel sector, it is due a strong post-pandemic recovery as travel and tourism returns, fuelling solid income growth potential. In terms of geographies, Intra-European travel should see a strong recovery over 2022-23, followed by the international component thereafter.
The residential Private Rented Sector (PRS), student housing and senior living, well-connected and in major CBD locations, offer defensive characteristics, able to benefit the current inflationary scenario.
In terms of logistics, we consider strategically relevant locations with good connection to public transports – last-mile logistics in or near major conurbations. Despite occupiers starting to feel cost pressures – given recent supply chain issues, labour shortages and fuel price increases – our outlook remains positive, as traditional retailers continue to grow their e-commerce business, further increasing the demand for distribution platforms.
Q : Let's go to Italy. If our Country is appealing, which segments are you eyeing?
A : We have recently made our first investment in Purpose-Built Student Accommodation (PBSA) in Italy, close to the historic university in Bologna. We see strong supply and demand fundamentals in this sector, with supply shortages in most major markets. We are also attracted to the relatively high income return in this sector, where we have benefitted from yields of around 6%. We also continue to look at northern Italian logistics opportunities, where we also see good income growth potential over the medium term.
Q : ESG criteria: "pleasure", pride or obsession?
A : 'A necessity'. M&G as a group prioritises ESG from a corporate perspective, and this theme continues throughout the multi-asset strategies of the asset management business. This is especially the case with real assets in general, and real estate in particular, where we have to deal with such issues as embedded and operational carbon footprints. We are very proud that the M&G European Property Fund is a 'five star' rated fund in the market standard GRESB Real Estate Assessment.
Q : A three-word legacy to face the times to come…
A : Prepare for change!
Q : A personal question, to conclude: amongst the deals you were involved in, which was the most important for you, your " milestone"?
A : A key milestone for me has been the privilege of managing one of the largest core real estate funds in Europe for over 15 years, with a GAV of over €5.5bn as at 30 June 2022, and an investor base of over 100 institutional investors from 20 jurisdictions, including Italy.
Pictured : David Jackson