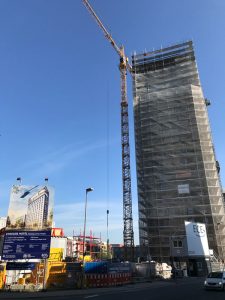 Together with the construction workers the 25hours Hotel Company and ECE celebrated the completion of the shell of the new 25hours Hotel in Düsseldorf with a great topping-out party.  Approximately one year after the constructions start, this occasion marked an important milestone for the property's completion.  The construction works are entirely on schedule – thus, the hotel will open in spring 2018 as planned. The facade works for the new building have already begun. The construction of the interior, which is conducted in collaboration with the Swedish design office STYLT, is also ongoing simultaneously.
The new hotel named "The Tour" is built in the "Le Quartier Central" district of Düsseldorf-Derendorf, which was developed by Aurelis Real Estate. Not only the name of the building and the district have been inspired by French culture and language. Since the visit of Emperor Napoleon in 1811, Düsseldorf itself has been nicknamed "Little Paris". It is this historic event and the relationship of the city with neighboring France that inspired the 25hours team to design the hotel in a distinctively German-French style.
The 18-story hotel tower, which will be developed by ECE for the 25hours Hotel Company comprises 200 rooms.  A rooftop bar and a restaurant will be built on the two upper floors. These two dining highlights will also be inspired by French culture and are set to become a meeting point not only for visitors but also for the people of Düsseldorf. The hotel is owned by PATRIZIA Immobilien AG who had acquired the property for a real estate fund at the beginning of 2016.
ECE Project Manager David Philipp took the topping-out ceremony as an opportunity to emphasize the engagement of the project partners and, above all, the commitment of the construction workers: "They have done a great job so far. We appreciate this very much. With their skills and their commitment, all parties involved have created an impressive foundation for a unique new building."
Source : Company