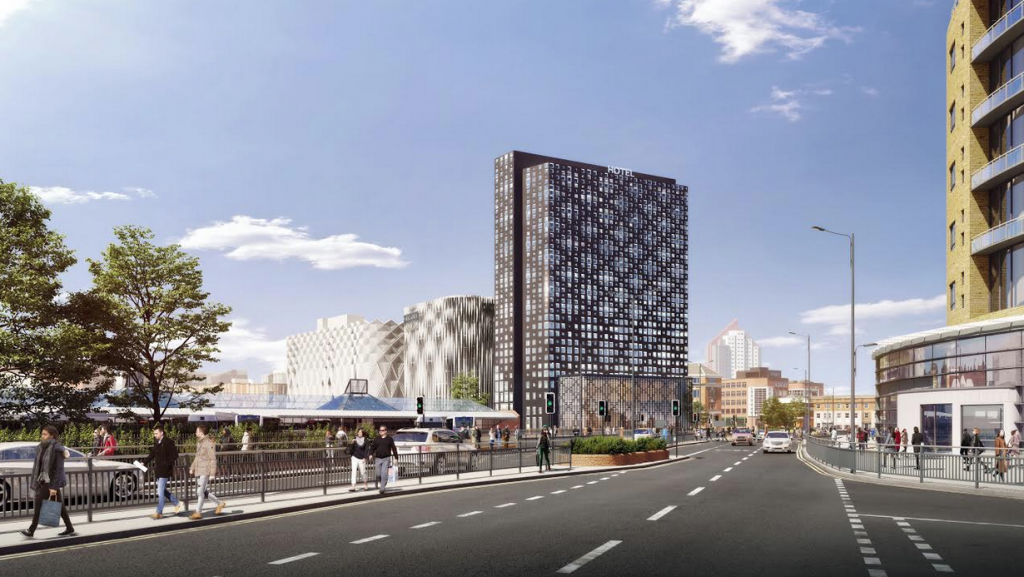 Hammerson, which owns and manages Victoria Leeds, has submitted plans for a new 205-bed hotel adjacent to its iconic retail and leisure destination, Victoria Gate. The plans will see the site, which is currently a temporary surface car park, redeveloped to provide a new flagship hotel further enhancing the offer at Hammerson's retail and leisure destination and the Leeds cultural quarter, driving additional footfall and spend to the city.
The Victoria Gate Hotel is part of Hammerson's City Quarters concept, which will create vibrant mixed-use neighbourhoods surrounding Hammerson's existing flagship destinations, in thriving locations in the UK. The concept will see Hammerson transform many of its city venues beyond pure retail into successful neighbourhoods providing homes, workspace, hotel space and accessible public realm. This announcement follows the recent submission of mixed-use planning applications for Martineau Galleries in Birmingham, the Goodsyard in Shoreditch and a residential development adjacent to Dundrum in Dublin.
The submission follows on from a pubic consultation held last month where the response to the new hotel was overwhelmingly positive. 92% of respondents said that they supported the plans and believed that the proposals would support the continued growth of the city and cultural quarter.
The iconic building will regenerate the land between Eastgate Roundabout, Dyer Street and St Peter's Street (A61) to the east of Victoria Gate multi storey car park. The site currently has temporary permission for the surface car park although this is set to expire in October 2021.
The building is designed by ACME, the same architect that planned and delivered Victoria Gate. The facade draws design cues from Leeds's rich textile industry heritage creating a close visual relationship with the rest of the development. Alongside 205 spacious rooms, an on-site gym and conferencing facilities; a new contemporary bar and restaurant on the ground floor will welcome both guests and visitors to the city.
The hotel will support 50 full and part-time jobs on completion, whilst up to 980 jobs could also be supported during the construction period.
The proposed hotel marks the next step in the continued regeneration of this part of the City Centre, following the development of Victoria Gate by the group in 2016. Hammerson also owns a 10-acre site just north of Victoria Leeds which will be brought forward for development in due course, creating a new mixed-use City Quarters neighbourhood.
Source : Company