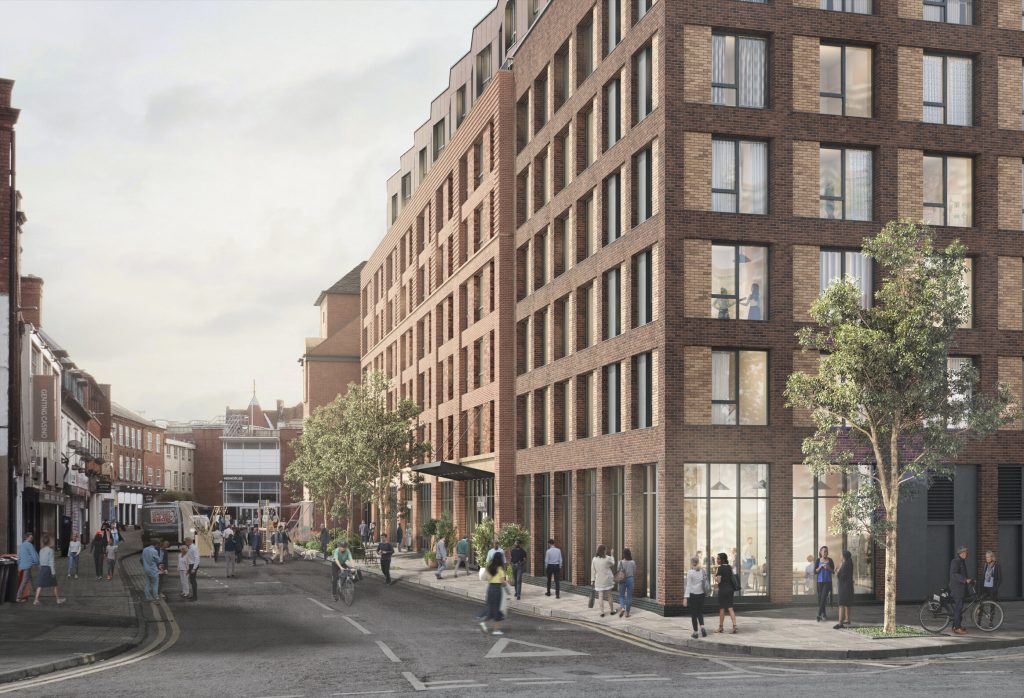 Hammerson, owner and manager of the flagship destination Highcross, has submitted plans to redevelop the former Debenhams store at Highcross, St Peter's Lane, Leicester, into new homes for rent. Hammerson has worked jointly with private-rented-sector specialist Packaged Living, who has extensive experience of bringing forward high quality PRS schemes, to develop the application.
The submission follows a virtual public consultation which took place at the end of last year, where members of the local community were invited to view the plans and attend a virtual community meeting and Q&A session with the project team. The exhibition was the first virtual planning consultation held by the group and was designed to enable local residents to view the initial proposals and provide feedback in a manner that was COVID-19 safe and secure. The consultation ran for ten days and feedback on the plans was positive, with over 80% of consultees supporting the proposed regeneration.
The development, designed by CRTKL, would see the former Debenhams department store at Highcross transformed into new high-quality homes for local residents, as well as providing major improvements to enliven East Bond Street, where the entrance will be located. On completion, the scheme will provide over 300 new homes and an improved public realm for the city alongside bespoke resident amenities including a roof garden. Sitting at the heart of the community, residents will be minutes from the city's strong line-up of cultural and commercial attractions and public transport links.
Packaged Living, the bespoke build-to-rent operator and developer, has grown a pipeline of over 2,000 homes since its inception in 2018, with major developments spanning the UK. The company has been appointed as development manager, enabling Hammerson to utilise Packaged Living's in-house investment, development and operational capabilities.
This project is consistent with Hammerson's ambitious target to be Net Positive for carbon emissions, water, resource use and socio-economic impacts by 2030. In addition to supporting up to 800 jobs on site and in the supply chain during the construction phase, Hammerson has worked closely with Packaged Living to minimise both embodied and operational carbon emissions for this scheme and to ensure it is resilient to climate risk.

Mark Bourgeois, Managing Director UK and Ireland at Hammerson said, "Since opening its doors in 2008, Highcross has firmly established itself as an integral part of Leicester's city core. While the structural shift in retail and changing consumer shopping habits have meant that destinations such as Highcross need to adapt their offer and mix of uses, well-connected city centre locations such as this will always be places where people want to be.
"We are delighted to submit this proposal for high-quality homes for local people to rent, which will support our brands at Highcross and contribute to the continued success of Leicester City Centre."
Mark Woodrow, Joint Managing Director at Packaged Living said, "St Peter's Lane is the result of Hammerson and Packaged Living's shared vision to deliver good quality rental homes within sustainable, mixed-use communities. We are delighted to be working with Hammerson, bringing our investment, development and operational experience in the build-to-rent sector to support the re-purposing and evolution of this excellently located asset."
Alongside new homes, Hammerson is also planning to transform part of the former Debenhams at Highcross into new, flexible retail units, facing onto the mall. This new space will respond to the changing needs of retailers and ensure Highcross remains an engaging and exciting destination for visitors.
Source : Company