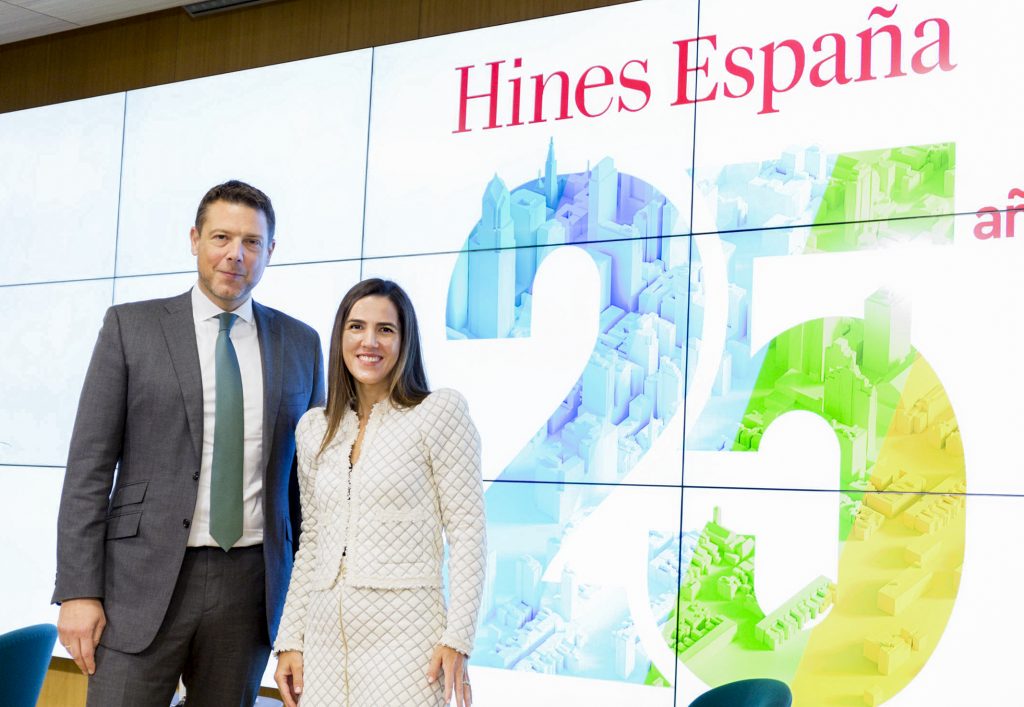 Hines, the international real estate firm, has celebrated 25 years since its arrival in Spain in 1996, after landing in Barcelona with its pioneering Diagonal Mar urban regeneration project. During the event, Vanessa Gelado, Senior Managing Director of Hines Spain, and Lars Huber, CEO of Hines Europe, reviewed the firm's milestones in Spain over the past 25 years and set out the strategy and objectives for the future.
"In 1996, Gerald D. Hines, our founder, envisioned an opportunity, a dream. Soon after, that dream became a reality: from Hines, we laid the first stone of what would become Diagonal Mar, a project that forever marked the future of Barcelona and marked the perfect landing for Hines in Spain," declared Vanessa Gelado during the inauguration of the 25th Anniversary of Hines Spain.
"During these 25 years, we have grown to position ourselves as one of the main players in the sector at national level, with a portfolio valued at more than 900 million euros, which we expect to grow by a further 200 million euros by the end of the year, with a total of 13 assets, distributed between Madrid and Barcelona," said Vanessa. The director of Hines España outlined the real estate firm's objectives for the coming years: "Our aim is to continue on this path and to continue to expand our presence in Spain. We are at a key moment of development, with a firm commitment to the Spanish market, a consolidated team, and in constant search of opportunities to expand our activity, with the aim of achieving solid results, and always following a strategy marked by sustainability and following ESG criteria. This is Hines' 25th year in Spain, but we are already working on the next 25."
Lars Huber, CEO of Hines Europe, outlined the company's objectives and forecasts for the coming years on the European continent: "After the financial crisis in 2008, we had to devote all our efforts to recovering the capital invested. Before, we were buying and selling assets, rehabilitating them and then marketing them after adding value. We were forced to change our strategy. It was a difficult challenge, but we managed to reinvent our business. Since 2009 we have learned a lot, we have built a robust business model and since had a string of very prolific years.
Today, we continue to be very successful in Spain and in Europe. Our success has come from the diversification of our fund investments. We are a company with a long history and experience in retail and offices, but after the crisis we have successfully expanded into new sectors for us, such as living and logistics. As a result, we have built a more robust portfolio of assets. 2020 was a record year for investment in Europe, with more than 9 billion euros invested, our local teams on the ground allowed us to continue to source and execute deals, despite covid challenges. This has allowed us to expand in Europe at great speed. We were previously present in 5 countries, now we have assets in 12 countries, and we have Hines offices in 17 European cities. In Europe we are the only company with this offer. We are currently focusing on increasing our presence in the cities where we are operating."
After the interventions by Vanessa Gelado and Lars Huber, two panel discussions were held to discuss the main trends that are shaping the evolution of the real estate sector : "Transforming cities: Urbanism in the 21st century" , and "ESG goes mainstream".
Pic: Lars Huber and Vanessa Gelado
Source : HinesArea degli allegati