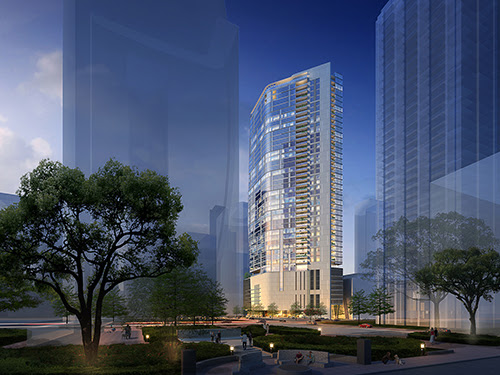 Hines, the international real estate firm, along with investment partner Cresset-Diversified QOZ Fund, announced the start of construction on The Preston, a luxury for-rent residential high-rise community in downtown Houston. The project, located on the site of the former Houston Chronicle parking garage at the corner of Preston and Milam Streets, neighbors Hines and Ivanhoé Cambridge's 1-million-square-foot office tower, which is under construction at 800 Texas Avenue.
Comprised of 373 luxury residences, the 46-story high-rise tower will stand taller than any other downtown residential community and will boast panoramic views of the Central Business District, Market Square Park, Sesquicentennial Park and Buffalo Bayou, as well as long views to the Heights area and beyond. Positioned diagonally on its site on the north side of downtown, the building's distinct façade will become an important contribution to the Houston skyline.
The Preston's prime location between Market Square and the Arts District boasts a WalkScore of 97, with more than 50 bars and restaurants, 40 million square feet of office space, and multiple cultural institutions in the immediate vicinity. Hines-owned Aris Market Square's Bravery Chef Hall, Coterie and the soon-to-open Lyric Market are all within walking distance of The Preston, and over 50,000 square feet of retail is currently underway within one block of the project site.
The Preston is slated for completion in the third quarter of 2022. Pre-leasing will begin October 2021.
Source : Company