Hines, the global real estate firm, and Blue Noble, the international real estate investment manager, have finalised an investment of over €80 million, through the Student2 fund managed by Antirion SGR S.p.A., for the construction of new student accommodation in the heart of the Politecnico di Milano university campus in the Bovisa area. The project will be built on land that is currently vacant covering c.45,000 square metres.
The plan is for two buildings that will take three years to build and are expected to be complete in 2025. One building will have approximately 250 beds rented at subsidised rates. The second building, with free market rents, will be able to accommodate more than 300 students in spacious units. The buildings will be built in line with the highest international standards of sustainability and energy efficiency with the aim of achieving the LEED Gold certification.
The new hub that will house the university accommodation will feature high quality design throughout, from the choice of materials to the rich variety of facilities offered such as study rooms, a gym, yoga room, laundry, and film room, plus well-equipped common areas, all of which cater to the needs and priorities of Milan's growing international student population.
In addition, the ground floor of one of the two buildings on Via Andreoli will house an innovative retail area. The street, which connects the engineering and design departments of the Politecnico will have bookshops, grocery stores, cafés and restaurants. A major urbanisation project is also planned with the creation of green areas and the implementation of local infrastructure, such as pedestrian areas and city links with the introduction of a new tram stop.
The project also aims to help redevelopment of this neighbourhood with the introduction of new retail spaces and areas for socialising that connect the two parts of the city on either side of the railway line. This student residence will represent an important link with MoLeCoLa, the Milan Bovisa regeneration project in which Hines has invested and is acting as strategic advisor. With a surface area of over 90,000 square metres, MoLeCoLa aims to become the new technological district, enhancing the innovative direction taken by this area also through a sustainable-centric lifestyle model.
Mario Abbadessa, senior managing director & country head of Hines Italy, commented: "Investing in Milan's student population serves as a strong driver of the city's growth and development. The location of this new student accommodation scheme allows us to extend our presence in the living sector and strengthen our presence in the Milano Bovisa area. This new investment complements the nearby MoLeCoLa urban regeneration project, illustrating Hines' commitment to the region and our ability to deliver high quality schemes meeting the evolving demands of Milan's residents."
Paul Forshaw, founding partner and CEO of Blue Noble, said, "With two significant existing projects adjacent to Bocconi University already operational or nearing completion, this will form Blue Noble's third student housing development in the City of Milan, working closely with our long-standing local partners, Hines Italy. The Bovisa area is set to benefit from significant investment and we are pleased to play our part in the wider urban regeneration plan. As with our existing projects, this latest development will afford students exceptional accommodation and amenity paired with the highest standards of sustainability and energy efficiency."
Source : Hines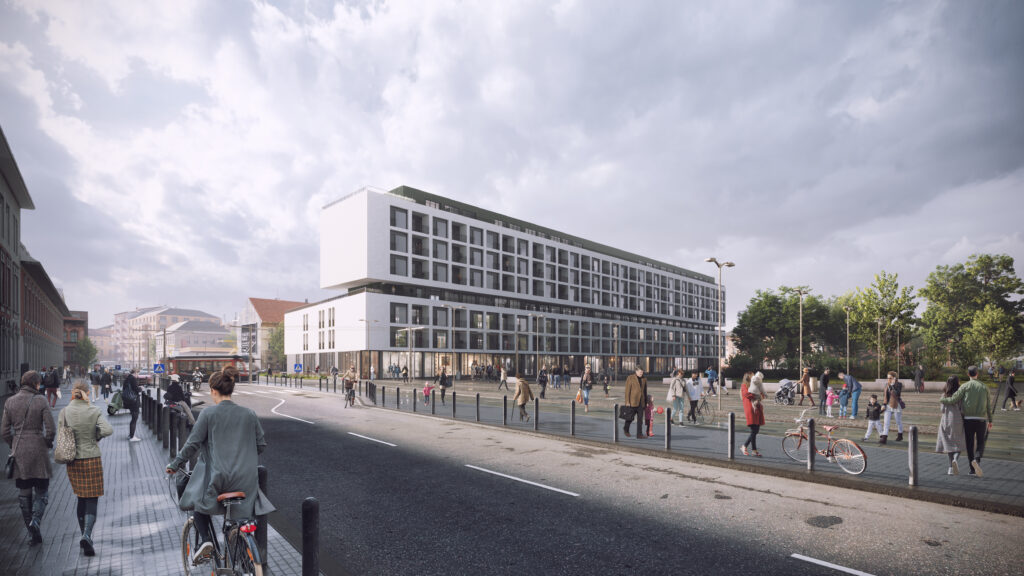 Fonte : Hines