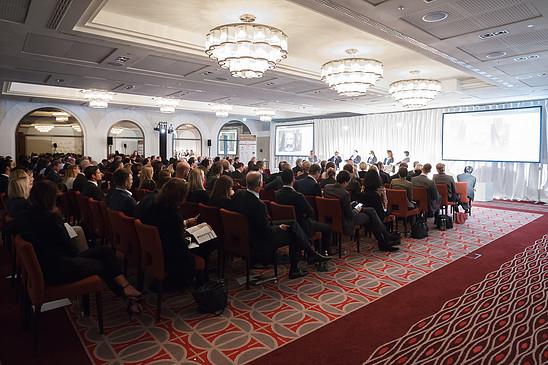 9 November 2017 saw an inspired audience of more than 250 hotel and tourism industry experts in the imperial city of Vienna, one of the most attractive tourism destinations in the world. Steeped in history, the capital of Austria is equally committed to the future of hospitality industry, as seen and proved at the 10th INTERNATIONAL HOTEL INVESTMENT & DESIGN CLUB FORUM at the Palais Hansen Kempinski in Vienna.
The conference was officially opened by Mag. Matthias Koch, CEO of the Austrian National Hotel Association of the Austrian Chamber of commerce.
The leading industry conference for hotel investors, developers and operators in CEE and SEE, brainchild of Frans-Jan Soede, was organised by the distinguished consultancy firms Hotels Asset Management, Reburg & Partners and Michaeler & Partner.
The theme of the forum is 'Building for the future'. The forum explored the significance and role of architecture, design, and conceptualization as well as branding as criteria for sustainable hotel investment.
'Design gets people through the door and convinces them to stay. Ideally, it becomes an experience and opens up new worlds, which reflect the soul of a project, making it unique,' said Tina Norden, Director at Conran & Partners, one of the speakers at the panel discussion.
To start the one-day convention, Thomas Emanuel, Director Business Development, STR, presented the annual overview of the hotel market and growth potential according to regions. A sea of positives spreads over Europe in terms of RevPAR, seeing CEE cities like Warsaw and Prague in the lead, followed by Russia's St Petersburg.
The growth markets were subsequently subject of the panel, led by Thomas Emanuel. Takuya Aoyama, VP Acquisitions & Development, Hyatt Hotels; Peter Ebertz           , Managing Director, Art-Invest Real Estate Management; Emeline Sykora-Wintrebert, Senior Development Manager, Accor Hotels and Ágnes Tömpe, Development Director, Accent Hotel Management joined him on stage.
Hotel design as differentiation for global tribes was discussed under the moderation of Martina Maly-Gaertner, Managing Director of Michaeler & Partner, by James Dilley, Head of Interior Design Hospitality, Jestico + Whiles; Martin Goddard, Director & Co-Founder Goddard & Littlefair; Cristina Laurijssen, Senior Director of Design and Project Services, Rosewood Hotel Group; Tina Norden, Director Conran & Partners and Dietmar Ploberger, Senior Project Manager, SIGNA Real Estate.
Keynote speaker was digital native Nathaniel Estis Green who requested 'Don't Let Your Guests Sleep Around!' and tried to find answers to the pressing question of our time: 'Does the hotel industry have the right approach to digitization?' Green, executive advisor and investor to companies in the fields of robotics, artificial intelligence and big data, tried to convince the audience that 'the future of hospitality industry is operated by robots. And they will be friendly.'
Moderator Eugene Quinn (Culture group, space and place) welcomed to the stage Moritz Heininger of Tinklabs (Handy); Thomas Janczak, Growth & Digital, Plateno Group and Jerome Wise, VP Enterprise Clients, Travelclick. Subject: digital revolution—threat or blessing.
The forum also raised the question if Leisure Hotels should be considered as an independent asset class. Moderated by Roger A. Allen, Group CEO of Resources for Leisure Assets, and representatives of global players like Silvija Lovretta, Director SEE International Hotel Development of Marriott, Ulf Pleschiutschnig, Managing Director of Morgan Stanley und Kenneth Hatton, Senior VP Global Development of Belmond were on stage with Austrian leisure specialist Otmar Michaeler, CEO Falkensteiner Michaeler Tourism Group.
Food and Beverages were a subject as an increasing challenge for many hotel operations seeking a success formula. The task was how to develop unique ideas with clear positioning away from the room business, exquisitely conducted by hospitalityinside.com editor Maria Puetz-Willems, welcoming to the stage Felix Hillen, Managing Director of The Student Hotel, Christian Muhr, Area VP of Operations Full-Service Hotels, Continental Europe of Hilton and Jason Wischhoff, VP Development Europe & Africa of Dream Hotels.
The final panel dealt with branding and the positioning of new concepts. Key discussion points included opportunities and challenges arising and the ever present quest: what will be the new markets and segments and who will be tomorrow's customers? Brigitte T. Gruber, Managing Director of Reburg & Partners discussed this topic with Andreas Loewe, Creative Marketing Manager, Novum Hospitality; Michael Struck, Founder & CEO, Ruby Hotels; Tim Zeichhardt, Director, International Hotel Development, Marriott International, James Fry, Co-Founder of the start-up Base Aparthotels and Paul Rinkens, Founder, Qbic Hotels.
The climax was the award ceremony. A jury composed of Bachelor and Master Students of MODUL University Vienna had chosen the best for The Brand Award for being the best choice for Millennials 'the new breed of travellers'. And the winners were:
1.         VIENNA HOUSE EASY
2.         THE INDEPENDENTE COLLECTIVE
3.         CANOPY BY HILTON
This year's conference was the 10th conference anniversary. The top-level advisory board included Ivica Cacic, Regional Vice President of Marriott, James Dilley, Head of Interior Design Hospitality at Jestico + Whiles, Otmar Michaeler, CEO Falkensteiner Michaeler Tourism Group and Rupert Simoner, CEO Vienna House.
Source : Company