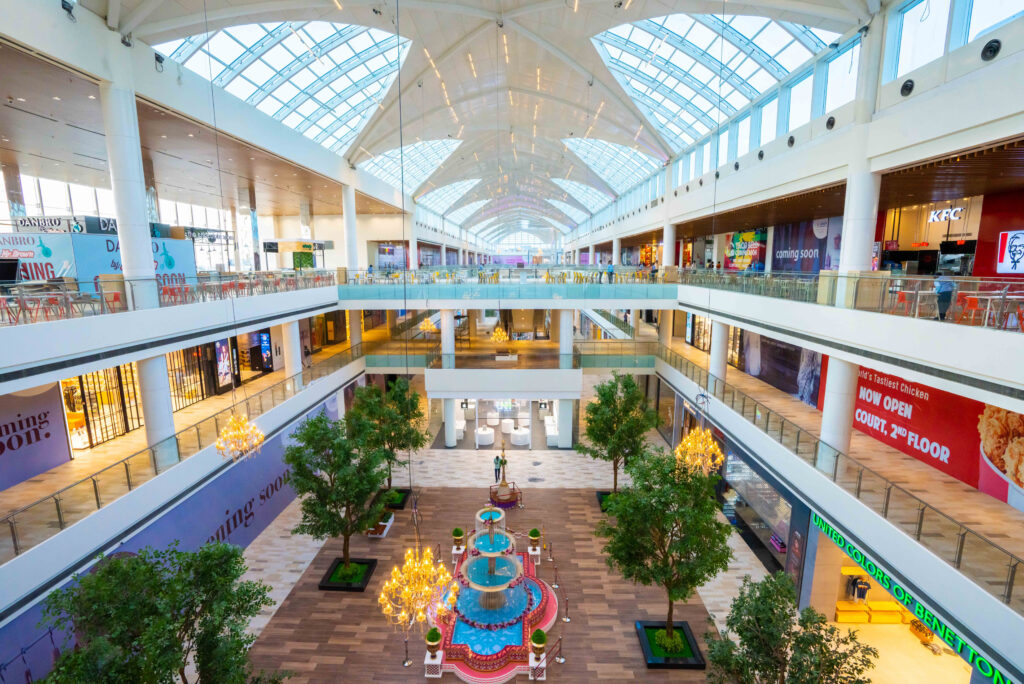 Lulu Group International has completed its 110,000 sqm Lulu Mall retail and leisure development in Lucknow, the capital of Uttar Pradesh, the most populated Indian state that counts over 240 million inhabitants. The project, designed by Design International, consists of 230 retail units plus a family entertainment centre, food court and parking for 3000 vehicles.
Lulu Mall Lucknow is located along the NH 27, the national highway that runs across the North of India. The Mall is 20 minutes' drive from the city centre and the airport, with a catchment area of 2 million people within 30 minutes' drive. It is a key development in Sushant Golf City, an upscale mixed-use development built around an 18-hole international quality golf course. "This is a massive centre, by any standard," says Davide Padoa, Project Principal and CEO of Design International. "Lulu Group commissioned us to design and manage the project knowing we have the creative flair, experience and resources to handle it from inception to completion." The Mall is anchored by a Lulu Department Store, and stand-alone electrical store: Lulu Connect. In addition there are: ·         Around 230 further retail units featuring national and international brands;·         A 6000 sqm Cinema and 5,000 sqm of Family Entertainment Centre, Funtura;·         A 2,700 Food Court and Restaurants seating.
Mr Padoa explains the rationale behind the design: "We have created here a centre that is typical of our work all over the world – a place where time stops. Where visitors are so engaged in exploring, shopping and having fun they lose all sense of time. This extended dwell time will be of great value to occupiers and operators – our client, Lulu International." Kollin Akbar, design manager for the project explains how Design International achieved this: "This is like a new triple hight street with squares and piazzas inside, all under a glass roof. They draw the visitor in. We have given every space its own sense of place." With a 1600 seat food court offering a wide range of dining options, Lulu Mall will become a destination in its own right, thanks to its excellent transport connections. Parking at the Mall includes a highly sophisticated traffic management system for the multi-level Car Park (1,365 cars and 1780 two wheelers), which is directly connected to the mall on all floors. Despite its appearance, the Mall was prefabricated off site. In fact a special factory was built to make the components needed. This has greatly reduced its environmental impact, in line with Design International's ambition to achieve high levels of sustainability.
Source : Design International