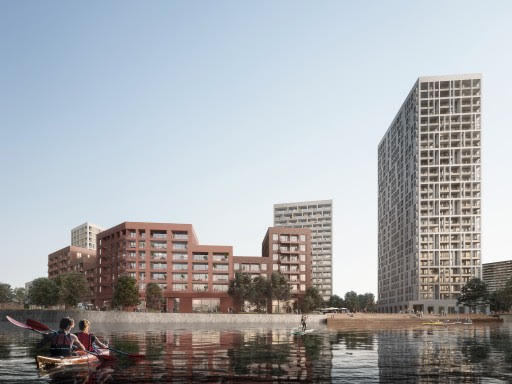 Developers BPI Real Estate and Immobel kick off the transformation of the former industrial site next to the Brussels canal.
Key West will be a mixed project where living, working and leisure time seamlessly connect with one another. More than 500 apartments of various sizes, offices, a day-care centre and shops on the ground floor will contribute to the revitalization of the neighbourhood in the kink in the canal next to the Crickx Park and Kuregem.
The developers and the top international architects team of Henning Larsen Architects and A2RC have looked at sustainability for Key West in the broadest sense. In addition to the traditional concerns about sustainable energy and efficient mobility, work has been done on creating more light, air and space. The entire neighbourhood will benefit from a public esplanade alongside the water. At the heart of the project, a private garden will be created for the residents of the complex. All patios are south-west facing and offer stunning views over the canal. The roof of one of the buildings is reserved for urban agriculture and space is made for various production activities and workshops.
To facilitate shopping for the neighbourhood and the residents, there will be retail premises with a supermarket, cafés and restaurants.
Technical data sheet
Programme: +/- 60,000 m²
· Apartments: 49,400 m² – 524 apartments
· Offices: 5,000 m²
· Production activities: 3,400 m²
· Shops: 2,700 m²
· City farm: 1,200 m²
· Public esplanade: 1,000 m²
· Day-care centre : 640 m², 42 places
· Mobility: 385 parking spaces in a rotary car park for efficient and sustainable occupancy. In the vicinity are the Zuid/Midi train station and "Aumale" metro station as well as a tram stop and a good connection to the motorway.
Estimated planning:
14 February – 14 March: public inquiry
29 February: information session for local residents
Summer 2020: permit
Beginning of 2021: start of construction
2027: completion of construction
Source : Company