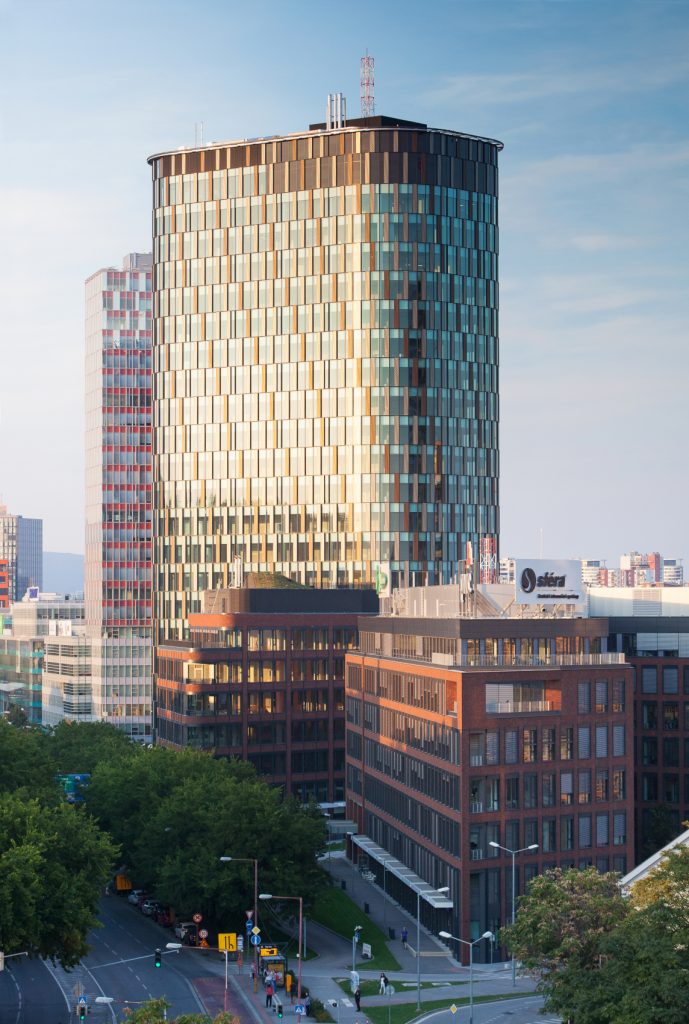 The Valesco Group, the London headquartered European real estate investment manager together with AIP Asset Management ("AIP"), the Seoul headquartered asset manager, have brought South Korean capital into Slovakian real estate for the first time having exchanged contracts to acquire the newly developed landmark Twin City Tower, principally let to Amazon, for €120m from HB Reavis, the leading international workspace provider. The purchase price reflects an acquisition yield of 5.75%.
Located in the Nove Nivy zone, a core location in Bratislava's new CBD, the building was completed at the end of 2018. Already 100% let, the 23 storey office tower with three underground floors, offers 34,752 sqm of high spec space including a roof top garden and panoramic views. The scheme also includes 1,360 sqm of retail and 456 car parking spaces.
The building's attraction to multinational tenants is reflected in its current strong line-up of occupiers. Amazon is the principal tenant with a long-term lease and occupies the HQ asset to run its management functions for Central Europe. The building is located in an area of the city which has become the focal point for new development and a flourishing ecosystem, with other tenants in the immediate vicinity including Swiss Re, SAP, Bayer, Compass Group and PWC. Other investment includes the development of new luxury apartment towers designed by Zaha Hadid all of which have been pre-sold, and a new mixed use prime shopping centre development incorporating the national bus station, which is expected to attract over 55,000 visitors daily.
Slovakia is one of the fastest growing economies in Europe, showing 4% GDP growth in 2018 which is expected to rise to 4.5% in the coming year. Unemployment has declined to historic lows whilst the level of foreign direct investment has been growing particularly in the technology, electronics and automotive sectors. Jaguar Land Rover is due to build its next generation of the iconic Defender car at its Slovakian factory, joining Volkswagen and Kia. Bratislava is attracting talent across Western, Central and Eastern Europe, enjoying its growing reputation as a thriving tech-hub. The office tenant base in Bratislava is diverse and expanding, whilst demand for prime office space has underpinned rental growth which continues to look favourable with limited new supply coming onto the market. European and International capital is being attracted to Bratislava due to the availability of institutional product and the compelling fundamentals at play which is driving yield compression.
Valesco originated the asset off-market and the transaction represents the first real estate investment backed by South Korean capital in Slovakia. The acquisition builds on Valesco's (headed by Shiraz Jiwa) and AIP's substantial deployment of capital in the UK market in 2018 which saw circa £350 million of investment through the acquisitions of Cannon Bridge House in the City of London and the Microsoft HQ in Reading.
Shiraz Jiwa, Founder and CEO of The Valesco Group, commented:
"This prime asset coupled with an exceptional principal tenant in Amazon in the growing core of Bratislava offers a unique and compelling investment opportunity. It is rare to find an alignment of macro, micro and real estate fundamentals that will together drive value over our holding period. Furthermore, we are seeing substantial blue-chip corporate migration to the City and an influx of international capital attracted to the investment thesis. Being only a 40 minute drive from Vienna, but with a very different yield profile of almost 300 basis points, this offers the opportunity for investors to benefit from a pricing dislocation play, whilst the fundamentals underpinning the income are very attractive. It is particularly pleasing to be adding Amazon to our growing portfolio of coveted tenants."
Marian Herman, Group CEO, HB Reavis, added:
"The Nove Nivy zone in Bratislava is a showcase of our strategy offering necessary scale to deliver not only quality development, but also value-added services and content. Twin City Tower was among the first projects in the area, fully leased months before its opening. Our Workspace as a Service strategy is becoming a reality thanks to the already existing business ecosystem of attractive tenants ranging from freelancers, through start-ups and scale-ups to large corporations. Innovative technologies and community building services and events are much appreciated by our tenants, as they are a good talent attraction and retention tool. And there is much more to come. We look forward to providing other additions to the zone, which will enhance productivity and wellbeing of its users."
The Valesco Group is a London headquartered, UK and European specialist real estate investment and asset manager, backed by sovereign and institutional capital from Asia and the Middle East. The Valesco Group is authorised and regulated by the Financial Conduct Authority in the United Kingdom. It targets consistently strong alternative returns and growth profiles at all points within a market cycle. The Valesco Group's ethos is built on combining excellence with fiduciary responsibility to ensure the delivery of compelling risk adjusted returns to its investor base.
Source : Company