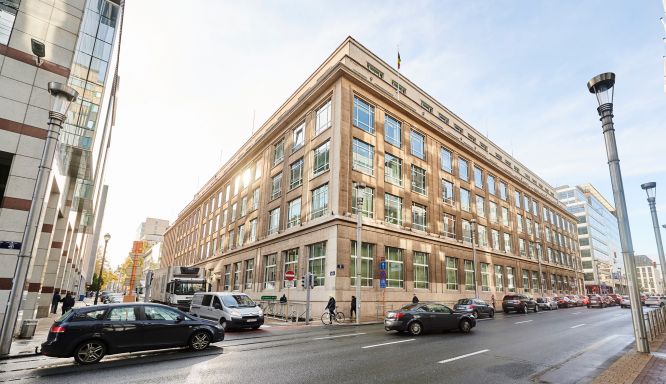 Immobel reached an agreement today with the French group Total for the purchase of buildings and land, including its head office in the European Quarter in Brussels.
Immobel, specialised in large-scale urban renewal projects, will renovate 75% of the > 25,000 m² building complex on Rue de la Loi/Wetstraat in Brussels, applying the principle of circularity: as many materials as possible will be reused. To reduce the climate impact, Immobel has opted to use environmentally friendly forms of energy (geothermal energy, solar panels) and improve the shell of the building. This will considerably reduce the CO₂ emissions of the building in use. The building will make maximum use of natural daylight through glass rear walls and sustainable materials such as wood. The current 1950 façade will be renovated while preserving the original design as much as possible and respecting the latest insulation standards.
Immobel intends to propose the redevelopment of the head office as seed asset to the Immobel BeLux Office Development Fund. This Fund, for which the capital raising will start shortly, is being set up to offer institutional and qualified investors the opportunity to invest together with Immobel in the development of sustainable and contemporary office buildings in Brussels and Luxembourg.
Due to the shifts in the office market as a result of digitalisation and other ways of working (e.g. teleworking), companies are looking for sustainable and flexible office solutions near mobility hubs. This trend has been stepped up due to the COVID-19 pandemic. Immobel wants to respond to this with the Fund, and generate positive impact for the office market.
Total surface areas:
Buildings: 35,750 m²
Land: 22,800 m²
Source : Company