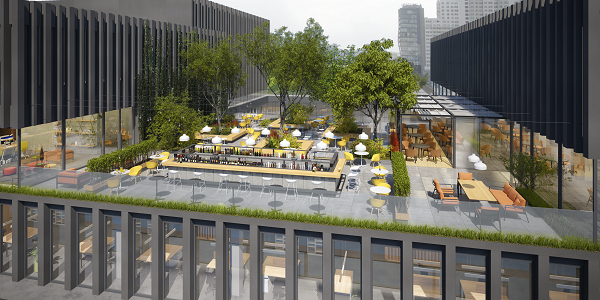 "Offices, shops, a theatre, a cinema, restaurants – all these are going to be created introducing great design, the most modern ecological solutions as well as trees, birds and bees. Protecting the environment and building a community of health-conscious people have already become a priority for every Capital Park's investment" – says Kinga Nowakowska, Operational Director and the Management Board Member of Capital Park Group.
The historic site situated between Prosta, Łucka and Żelazna streets in Warsaw is going to be transformed into the area with a lot of new functions and a mini-district consisting of several buildings and internal streets built within. The future complex is meant to serve as an open space, accessible for everyone. The buildings will be equipped with a number of eco-friendly solutions, which have been pre-certified with BREEAM's 'Very Good' rating in the design phase. The streets of the site are going to be filled with lots of greenery, including over a dozen of trees reaching from 5 to 10 meters in height. The walls and terraces of the buildings will also be decorated with plants, while the roof will host an urban beehive and the green areas bird feeders and nesting boxes.
"I am convinced that the iconic Warsaw BioBazar, which was the first ecological bazaar with certified organic food in Poland, will also become a symbol of Norblin. It is going to return to this place but it will be much larger occupying nearly 2,000 square meters of space. Poles love healthy food more and more, that's why such a place could not be missing in Warsaw" – adds Kinga Nowakowska, who was also the creator of the famous BioBazar in Poland.
Another key attraction of the project, directly related to the heritage of the place, will be the Open Museum of the Former Norblin Factory, which will hold exhibitions of unique collections of plated goods or renovated historic factory machines. During the revitalization works, 9 buildings of conservation concern, 2 historic buildings and 50 machines and appliances belonging to the former factory are going to be renovated.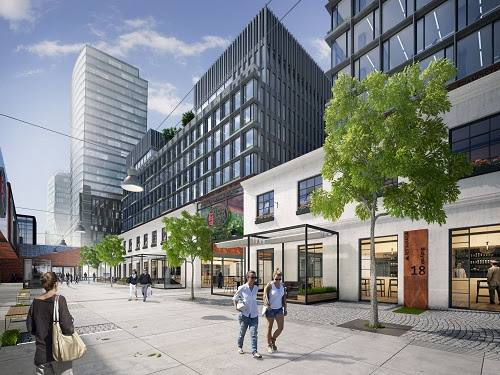 As a part of the revitalization of the two-hectare area of the historic 'Norblin, Bracia Buch i T. Werner' plant in the Warsaw Wola District, the commercial area of over 66,000 m2 will be created. The office area will cover 40,000 m2, out of which over 11,000 m2 have been already leased. Among the future tenants of the project there are such companies as rent24 (4,000m2) – a new coworking and coliving concept on the Polish market, City Office (1,800m2) – a serviced office operator, a conference center (1,600m2), General Property operating in the facility management sector (500m2) and Usecrypt (iMe) – a company providing IT support services (560m2). Over 26,000m2 of the area will be turned into the space for commercial, service, entertainment, cultural and gastronomic activities, out of which over 12,000 m2 have already been leased.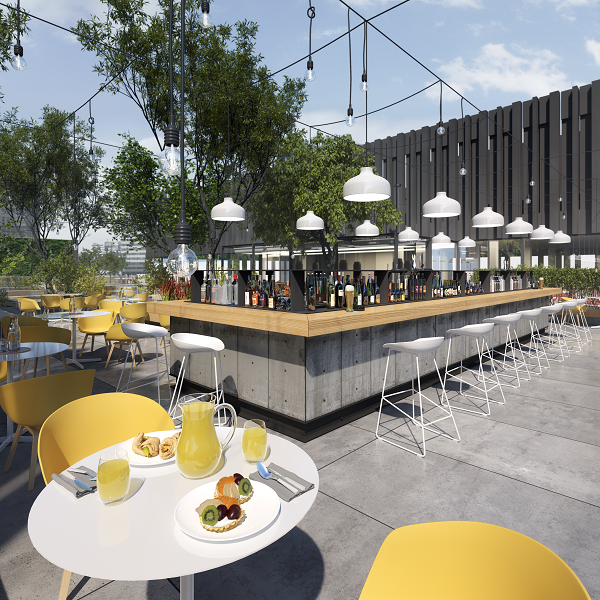 Capital Park Group is one of the biggest real estate companies in Poland and listed on the Warsaw Stock Exchange. For 3 months the firm has belonged to an American company – Madison International Realty (www.madisonint.com). Madison International Realty is a global real estate investor which is a leading liquidity provider to real estate investors worldwide.
Source: Capital Park Group