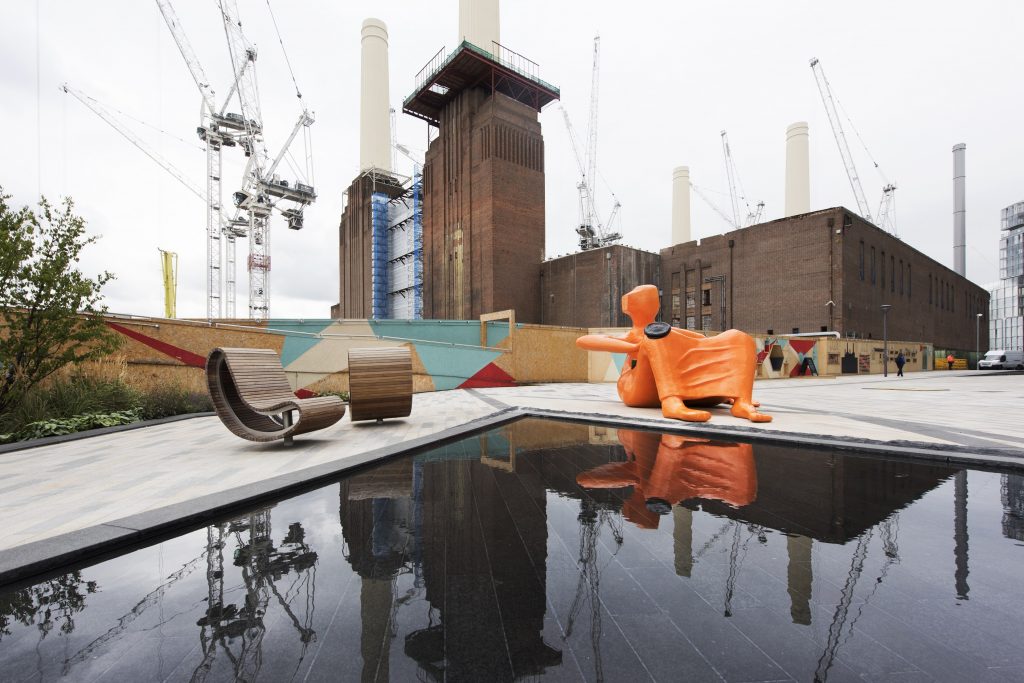 The team at Battersea Power Station and CASS Sculpture Foundation have today, Tuesday 26 September, unveiled new artworks by internationally acclaimed artists Jesse Wine and Haffendi Anuar, at Battersea Power Station's Circus West Village.
The artists were announced as joint winners of the inaugural 'Powerhouse Commission' in August, and were chosen from a shortlist of nine international artists that included: Claire Barclay (UK); Olaf Breuning (Switzerland); Conrad Shawcross (UK); Yutaka Sone (Japan); Nina Beier (Denmark); Raphael Hefti (Switzerland) and Bedwyr Williams (UK). The 'Powerhouse Commission' aims to provide artists with an exceptional opportunity to achieve new levels of ambition by developing works that engage with and reach new audiences set against the backdrop of Battersea Power Station.
The artists will be giving a talk about their work on Thursday 28th September at The Village Hall, Arches Lane, Circus West Village, Battersea Power Station at 7.30pm. Tickets are £10 and are on sale via the BPS website.
The winners of this first iteration of the Commission were selected by a judging panel of experts; Jude Kelly CBE, Artistic Director at the Southbank Centre and Cultural Advisor at Battersea Power Station; Anne Mullins, Head of Culture at Nine Elms Vauxhall Partnership; Misha Curson, Deputy Director, Cass Sculpture Foundation; Helen Turner, Curator at Cass Sculpture Foundation; and David Twohig, Head of Design at Battersea Power Station.
British-born, New York-based Jesse Wine's work, Local Vocals, mirrors the timeline of Battersea Power Station through the historical development of sculpture during the same period, from 1933 through to the present day. The work directly references Battersea Power Station's local history of sculpture by re-creating and re-interpreting the work of Henry Moore, who studied at the Royal College of Art and presented work in Battersea Park. At the same time, it retains Wine's signature style, adorned with depictions of objects – including cups of tea, sandwiches, notepads and flat caps – suggesting a huddle of workers paused for a tea break on an icon of 20th century British art.
For his commissioned sculpture, Malaysian artist Haffendi Anuar has created a site-specific series of pilotis, traditional architectural columns that lift a building above ground or water, and which are commonly found in stilted dwellings, such as fishermen's huts, across Asia. Within the context of Battersea Power Station, Machines for Modern Living are intended as surrogates of Battersea Power Station's' chimneys. By installing them on ground level at Circus West, their presence is anchored to the site, bringing the distant chimneys of Battersea Power Station within grasp. The complex forms of the sculptures, with their angular stacks, allude to both western minimalism and traditional Malaysian-Indonesian architecture.
Jesse Wine said: "It is rare that you get to expand what you do in such a dramatic fashion. This opportunity has been brilliant as it allows genuine experimentation – materially, conceptually and socially. Also, I often work alone but this project has provided me with a huge amount of support every step of the way."
Haffendi Anuar said: "The 'Powerhouse Commission' has given me the opportunity to work on a large-scale project and create a site-specific work that responds to the architectural environment and history of the Battersea site, as well as being sensitive to the nature of the project. The commission involves working with an established institution, CASS Sculpture Foundation, which has been extremely helpful in advising and guiding me through the process, as well as being generous with regards to sharing thoughts and ideas. This project is my first outdoor sculpture commission, and my first major work outside of Malaysia. Working on it has given me the confidence and knowledge to tackle future outdoor sculpture and installation projects, and to embrace a collaborative effort and new fabrication methods."
David Twohig, Head of Design at Battersea Power Station, said: "It's great to see the first two commissions being installed here at Battersea Power Station. For us, it's just as important to enliven the spaces between the buildings as it is the buildings themselves. We want to make a place that people want to come and visit and by creating an environment that is culturally interesting, we hope we can achieve this. We have a long-term ambition to make Battersea a new cultural district and the unveiling of our first two sculptures with Cass Sculpture Foundation is a big step towards that."
Clare Hindle, CASS Executive Director, said: "Eighteen years ago Cass Sculpture Foundation established the commissioning process for the Fourth Plinth, Trafalgar Square with Mark Wallinger's Ecce Homo. I am thrilled to continue our legacy of presenting contemporary sculpture at London's most prestigious public platforms, while maintaining our core charitable endeavour: to champion exceptional talent and provide artists with unexampled opportunity."
Clare Lilley, Director of Programme, Yorkshire Sculpture Park, and Curator of Frieze Sculpture Park, said: "Britain's cultural industries are a dynamic part of our economy and global recognition, and providing opportunities for young and mid-career artists is a vital role of our institutions. It is hugely gratifying that Battersea Power Station and Cass Sculpture Foundation have forged a partnership that propels distinctive creative purpose in such an iconic environment and I'm certain that both the commission and programme are positioned to become exemplary features of London's cultural activity, greatly benefiting both the successful artist and their public."
Wine's and Anuar's sculptures will remain at Battersea Power Station for three months, adding to the variety of public art that London currently has to offer.
As with all other works at CASS, the two 'Powerhouse' commissions are available for sale. Proceeds from the sales will be invested directly into future commissions.
The Powerhouse Commission forms part of Battersea Power Station's wider vision to deliver a new cultural district for London that will build a sense of community and ownership around it and to widen access to culture for audiences in South West London. This is part of a long-term cultural and community investment that will take place over the multiple phases of the development as the new neighbourhood takes shape. Recent openings include the Village Hall, a new 5,000 sq ft multi-use arts venue created in partnership with Battersea Arts Centre, and a new public artwork by leading British artist and designer Morag Myerscough that welcomes residents and visitors to Circus West Village, the first phase of Battersea Power Station's redevelopment.
The Malaysian shareholders of the Battersea Power Station project are committed to giving back to the communities in which they operate. They recognise the importance of creating shared value and this is embedded in all their undertakings to ensure that they contribute to building a harmonious and caring community.
About Battersea Power Station Development Company
•              • Battersea Power Station is one of central London's largest, most visionary and eagerly anticipated new town centres, in which roughly half the development comprises of shops, restaurants and office space – in addition, there will be a six-acre public park, town square and a new tube station (scheduled to be within Zone 1).
•              • The Battersea Power Station project is 42 acres and includes 3.5m sq ft of mixed commercial space, together with 4,364 new homes.
•              • The successful regeneration of Battersea Power Station will create 20,000 new jobs, inject £20bn into the UK economy and create a funding mechanism for the first major tube line extension since the Millennium. A new NHS medical facility is also being built.
•              • The Battersea Power Station Foundation supports local charities and community projects. Over £2.7m has been awarded since it launched in 2016; on average, £207,000 is granted per month and the largest grant awarded was to Battersea Arts Centre for £305,000.
•              • Circus West Village is the first part of the development, it opened to the public in Spring 2017. Since it opened, over 250,000 people have visited to enjoy the ongoing programme of events.
•              • Residential handovers have begun in Circus West Village, the first restaurants and shops are now open and there are many more to come. The Village Hall, a new performance space, has opened and a Thames Clippers River Bus service will be in operation from Autumn 2017.
•              • Battersea Academy of Skills Excellence (BASE), the development company's bespoke jobs and training service created for those living locally was launched in 2016. It is focused on matching people with jobs at Battersea as well as providing training relevant to the job pipeline at the development.
•              • Battersea Power Station is owned by a consortium of Malaysian investors comprising Sime Darby, S P Setia and the Employees' Provident Fund. Management of the development is being undertaken by British based Battersea Power Station Development Company.
About CASS Sculpture Foundation
CASS Sculpture Foundation is a not-for-profit organization that inspires, enables and shares contemporary sculpture. It was founded in 1992 by Wilfred and Jeannette Cass in order to provide contemporary artists with exceptional commissioning and exhibition opportunity. CASS supports its commissioned artists at every step of the process, from conception to fabrication, exhibition and sale.
Based within 26-acres of woodland in West Sussex, the charity is open to visitors and presents an annual public programme of exhibitions and events. It is consequently home to an evolving display that has included sculptures by Eduardo Paolozzi, Thomas Heatherwick, Rachel Whiteread, Tony Cragg, Jake and Dinos Chapman and Sara Barker amongst others.
CASS is unparalleled in commissioning expertise and curatorial legacy and is funded primarily through sculpture sales. All of the works on display are available for sale, with proceeds funneled directly into future opportunities for artists. Other income streams include philanthropy and consultancy.
CASS established the commissioning process for the Fourth Plinth, Trafalgar Square, as well as producing Tony Cragg's first large-scale, solo exhibition along Exhibition Road, London, in partnership witi the Victoria and Albert Museum, Science Museum and Natural History Museum.
About Jesse Wine (b. 1983, Chester, UK; lives and works in Brooklyn, New York)
Jesse Wine has been working with and appropriating ceramics into his expanded sculptural practice since graduating from the Royal College of Art in 2010. Wine has a strong engagement with the process of making, creating works in a rich variety of styles and finishes, ranging from natural earthy glazes to glossy bold primary colours. Making use of traditional glazing and firing techniques, he often depicts icons of contemporary life, such as mugs, flip-flop sliders and disparate items of clothing.
Recent solo and groups shows include That continuous thing, Tate St Ives, UK (2017); Andrea Rosen Gallery, New York, USA (2016); Young man red, Gemeentemuseum, The Hague, Netherlands (2016); British Art Show, touring, UK (2015), Big Pictures, Limoncello, London, UK (2015) and Chester Man, Mary Mary Gallery, Glasgow, UK (2014). Wine is represented by Mary Mary Gallery in Glasgow, UK.
About Haffendi Anuar (b. 1985, Malaysia; lives and works in Kuala Lumpur)
Haffendi Anuar's practice – which includes drawing, painting, installation, sculpture and photography – examines and explores the images, icons and architecture associated with progress and modernity in Malaysia, while also creating allusions to the culturally injected idea of Western modernism and art history. A graduate of the Rhode Island School of Design in Provident and Central Saint Martins College of Art and Design in London, he examines how countries in Southeast Asia "progress" or develop through culture and technological advancements, linking these notions of progress and modernity to the natural process of organic growth in the natural world.
Recent solo and group shows include PERSONAL STRUCTURES, Time, Space, Existence in the context of the 57th Venice Biennale, Palazzo Mora and Palazzo Bembo, Venice, Italy (2017); Malaysian Art, A Special Preview, Richard Koh Fine Art, Kuala Lumpur, Malaysia (2016); Art Central Hong Kong (2016); and Art Taipei, Taiwan (2014). Anuar is represented by Richard Koh Fine Art in Kuala Lumpur, Malaysia.
Jesse Wine's Local Vocals and Haffendi Anuar's Machines for Modern Living at Battersea Power Station
Source  :  Company