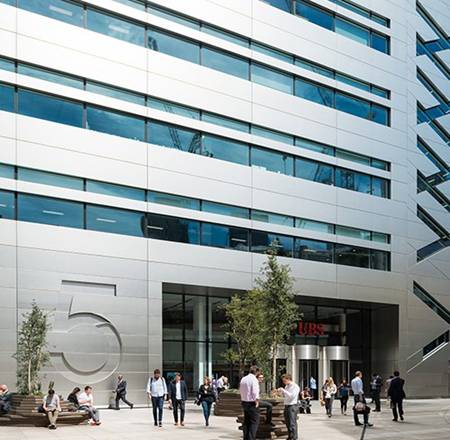 British Land and GIC are pleased to announce that they have completed on the sale of 100% of 5 Broadgate to a wholly-owned indirect subsidiary of CK Asset Holdings Limited for £1 billion, which is in line with 31 March 2018 valuation.
This transaction reflects British Land's consistent strategy of realising value from completed and well-let properties. British Land and its then joint venture partner committed to the development of 5 Broadgate in 2012 to house UBS's global investment banking business. The building, which was completed in 2015, generated a total property return of 18% per annum for British Land, and was a significant catalyst for the further development of Broadgate now underway.
We are currently on site with 1 million sq ft of developments across the campus, and have continued to make good progress on our leasing, with more than 30% of the ERV now pre-let or under offer. A significant amount of the space being developed will be retail and leisure; following key lettings to Eataly and Everyman Cinemas, marketing of this space has just begun and already we are seeing strong interest from a range of operators.
Tim Roberts, Head of Offices, British Land, said: "This transaction is the latest example of how our strategy is creating value. We delivered a modern, truly distinctive building for UBS, located at the heart of our largest central London campus, adjacent to the forthcoming Crossrail station. We have now taken the opportunity to realise value and reallocate capital across a range of projects, and uses, to deliver the best value for our shareholders.
We remain committed to Broadgate and are making excellent progress on our vision to develop and enhance the campus to create a truly world-class, mixed use central London destination. We are delighted to have found such a high profile and respected investor who shares our long-term plans for the campus."
Gerald Ma, Member of Executive Committee of CK Asset Holdings, said: "5 Broadgate is a great quality asset with a high quality tenant, and we are delighted with this investment. We are also very pleased to become a partner of British Land and GIC and share their long term vision for the entire Broadgate campus."
5 Broadgate was designed by architectural practice Make and is a distinctive building which covers more than 700,000 sq ft. net internal area with capacity for 5,000 people across its 12 floors. It is rated Excellent by BREEAM and carbon emissions are 65% lower than the previous two buildings on the site. UBS are committed to the building until 2035.
Source : Company