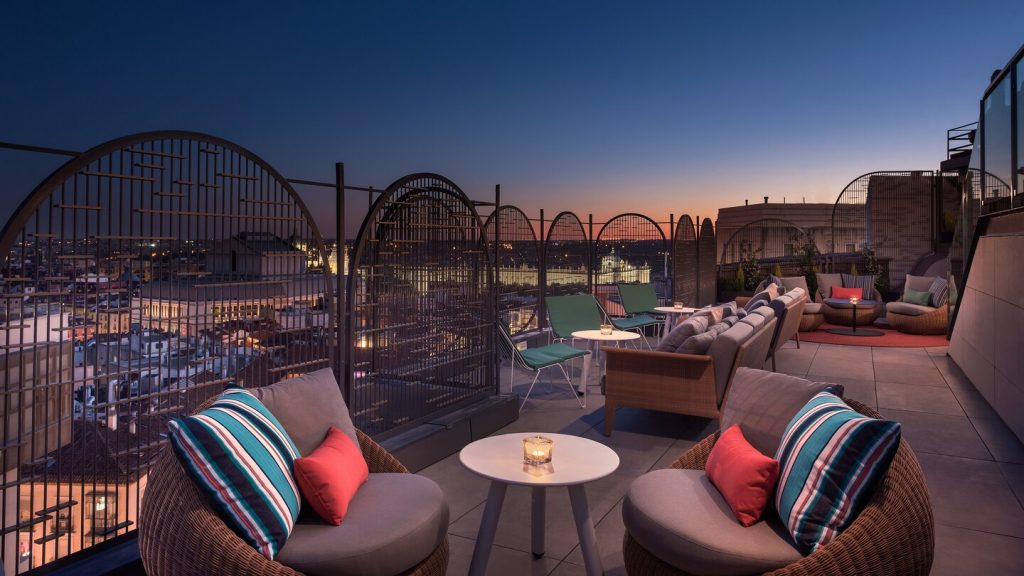 Henderson Park, the pan-European private equity real estate platform, announces that it has acquired the Aloft Madrid Gran Via, a prime hotel in the centre of Madrid, Spain.
Operated by Marriott's Aloft brand, which caters to the modern city traveller, the newly constructed 139-room 4 star hotel opened to guests in May 2019 and features a rooftop pool, a fitness centre, a 24-hour café and a 13th floor bar with terraces offering panoramic views across the city.
The 9,300 sqm hotel is centrally located on Calle de Jacometrezo, just off the iconic Gran Via, which is Madrid's single most visited street and top shopping and tourist destination, with the city's Plaza de España and multiple metro stations also close by. The ongoing regeneration of the historical city centre of Madrid, including the recent pedestrianisation of Gran Via, has reinforced the local area's attractiveness.
Madrid stands as Spain's number one destination in terms of visitor numbers, attracting almost 10 million tourists in 2018. Hotel demand has surged over the last three years, driven by both business and leisure travellers, while supply has remained broadly static supporting high occupancy rates. Madrid's international airport has seen improved global links, with a record 58 million passengers arriving in 2018, while the city is now a top ranked location for MICE participants, with 110,000 conference and event visitors last year.
Nick Weber, Founding Partner of Henderson Park, said: "This acquisition adds another prime institutional quality hotel to our portfolio. Having only just been constructed, the Aloft Madrid Gran Via is a brand new property in an exceptional central location in a top global city that is benefitting from ongoing regeneration and steadily growing demand. Leveraging the expertise of our team combined with our strong working relationship with Marriott, we're confident in our ability to further enhance the Aloft's value and fully cater to the demand for its micro-location.
"With this marking our fourth investment in Spain, we remain positive in the prospects of the Spanish market, and the outlook for Madrid and Barcelona in particular, both of which continue to enjoy a strong economic recovery and draw high numbers of international business and leisure visitors."
Source : Company