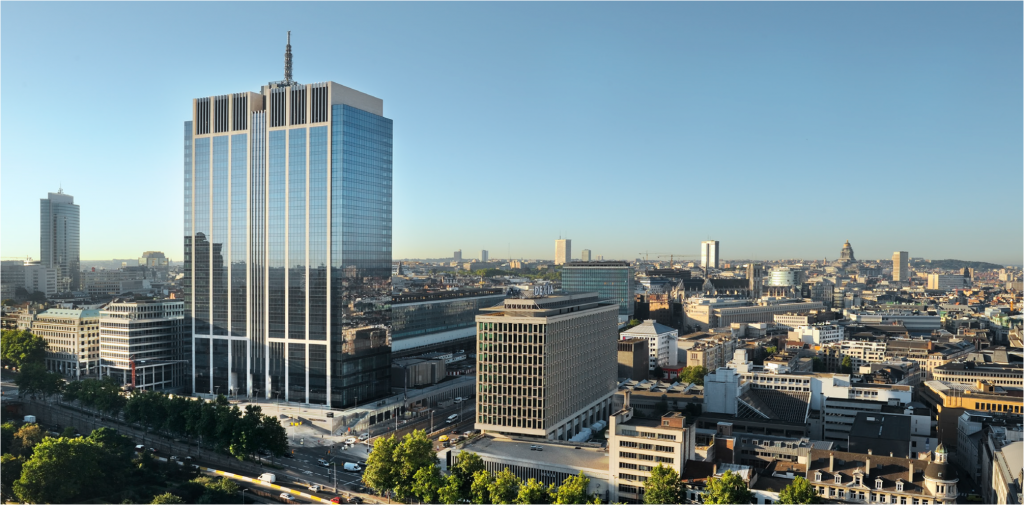 The Valesco Group , the London headquartered European real estate investment and asset manager, backed by Meritz Securities, one of the largest South Korean institutional investors, has acquired the Finance Tower, a skyscraper located in Brussels' CBD for c.€1.2bn, from Breevast and ZBG, in an off-market transaction. The purchase price represents an acquisition yield of 4.85%.
The landmark purchase represents the largest single asset acquisition in mainland Europe in recent years, behind Paris' Coeur Défense, and the second largest single asset acquisition in mainland Europe ever.
Valesco secured a consortium of top-tier lenders comprising Allianz, LGIM, SMBC and Bayern LB to provide a compelling c.€720m senior loan facility. Valesco has partnered with a number of the lenders on previous deals and so this transaction also represents a continuation of those relationships.
The 142 metre tall Finance Tower is an iconic freehold Grade A building and the largest commercial office premises in Belgium, providing 185,754 sqm of space over 36 floors. Delivering an annualised rent roll of €59 million, the asset is let on a 15 year, indexed linked lease without breaks to the Régie des Bâtiments, a Belgian Government agency on behalf of the Ministries of Finance and Social Security. Circa 4,600 employees are based at the property, which also offers 712 parking spaces, an 850-seat restaurant and a 400-seat conference centre.
Shiraz Jiwa, Founder and CEO of The Valesco Group, commented:
"Our forensic approach to real estate risk and our ability to unlock complex structures has enabled us to execute on this landmark and sought-after asset with the backing of a highly distinguished institutional investor in Meritz. This transaction continues our strong commitment to the European market in which we have invested €2 billion in the last 20 months alone and see substantial potential to further deploy capital to deliver value for our institutional and sovereign investors.
"Together with the c.€720m debt package we will deliver investors highly attractive cash on cash returns. The exceptional quality of the tenant and asset coupled with the strategic and dynamic CBD micro-location, with the backdrop of strengthening Brussels real estate fundamentals, offers further asset management and value creation opportunities for capital appreciation."
The transaction represents the third time Valesco has been backed by Meritz Securities in the last 18 months. The acquisition is further evidence of Valesco's expertise in delivering attractive off-market investment opportunities for investors as well as its ability to execute on intricate and complex transactions. JR AMC and AIP Asset Management are the registered South Korean domestic asset management companies supporting the deal.
Source : Company