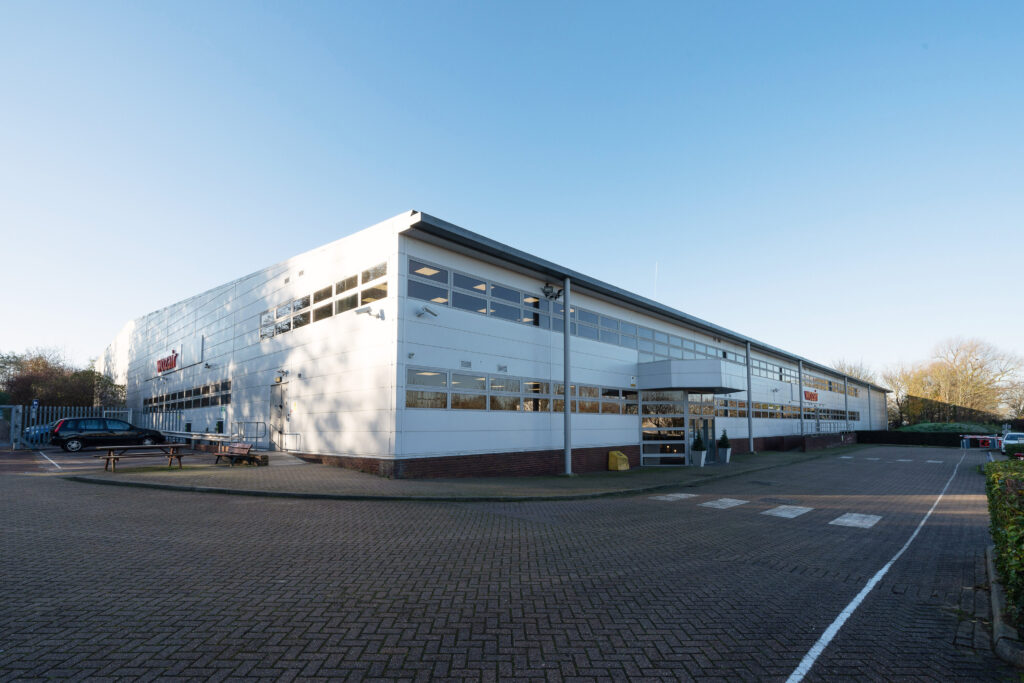 Moorfield Group, the UK-focused real estate fund manager, on behalf of Moorfield Real Estate Fund IV (MREF IV), announces that it has acquired four single-tenant logistics assets totaling 205,322 sq ft, in three separate transactions. Located across the South East, the combined purchase price of c.£25 million reflects a blended net initial yield of c.7%.
In line with its strategy of identifying real estate supply / demand imbalances and targeting sectors benefitting from societal shifts, Moorfield has, since 2019, assembled an eight-asset, 870,000 sq ft portfolio of single tenant warehouses on behalf of MREF IV, located in UK markets characterised by growing logistics occupier demand and strong or improving local infrastructure.
In Caterham, Surrey, Moorfield has acquired an 84,048 sq ft distribution warehouse, with an adjoining 3,500 sq ft roadside factory outlet, from Gold Group International Limited. The property is let to Ann Summers, on a 13 year lease, expiring in 2032, with the warehouse serving as its key UK distribution hub and global headquarters. Occupying a strategic location adjacent to the A22, which connects to Junction 6 of the M25 in under five minutes' drive, the property is less than 20 miles from Central London.
In Gillingham, Kent, Moorfield has acquired two warehouses totaling 86,127 sq ft via a related party sale and leaseback transaction with Wozair Limited, the global heating, ventilation and air conditioning specialists. The tenant has agreed to lease back the units for 10-year terms. Located on Gillingham Business Park, one of the most sought after business locations in the region and home to a number of national and international occupiers, the property benefits from excellent road access, less than 2.5 miles from the M2 which provides fast access to the national motorway network via the M25 and to the Channel Tunnel, providing a natural extension to the thriving East London logistics market.
In a third transaction Moorfield has acquired a 35,148 sq ft modern freehold warehouse in Newbury from a fund managed by OLIM Property Ltd. The unit is leased to Bunzl UK Ltd, a FTSE 100 wholesale distributor of cleaning and hygiene products, as well as PPE supplies, with 4 years until expiry. Newbury is positioned with access to the M4 motorway, connecting to London and other locations in the Midlands and the South West. The local council are undertaking a redevelopment programme for an adjacent industrial estate which is likely to put further pressure on supply levels in the local area.
These acquisitions follow the recent announcement of Moorfield's entry into the self storage sector with the launch of its strategic joint venture with a South African self storage Real Estate Investment Trust (REIT) and owner of leading UK self storage business Storage King. The joint venture aims to build an initial £50-100 million portfolio of modern, tech-enabled high-profile self storage assets in the UK.
Alongside investment in logistics and self storage, Moorfield is also continuing to invest in many 'alternative' and operational real estate subsectors, including in Build-to-Rent (through the More. platform) and other residential for rent strategies, student accommodation (through the Domain platform), nursing homes (via the relationship with Allegra Care), and retirement villages (through the Audley platform).
Source : Moorfield Group