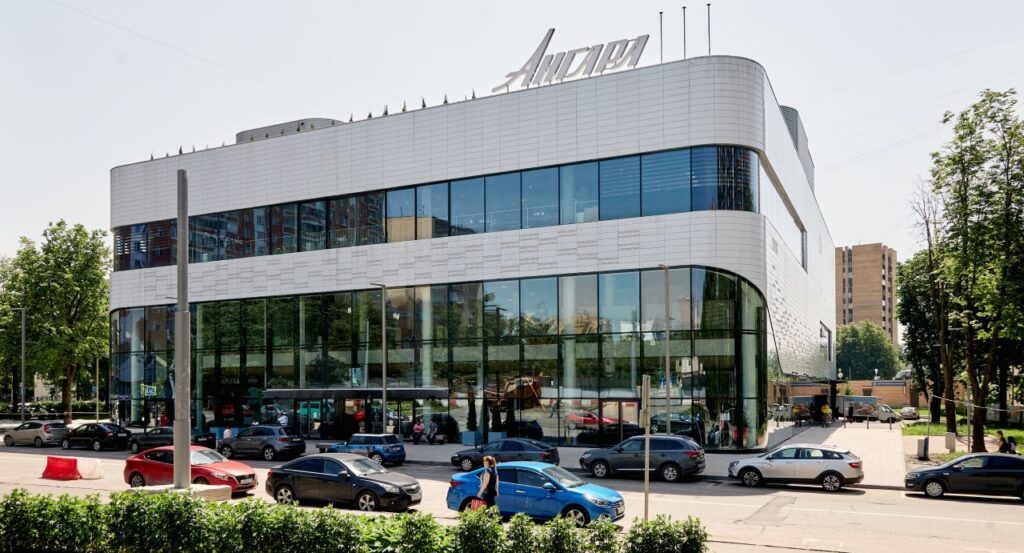 ADG group, a Russian development company, announced its annual results for 2020. Despite the challenges of the global pandemic, the company has continued to successfully implement a large-scale project to develop a chain of neighbourhood centers. Six centers were opened last year, with another 23 under construction. ADG group's Mesto Vstrechi ("Meeting Place") project is designed to transform the residential suburbs of Moscow and enable citizens to meet, dine, entertain and shop in proximity to their homes in state-of-the-art public spaces by reviving the heritage of old Soviet cinemas.
Original concept
Back in December 2014, ADG group acquired more than 30 old Soviet cinemas from the city of Moscow. The deal envisaged reconstructing the old buildings into recreational centers but preserving their original function of screening films. Based on its strong understanding of trends in retail and public spaces, the company developed an original format called the "neighbourhood center", a hybrid space with a modern multiplex cinema, public lounge areas intended for lectures and master classes for all ages, a food hall with numerous gastronomic concepts, spacious kids' entertainment areas and proximity shopping. The size and tenant mix of each center is tailored to people living in walking distance of the center and was decided based on an opinion survey of people living nearby.
Implementation
In 2019, the concept was launched on the market, when the first neighbourhood center, Angara, opened in the south of Moscow. Unlike shopping centers, Angara has put the community first from day one of its operation: with a rich cultural and educational program, a dedicated space for neighbors to meet, a food hall design that invites people both for work and leisure, a state-of-the-art cinema at affordable prices and dedicated community manager ready to help with event booking or indoor navigation, Angara has quickly become the place to be for locals.
2020 expansion
In 2020, ADG group continued simultaneous construction work at more than 20 centers. Although the lockdown caused by the COVID-19 pandemic has impacted the whole industry, ADG group managed not to postpone completion in most cases and launched six more neighbourhood centers in different Moscow districts. The company rolled out its united brand for the chain, Mesto Vstrechi ("Meeting Place"), and kept the historic names of the Soviet cinemas, as well as reconstructing their original signs. The brand's visual identity embraced Soviet poster style elements, color schemes, graphics and typography to pay homage to the cinemas' heritage and present a contemporary interpretation.
Concept evolution and future plans
As we see that consumer behavior is changing and people across the world, including in Russia, are shifting to digital channels for shopping, food delivery and even entertainment, the offline experience should provide interaction and emotions that online cannot replicate. That's why the concept of a neighbourhood center that provides opportunities for interpersonal communication and emotional experience performs better than the old format of a shopping mall. When the lockdown in Moscow was lifted, even with respect for social distancing and safety restrictions, Angara has been recovering quite well in daily visitation – immediately after the restrictions were lifted, footfall rose back to 75-80%.
Nevertheless, ADG group has not put all its bets on brick & mortar: the company is developing a digital experience for neighbors based on the Mesto Vstrechi app which was launched together with Angara's opening. Through the app, consumers can get the latest information on the nearest center and use online services such as event booking or food delivery. Delivery options will be expanded soon: the property management company, part of ADG group, is set to launch its own delivery service which will allow consumers to mix & match shopping from different tenants of the neighbourhood center – get food from several gastronomic corners, shop for groceries from the supermarket and pick up the completed order from a range of household services (e.g., dry-cleaned suit) – all in one delivery.
The project will continue to grow offline as well: another four neighbourhood centers are scheduled to open in the second quarter of 2021, and the entire chain will be completed in 2022.
Source : Company