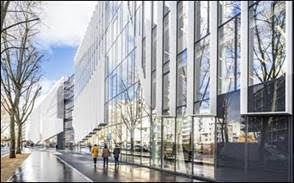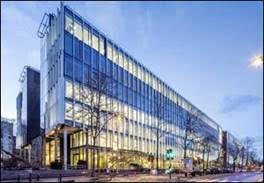 A consortium made up of various Primonial REIM funds, La Française and EDF Invest today signed a sale agreement withUNIBAIL-RODAMCO-WESTFIELD for the "Shift" office building, which serves as Nestlé's head office in Issy-les-Moulineaux (92). The final sale contract is scheduled to be signed in early 2021, once the usual conditions precedent have been met.
A NEW BUILDING WITH A UNIQUE ARCHITECTURAL IDENTITY AND DESIGNED AS A TRANSFORMATION ACCELERATOR
The Shift building covers a surface area of over 47,000m² spanning 7 floors, and offers exceptional amenities and services: 4,000m² of energy-efficient floor space receiving direct light, 1,200m² of meeting areas, 3,000m² of collaborative workspace, a food hall offering a variety of catering concepts, 1,800m² of private terraces, enclosed and outdoor balconies on each floor, and a 2,600m² landscaped roof terrace including an alternative workspace.
The building was designed in 1990 before being fully redeveloped and was delivered in February 2020. It was designed by the Arte Charpentier Architectes agency based on an open core living area, offering its occupants a degree of comfort and working experience that are unique. The transparent and contemporary architecture of the biomimicry-inspired façade produces a cinematic effect, and the interior design is open and luminous, making the building conducive to interaction thanks to a variety of spaces created for its users.
The Shift building boasts dual certification: BREEAM "Excellent" and HQE (high environmental quality) "Exceptional". It is fully let to the Nestlé group under a 12-year lease.
EXCEPTIONALLY WELL LOCATED IN ISSY-LES-MOULINEAUX, AT THE VERY HEART OF "GRAND PARIS"
The real estate complex offers a high degree of visibility as it is located along the edge of the Paris ring road and its address spans both Issy-Moulineaux and Paris 15th. It lies in the Western Crescent, a well-established business district that draws in international corporations, administrations and local amenities. It is thus fully accessible by public transport and also easy to access by road.
Grégory FRAPET, Chairman of Primonial REIM's Management Board: "Shift is a remarkable building meeting the highest international standards with respect to its environmental performance as well as its architectural quality and the services it offers its users. Primonial REIM is making this acquisition alongside La Française and EDF Invest. This is yet another example of our ability to both source, structure and finalise top-tier emblematic property transactions in Europe's largest real estate market and pursue our growth strategy by selecting investments capable of delivering yields that can be sustained over the long term."
Source : Primonial REIM