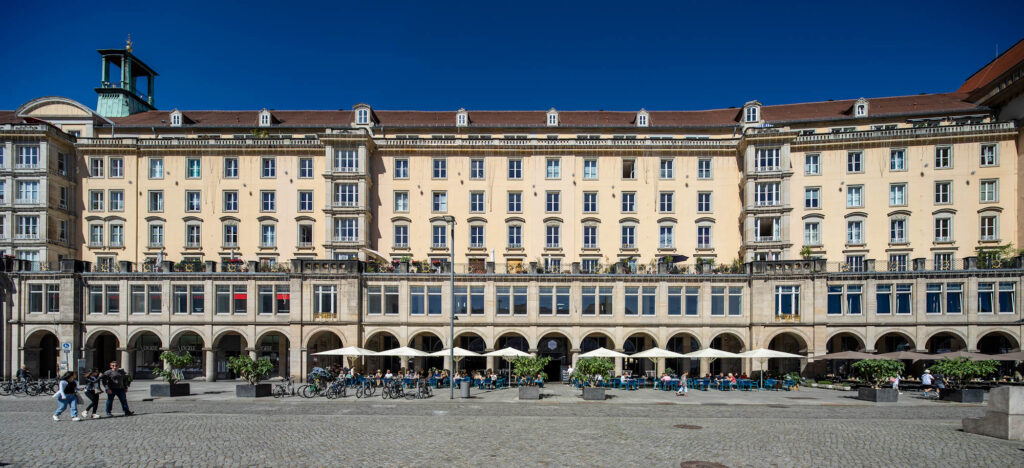 ---
Deutsche Investment KVG is purchasing one of Dresden's best-known heritage sites: The Altmarkt Karree complex of residential and commercial units in the historic town centre of Dresden provides 321 residential and 37 commercial units on a gross lettable area of around 39,500 sqm. The acquisition was transacted within the framework of an individual mandate on behalf of an institutional investor who contemplates sustainable long-term asset ownership. The property was sold by Quantum Immobilien KVG on behalf of several German superannuation schemes. The two parties agreed not to disclose the selling price. The transfer of rights and duties became effective as of 1 February 2021.
Between 1953 and 1960, Altmarkt Karree was built in the neoclassicist style directly next to the Altmarkt square in Dresden which hosts one of the most time-honoured Christmas Markets in Germany, the so-called "Striezelmarkt." The listed complex consists of 24 buildings grouped directly around Altmarkt-Galerie, one of the biggest shopping centres in Dresden. In combination with the commercial tenants of Altmarkt Karree, the Altmarkt square has evolved into one of the most popular spots for eating out and promenading in Dresden.
Following its acquisition of the property in 2018, Quantum undertook extensive refurbishment measures in about a third of the flats, which are now thoroughly modernised and upgraded to a high-end fit-out standard. In addition, more than 5,000 sqm of commercial and retail units had their leases renewed or else were rented out on new leases, with some of them structurally altered, including the premises of the former Café Prag. As a result, these units are virtually fully occupied now. Among the occupiers are renowned companies such as WMF, Douglas, Apollo Optik and Wilma Wunder.
The ensemble of buildings is managed under the concept of one-stop real estate competence by the in-house property management team, which is operated by the corporate conglomerate of Deutsche Investment and EB GROUP, and which has been on the ground in Dresden since 2013. Other properties under the team's management include the prestigious Yenidze office property, which occupies a former cigarette factory whose extraordinary architecture resembles a mosque.
"The city of Dresden has developed into a key location for our corporate conglomerate, and it is safe to say that we have grown quite fond of its cultural and architectonic diversity," said Enver Büyükarslan, the main shareholder of Deutsche Investment KVG. "This is something we would like to share with our tenants, and so it is important for us to be in close proximity to them. Indeed, our property management team in Dresden is only a few minutes away from Altmarkt Karree, and is well versed in the management of cultural heritage sites."
"Among the most compelling aspects of the complex, in addition to its diversified cash flow profile, is the prestigious architecture with its ornamental plaster and generously proportioned entrance areas, and these, too, were enhanced through costly upgrades in recent years," said Arndt Buchwald, Managing Director of Quantum Immobilien KVG. "We are pleased to have found a reliable buyer for this attractive landmark ensemble in Deutsche Investment, and to see our investors benefit from the sound performance of this investment."
Picture's source : Deutsche Investment / Carsten Brügmann
Source : Joint release