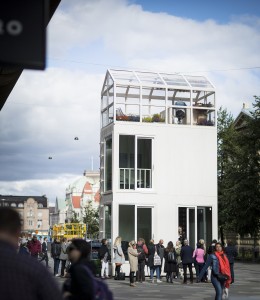 On Thursday 7 September, a micro-size apartment building the size of a parking place will be built on Keskuskatu in Helsinki. The building can be seen during Helsinki Design Week on 7-17 September. Designed by architect Marco Casagrande, Tikku ('stick') can be built in one night. It takes a stand for the urban planning of the future: as cities grow denser, there is a need to find more agile ways of building and spatial solutions.
Together with Helsinki Design Week, Sponda has realised an urban co-working hub in Tikku that is part of the HDW HOP City Installations.
"In an insightful way, Tikku demonstrates the development of cities and a future vision of combining different spaces. A dense urban structure that combines different purposes offers new opportunities for developing communality and brings life to cities when buildings can also be used outside of office hours. A micro apartment building also sets for us an example of a future," says Anita Riikonen, Marketing and Brand Manager at Sponda.
Sponda is involved in urban development through the properties it owns and it also wants to bring more life to city centres. "The Tikku installation is a great example of how different actors can through co-operation create new innovations that bring joy to the people of the city," continues Anita Riikonen.
The working space of the future is built on the second floor of Tikku where Sponda's employees, Sponda's tenants and co-operation partners will work during Helsinki Design Week. The first floor of the micro apartment building will house residential spaces, and the third floor has a rooftop garden. Made of CLT massive wood structures, Tikku was built in the Woodpolis of Kuhmo.
Sponda Plc is a property investment company specialising in commercial properties in the largest cities in Finland. Sponda's business concept is to own, lease and develop retail and office properties and shopping centres into environments that promote the business success of its clients. The fair value of Sponda's investment properties is approximately EUR 3.8 billion and the leasable area is around 1.2 million m2.
Source : Company