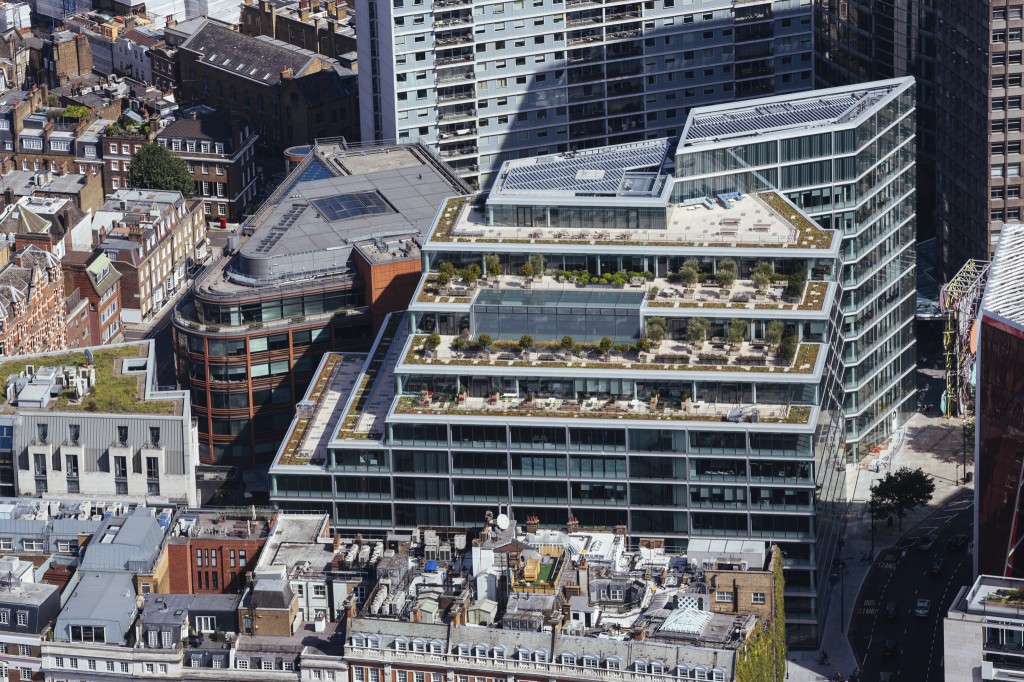 Tishman Speyer, one of the world's leading developers, owners,
operators and asset managers of first-class real estate, today announced the sale of Verde SW1, a
world-class mixed-use property in London's West End, to Deka Immobilien for an undisclosed
amount.
Tishman Speyer acquired the building from LandSec in 2012 in a joint venture with the Public Sector
Pension Investment Board of Canada (PSP Investments). It obtained planning permission for an
extension of the property from 258,000 square feet to nearly 320,000 square feet.
Today, Verde SW1 comprises 318,000 rentable square feet spread over 10 office floors, five of which
have their own roof terraces, prime street-level retail, and a large communal roof terrace for the
whole building. Verde SW1 was developed to the highest environmental and sustainability
standards, and designed to create an efficient space for businesses to thrive and a harmonious
environment for employees to enjoy top-of-the-line amenities. It is strategically located in the centre
of London's West End and is within 100 metres of a new entrance to Victoria Station, one of
London's busiest transportation hubs.
The redevelopment was completed in January 2017, by which time it was already 65% pre-let with
the remainder of the building being successfully leased in the following 12 months. Tenants include
PA Consulting, Oaktree Capital Management, TP ICAP, Pret A Manger, Mirabaud, Carwow, and RWC
Partners, as well as a large Waitrose supermarket. The best-in-class and innovative cycling facilities
are run by H2, who also operate a gym in the basement.
Verde SW1 won the award for Best Office Architecture (London) and Office Development (UK) at the
2017-2018 UK Property Awards last October. It also won the Office Agents Society's Best West End
Refurbishment/Regeneration award in June 2018.
"This is a prime example of how Tishman Speyer can take a previously unloved property and
redevelop it to the very highest standards, adding amenity and character, which in turn attracts
world-class tenants," said Dan Nicholson, Managing Director of Tishman Speyer UK. "This sale marks
a further milestone for Tishman Speyer in the London office market, a success story which began
over 20 years ago. It is also another fine example of our continuing and fruitful global relationship
with PSP Investments."
"The success of Verde SW1 is a true example of PSP Investments' ability to continually identify
emerging sectors and locations early on and execute on tactical and creative business plans
alongside our partners," said Stéphane Jalbert, Managing Director, Real Estate (Europe and Asia
Pacific) PSP Investments. "This best-in-class redeveloped site is a true testament to our strong
continued partnership with Tishman Speyer and the achievement of a shared vision. Furthermore,
we established our European headquarters in Verde SW1 in May 2017, complementing our belief in
the property and location."
Verde SW1 is one of four major property acquisitions or developments for Tishman Speyer in
London. The portfolio includes The Point in Paddington, 33 Holborn and The Smithson Plaza in St
James's.
About Tishman Speyer
Tishman Speyer is a leading owner, developer, operator and fund manager of first-class real estate
around the world. Founded in 1978, Tishman Speyer is active across the United States, Europe, Latin
America and Asia, building and managing premier office, residential and retail space in 28 key global
markets for industry-leading tenants. The firm has acquired, developed and operated a portfolio of
over 167 million square feet with a total value of approximately US $88 billion spread over 406
assets. Signature assets include New York City's Rockefeller Center, São Paulo's Torre Norte, The
Springs in Shanghai, Lumière in Paris and OpernTurm as well as TaunusTurm in Frankfurt. Tishman
Speyer currently has projects at different stages of development in Boston, Brasília, Frankfurt,
Gurgaon, Hyderabad, Los Angeles, New York City, Paris, Rio de Janeiro, San Francisco, São Paulo,
Shanghai, Shenzhen and Washington, DC. The firm also operates portfolios of prominent office
property portfolios in Berlin, Chicago and London.
About PSP Investment
The Public Sector Pension Investment Board (PSP Investments) is one of Canada's largest pension
investment managers with CAD$153 billion of net assets as of March 31, 2018. It manages a
diversified global portfolio composed of investments in public financial markets, private equity, real
estate, infrastructure, natural resources and private debt. Established in 1999, PSP Investments
manages net contributions to the pension funds of the federal Public Service, the Canadian Forces,
the Royal Canadian Mounted Police and the Reserve Force. Headquartered in Ottawa, PSP
Investments has its principal business office in Montréal and offices in New York and London.
Source : Tishman Speyer