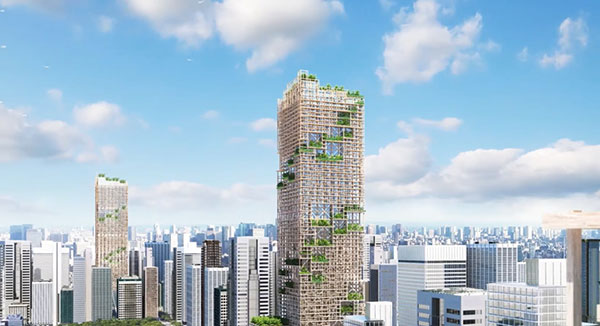 Japanese developer Sumitomo Forest has joined forces with architectural designers Nikken Sekkei, announcing plans for the world's tallest wooden skyscraper. The 1,148-foot (350-meter) skyscraper is set to be completed by 2041 and is to be located in central Tokyo.
The timber skyscraper forms part of the W350 project, a mixed-use environmentally-friendly development whose completion will mark Sumitomo's 350th anniversary. The concept has been prepared by Sumitomo's Tsukuba Research Institute, which the company hopes will help "transform the city into a forest."
The calls for a building of 70 stories, comprising steel and timber, covering 6,500 square meters on the site and containing 455,000 square meters of floor space. Approximately 6.5 million cubic feet (184,059 cubic meters) of wood will be required to realize the braced-tube structure designed in collaboration with architectural designers Nikken Sekkei. Braced tubing describes a structural system strengthened by inserting elements into the incorporated framework to prevent any damage caused by conditions brought on by earthquakes or wind.
Renderings of the W350 project show timber buildings covered in greenery that, according to Sumitomo, will be built to withstand earthquakes and fires – but to what degree is not yet public knowledge. The completed tower will house shops, offices, a hotel, and residential units, while sketches show balconies wrapped around the entire façade.
Once completed, the building will not only outstrip Abeno Harukas in Osaka, which currently holds the crown as Japan's tallest building, it would also be the tallest timber tower in the world. In realizing the design, the company hopes that the project will popularize timber architecture and help jumpstart a revitalization of the forestry industry in rural areas, as well as interest in reforestation.
Source : CTBUH