Cerimonia  in grande stile  ieri 7 settembre a  Londra  per il Topping  out  di  "One Fen Court", prestigioso building  sito nel cuore del  distretto  finanziario della  capitale  britannica.
L' edificio , circa  40 mila  metri quadrati  a  prevalente  destinazione   office,   è  di proprietà – e  sviluppato – da Generali Real Estate  : un investimento da 420 milioni di sterline ,   definito  «a  major  step»   nella  strategia  della  Società,  Fen Court  è già all'  80%  pre-let  (con un contratto  di 20 anni)  alla  M&G Investiments,  che  vi  trasferirà  il proprio HQ .
Accanto al  Sindaco della City di Londra e altre  autorità, al Topping  out  è intervenuto Aldo Mazzocco,  CEO  e DG  di  Generali Real Estate.
Qui sotto, uno stralcio della  press  release :
«Designed by Eric Parry Architects, One Fen Court is a 14-storey building offering around 435,000 square feet (sq ft) of office and retail space, as well as a restaurant and a publicly accessible roof garden at level 15. The building, with its innovative and striking design, was winner of the Office, Future Projects Award at the 2012 World Architecture Festival, and presents minimal, sharp geometries with a crystalline appearance. A new public passageway at street level links Fenchurch Street with Fenchurch Avenue; inside is a curated art space featuring a 1,900 sq ft LED display ceiling with retail units looking onto the space. Designed to meet the exacting requirements of today's tenants, the building presents near columnless floor plates of approximately 33,000 sq ft, and the crown is clad in a highly efficient closed cavity facade system. One Fen Court is designed to achieve BREEAM 'excellent' certification. .
One Fen Court is crowned by a large, public rooftop garden, offering panoramic views across London. The Roof Garden will comprise mixed perennial planting, shrubs and fruit trees to provide interest throughout the year, and is topped by a steel pergola over which will climb 79 wisteria trees. Beneath the roof garden is a 9,000 sq ft restaurant located on the 14th floor.
Leasing
In 2014, M&G Investments leased over 80% of the office space in the building. Levels 1 and 2 – 33,000 sq ft each and benefitting from a dedicated HQ style entrance – are currently being marketed.
Involved parties
Generali/Generali Real Estate – Owner / Developer
Eric Parry Architects – Design
Greycoat/CORE – Development Manager
ARUP – Structural Engineer
Waterman Group – Building Services Engineer
Sir Robert McAlpine – Main Contractor
Timeline
August 2014  Beginning of demolition and archaeological excavation
May 2015  Beginning of construction works
September 2017  Topping out
February 2018  Delivery of building to shell and core
Q4 2018/ Q1 2019  Office tenants to move into their new premises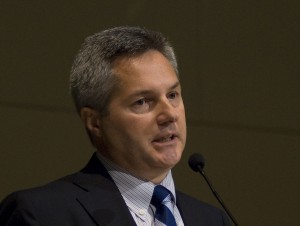 Generali Real Estate S.p.A. is one of the world's leading real estate asset managers with €25.6 billion of AuM as of end of June 2017. By managing a unique mix of historical and modern properties, Generali Real Estate has developed best-in class skills in the fields of technological innovation, sustainability and urban development.
Generali Real Estate is part of the Generali Group».