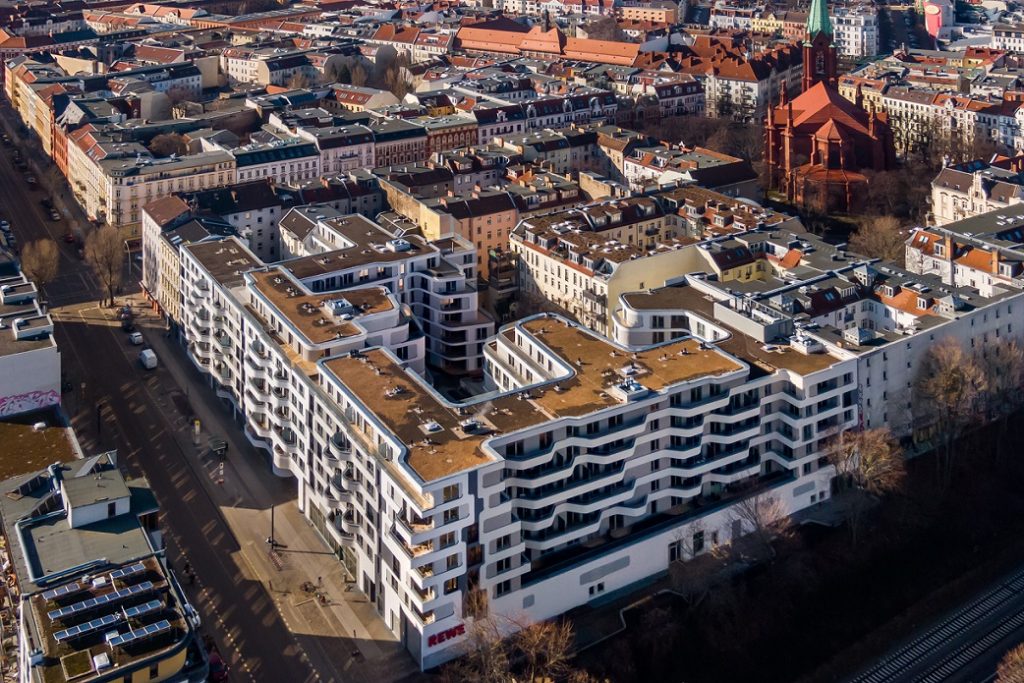 With its latest construction project, "Port-o-Prenz" on Pappelallee in Berlin, Trei Real Estate GmbH (Trei), an internationally active property developer and property asset holder of residential and retail real estate, completed the first of three large-scale developments in the German capital. The property was handed over by the general contractor, S. Pöttinger GmbH & Co. KG Bauunternehmung, to Trei right on schedule. Around 60 percent of the apartments are already let, and Trei expects full occupancy to be achieved by summer of 2021. Prior to the construction activities, the plot was only occupied by an obsolete single-storey supermarket. Trei's decision to overbuild it delivered a substantial contribution to the effort to replenish the city's housing supply, which is being depleted by strong demand. Overall, the mixed residential/retail building now provides 240 apartments and four commercial units plus an underground car park.
Pepijn Morshuis, CEO of Trei Real Estate, commented: "I'm very happy about the completion of our first supermarket-led development in Berlin. 'Port-o-Prenz' is a modern and attractive new building that combines inner-city housing construction with high-street retailing, and demonstrates how to make smart infill densification work in Berlin. The high occupancy rate and the fast letting progress have confirmed this: We managed to let nearly 150 apartments in a matter of weeks. We plan to keep the property in our portfolio for the long term."
René Westerheider, Head of Asset Management at Trei Real Estate, added: "Despite the COVID-19 pandemic, which we have had to deal with for a year now, the development was handed over on schedule. Toward the end, there were some minor delays, caused primarily by COVID-19 cases among the construction management and a sub-contractor's COVID-19-related insolvency. This hampered the coordination at the construction site. But it now makes us all the more joyful over the completion, not least because we are very happy with the outcome, which integrates smoothly into the urban structure with its modern and imaginative architecture."
The new six-storey building on Pappelallee in the popular district of Prenzlauer Berg provides 240 apartments of one to five bedrooms, and ranging from 20 to 150 square metres in size. It also includes four retail units with a combined floor area of 2,600 square metres, and a total of 70 underground parking spots – 40 of them for the building's residents and 20 for supermarket shoppers. The REWE supermarket already opened in September 2020, and the other three commercial units will soon open, too. ALBA Property Management GmbH and ALBA Facility Solutions GmbH were retained for the lettings management and the long-term management of the building.
At Winsstrasse 18, just a few hundred metres away, Trei is developing a total of 187 rental apartments along with retail units on the ground floor. On Fürstenberger Strasse 8 in the borough of Mitte, another 117 apartments are under construction. Through these three developments, Trei is in the process of delivering around 550 apartments and thereby contributing much needed accommodation.
Source : Trei Real Estate GmbH