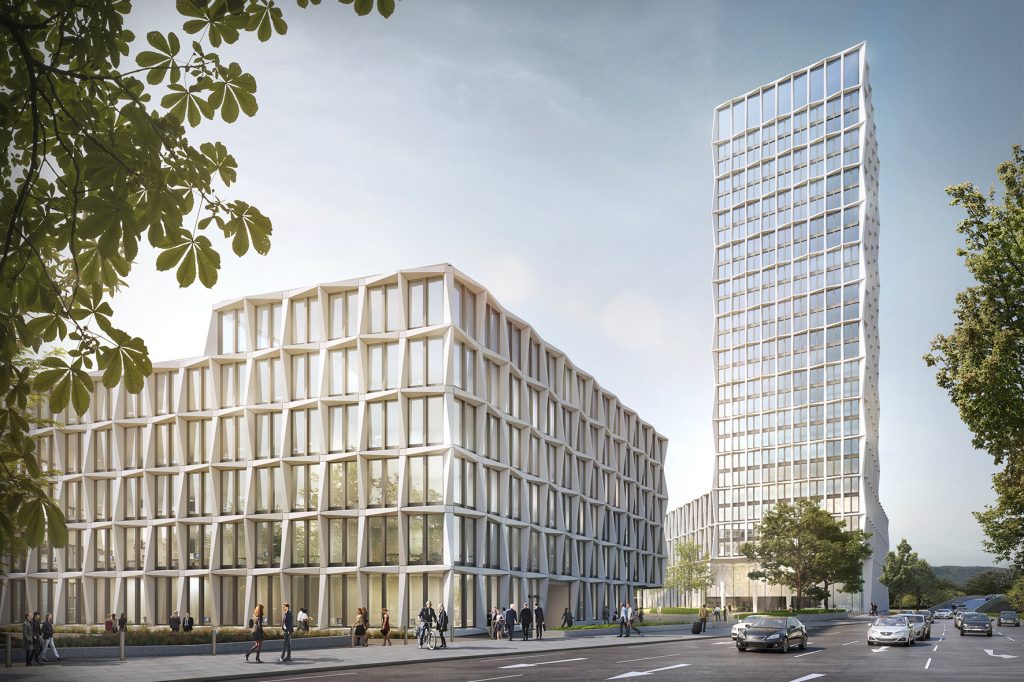 Project developer Art-Invest Real Estate has reached an agreement with Union Investment on the sale of Neuer Kanzlerplatz in Bonn. Union Investment will take over the building ensemble after completion, which is scheduled for the beginning of 2022. Art-Invest Real Estate will retain full responsibility for the project until then.
The main tenant in the new office complex, which comprises three properties, will be DB Privat- und Firmenkundenbank AG, which was formed as a result of a merger between Postbank and parts of Deutsche Bank. It will bring all of its existing offices in Bonn together in the plinth buildings of Neuer Kanzlerplatz. As at the time of acquisition, the pre-letting rate is around 80 per cent. The purchase price was not disclosed. Union Investment is acquiring the planned office complex for three of its actively managed real estate funds. Savills, Clifford Chance and Lehmann Consult advised the Hamburg-based real estate investment manager on the transaction. Art-Invest Real Estate was advised on the sale by law firm McDermott Will & Emery.
Arne Hilbert, managing director of Art-Invest Real Estate, believes Neuer Kanzlerplatz will be in good hands in the future: "The people of Bonn have strong feelings and high expectations with regard to this major project, so it's important for us to be responsible for all aspects of development and to implement it right through to completion. We are delighted to be working in partnership with Union Investment as a reliable and long-term investor."
"We consider Bonn to be one of the most dynamic secondary locations in Germany. The vacancy rate in the office segment is just two per cent and prime office rents have increased by around 55 per cent over the past ten years. Prime rents in Bonn have now reached the same level as Cologne," said Alejandro Obermeyer, head of Investment Management DACH at Union Investment Real Estate GmbH. "Overall, the conditions are excellent for a successful long-term investment. With a wide range of real estate funds focusing on Germany, we are able to structure major investments of this kind in a number of ways. This allows us to create flexible, reliable solutions for our transaction partners."
By 2022, the site of the former Bonn Center will have been transformed into a complex comprising three buildings, one of which will feature a striking tower. Providing some 60,000 sq m of rental space, Neuer Kanzlerplatz is being built to the highest construction standards for modern working environments and will offer maximum flexibility. A large public square will connect the buildings and provide an inviting open space in which people can meet and relax. High-quality food outlets will further enhance the location on Bundeskanzlerplatz, generating added value for local residents and tenants. After planning permission was granted by the City of Bonn at the end of 2018, work subsequently began on the underground car park with its 950 parking spaces. The future complex has already been pre-certified Gold under the Leadership in Energy and Environmental Design (LEED) standard. This sustainability certification scheme developed by the U.S. Green Building Council promotes environmentally friendly and resource-efficient construction.
The largest of the three separate buildings on Neuer Kanzlerplatz in Bonn will be added to open-ended retail real estate fund Unilmmo: Deutschland. It will extend over a maximum of 28 floors and offer around 32,000 sq m of rental space. More than 8,000 sq m of space in this building is pre-let to Design Offices, a steadily growing provider of modern co-working spaces. Building 1 is scheduled for completion in spring 2022.
The two other buildings that make up the office complex each provide around 14,000 sq m of rental space and are being acquired by Union Investment on behalf of institutional investors. They are due to be completed in summer 2021. Building 2 will be added to the holdings of institutional open-ended real estate fund UniInstitutional German Real Estate. The building is fully pre-let to DB Privat- und Firmenkundenbank. Building 3 is being acquired for special fund DEFO Immobilienfonds 1. The building will also include a number of local amenities, with an area of some 2,600 sq m on the ground floor earmarked for café/restaurant use.
Source : Company