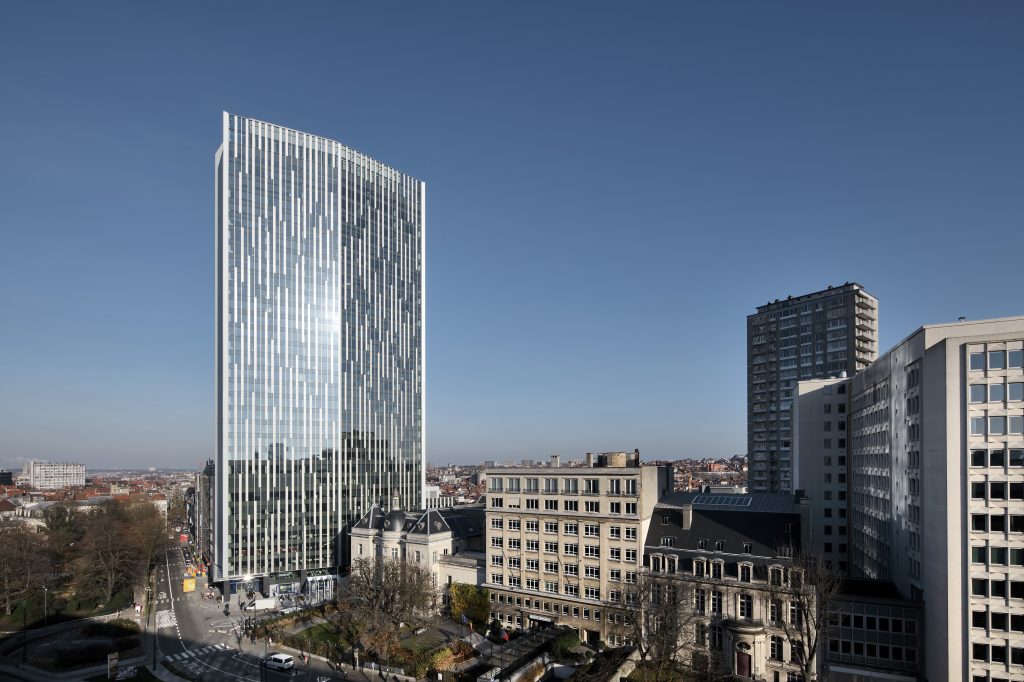 Astro Tower in Brussels has a new owner. Union Investment has acquired the landmark office building for its institutional real estate fund UniInstitutional European Real Estate. The vendor is PATRIZIA AG, who conducted the acquisition, asset management and now sale on behalf of one of its institutional individual mandate clients, South Korean consortium AIP Asset Management. The parties agreed not to disclose details of the purchase price.
At 107 metres high and comprising 30 office storeys, Astro Tower has been a feature of the Brussels skyline since its completion in 1976. After undergoing major refurbishment in 2015/16, it received the highest possible level of energy efficiency certification. The office building is strategically located on the inner ring road, at the intersection of the three main neighbourhoods in Brussels' central business district, and enjoys excellent public transport links. Astro Tower is fully let to Actiris, a public employment service agency, with 21 years remaining on the lease.
"We are delighted to have secured this extremely sustainable office building for our institutional real estate fund. With its long-term lease and its prime office location in one of Europe's most important markets, it ticks every box for a core investment," said Wolfgang Kessler, a member of the management team at Union Investment Institutional Property GmbH. "The fund attracted significant inflows when it recently opened for investment, and this transaction allowed us to promptly invest the money raised in a cash flow generating asset with a very stable value." The UniInstitutional European Real Estate fund has a volume of EUR 3.7 billion. The fund already holds The Precedent (formerly Le Président) office building and a Motel One hotel in Brussels.
Source : Company
PATRIZIA, on behalf of a South Korean consortium, sells Astro Tower, Brussels' first green office tower, to Union Investment
PATRIZIA AG, a leading partner for global real assets, has sold the shares of the company owning Astro Tower, a prime office building in the heart of Brussels, on behalf of one of its single mandate institutional clients, AIP Asset Managment, a South Korean consortium. Astro Tower was the first in the Belgian capital city to achieve the highest possible energy performance certification, following its refurbishment in 2015-16. The buyer is Hamburg-based Union Investment for its institutional fund UniInstitutional European Real Estate and both parties have agreed not to disclose the selling price.
At a height of 107 metres, or 30 office floors, Astro Tower has been part of Brussels's skyline since it was built in 1976. The office building is strategically located along the inner ring road at the crossroads of the three main districts in the city's CBD with very good public transport connections. The property also encompasses five levels of underground space with car parking and an archive area. It is let to Actiris, a public employment agency, with 21 years unexpired on the lease.
Suzy Denys, Country Manager and Director Transactions Belux at PATRIZIA, said: "Astro Tower is a highly sustainable office building let on an indexed lease and ticks all the boxes for investors seeking a core office asset in a core European city. The property was awarded a Grade A rating in 2016 for its energy performance."
Kim Sardar, Head of Single Asset Mandates and Director Fund Management at PATRIZA, said: "This sale marks the delivery of a successful round trip for our client, from acquisition in 2016. The Single Asset Mandates team at PATRIZIA provides an integrated, one stop shop for our clients, drawing together expertise from the full range of PATRIZIA teams from transactions, to asset and development management, and fund services. With a breadth of experience across the wider PATRIZIA EUR 48bn portfolio of assets and local teams on the ground, we identify and deliver investment opportunities across Europe, developing and actioning business plans on behalf of our clients."
Danny Kim, CEO of AIP Asset Management, commented: "The sale certainly demonstrated solid quality of the European assets with robust returns, further enhancing the level of interest in European assets among the Korean investors."
PATRIZIA's single mandate portfolio has grown significantly in the past five years to over EUR 3bn with a strong footprint across several major European cities, including London, Frankfurt and Brussels.
Source : Company