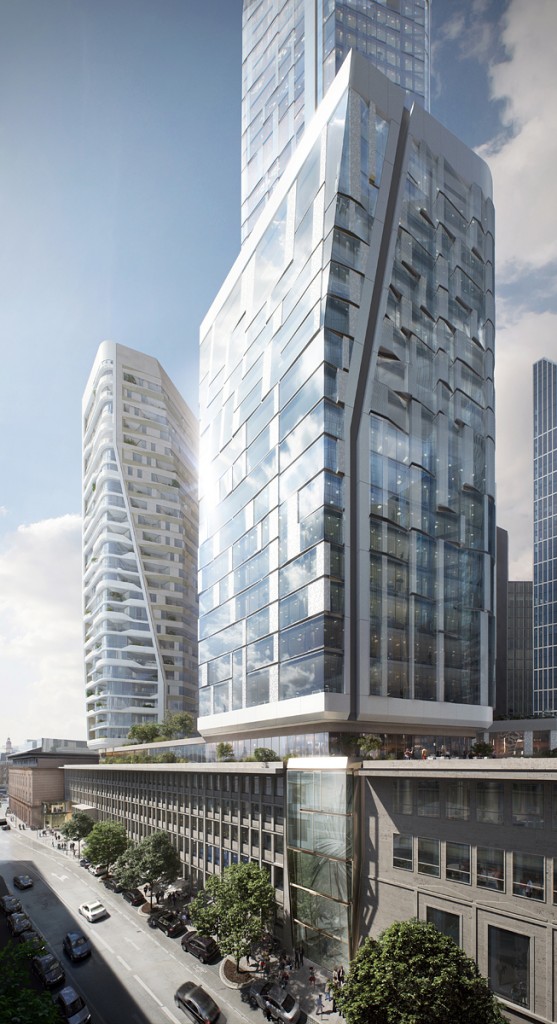 Union Investment is investing in a planned 100-metre-high office tower comprising 24,000 sq m of rental space in Frankfurt's banking district. The acquisition will be added to the holdings of open-ended real estate fund UniImmo: Deutschland and is one of four high-rise towers in the FOUR Frankfurt development currently under construction. It is also the first building in the new complex to be sold to an investor. Completion is scheduled for 2022. The vendor and project partner is developer Groß & Partner. The purchase price was not disclosed. Union Investment was advised on the deal by Savills, Hogan Lovells and P+P Pöllath & Partners.
"Our investment in this development project is our largest real estate transaction in Frankfurt for more than ten years," said Alejandro Obermeyer, head of Investment Management DACH at Union Investment Real Estate GmbH. "We are taking advantage of what is currently a rare opportunity to purchase a premium property at an early stage of construction for our flagship fund, which focuses on commercial property in Germany." Chief Investment Officer Martin J. Brühl added: "Acquiring development projects and contributing our own expertise has been one of Union Investment's key strengths for many years. It is benefiting us enormously in the current market phase in Europe and beyond. We recently acquired the Grand Central development at Saint-Lazare station in Paris, which is of a comparable size and has a similar construction period."
The building was already more than 35 per cent pre-let at the time of the transaction. Law firm Baker McKenzie is set to occupy around 8,200 sq m of space in the finished building. The office tower will be 100 metres high and comprise 25 upper floors. The property also includes 105 parking spaces in an underground car park shared by the buildings in the new ensemble. The office tenants access the building from Junghofstraße via a prestigious multi-storey reception area featuring glass, steel and natural stone elements. This is located in a five-storey base building with a heritage-protected façade dating from the early 1960s. Around 930 sq m of space in the base building is earmarked for retail outlets, restaurants and cafés.
The FOUR Frankfurt high-rise complex in the heart of downtown Frankfurt is unique in Europe. Designed by Amsterdam-based architects UNStudio, the development comprising four new high-rise towers connected by a multi-storey base building is being constructed in the centre of the city's skyline between Junghofstraße, Große Gallusstraße and Neue Schlesingergasse. Around 4,000 people will work in the innovative and sustainable neighbourhood, with up to 1,000 people living there. Around half of the space under construction is intended for new offices. The rest will consist of approximately 650 apartments as well as hotels, restaurants, shops, local amenities and public areas. Demolition work is currently under way at the site, with the entire ensemble scheduled for completion in 4–5 years. The 100-metre-high office tower faces Opernplatz to the north and Goetheplatz to the east.
Including this development project, Union Investment now holds 15 commercial properties in Frankfurt across the office, hotel, retail and logistics sectors. At 24,000 sq m, the newly acquired project will be the largest office property in the Frankfurt portfolio, being just slightly bigger than the 23,000 sq m MainTor Porta in Weißfrauenstraße, where Union Investment itself is the tenant. Other recent acquisitions in Frankfurt include the 3,200 sq m office building at Kurt-Schumacher-Straße 31, which was acquired for a special fund, and the Hyatt Place Airport hotel in Gateway Gardens, which opened at the beginning of 2018 and is part of the UniImmo: Global fund.
Source : Company