Union Investment has acquired the Eclipse office tower on Kennedydamm in Düsseldorf. The landmark building enjoys a highly visible location and is close to completion. The acquisition will be added to the holdings of open-ended real estate fund Unilmmo: Deutschland. The seller is a joint venture between die developer Projektentwicklung and Oman Investment Authority. The parties have agreed not to disclose the purchase price.

"The Eclipse is a landmark building that will be competitive in the longer term. It offers modern, flexible office space and a high level of sustainability. Given that the supply of high-quality office space remains limited in Düsseldorf's premium locations, we expect prime rents to continue to rise," said Alejandro Obermeyer, head of Investment Management DACH at Union Investment.


Completion of the 60-metre office tower at Georg-Glock-Straße 22 is scheduled for the end of October this year. The building is triangular in shape, with 16 floors offering some 27,500 sq m of rental space in total. It is located on one of the main arterial roads in the sought-after Kennedydamm submarket, which links the city centre to the airport.

The architecturally and structurally attractive "office building of tomorrow" features state-of-the-art office configurations and collaboration zones, plus multi-level atriums and roof terraces on the 13th and 15th floors with panoramic views. The property is already around 90 per cent let. The main tenant is audit company PricewaterhouseCoopers.

The landmark building has been designed with quality and sustainability in mind. Solar panels on the roof supply green electricity to the office tower's common areas, 46 electric charging stations are available in the underground car park and there is a green bicycle garage (also with charging stations) plus green roof terraces. The building is controlled using smart building technology. In addition to DGNB Platinum certification, DGNB Diamond status is being sought for the property's outstanding design quality and contribution to the local built environment.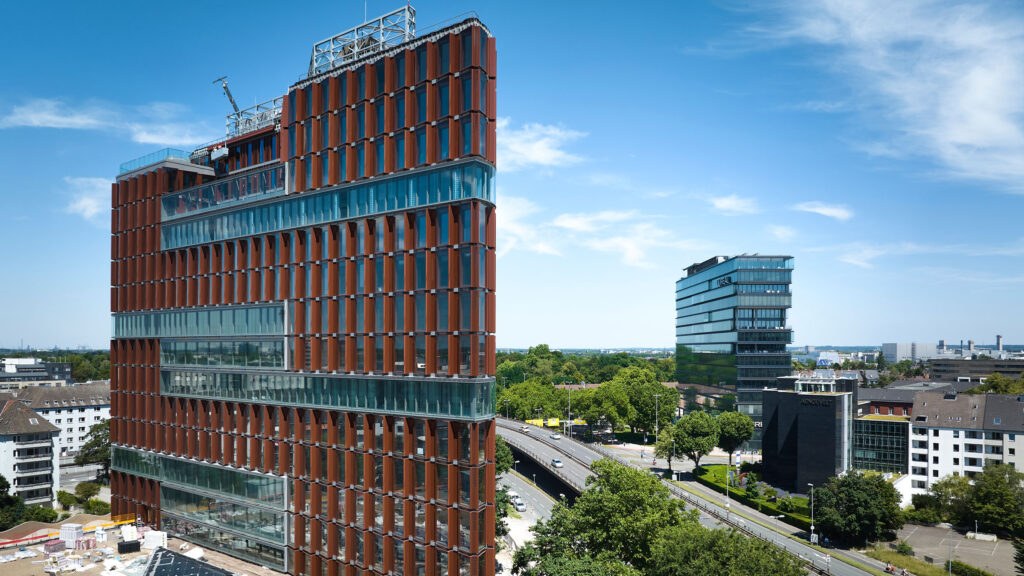 Source : Union Investment.