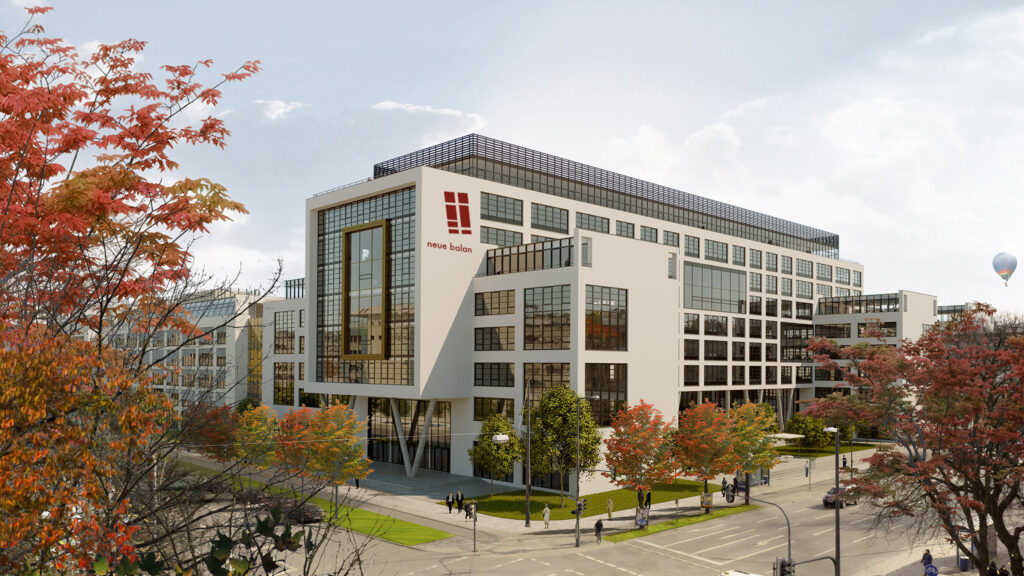 ---
In one of the largest individual transactions in the German office property market so far this year, Union Investment has acquired the planned "Neue Balan Haus 27" office building in Munich. The acquisition will be added to the portfolio of open-ended real estate fund Unilmmo: Deutschland. The transfer of rights and liabilities (closing) is scheduled for the beginning of March 2021. The vendor is Allgemeine SÜDBODEN Grundbesitz AG. The parties agreed not to disclose details of the transaction, but the purchase price was over EUR 100 million.
The site on Balanstraße formerly occupied by the Infineon headquarters building has been transformed into a vibrant campus spanning some 8.5 hectares and including a 50-metre pool and a total of around 170,000 sq m of space for offices, food outlets, retail and fitness, as well as a university and a Montessori school. Haus 27, located at the junction of St.-Martin-Straße and Balanstraße, will offer 32,151 sq m of attractive office and display space spread over nine floors and inspired by the Bauhaus architectural tradition, with sky gardens and roof terraces. There will also be parking for 330 cars on two basement levels. Completion is scheduled for the first quarter of 2021, after which tenants will be able to move in. The property is already around 60 per cent let, with the vendor providing a rental guarantee for the remaining unlet space. The main tenants who have already committed to the building are Autodesk, a software company, and Jameda, an online advertising portal for the healthcare sector.

"The Neue Balan campus is a compelling work-life balance concept offering a high degree of flexibility. This type of development is rare in Munich. The space caters to the latest requirements of many national and international SMEs and start-ups," said Alejandro Obermeyer, head of Investment Management DACH at Union Investment Real Estate GmbH.

The "Neue Balan" complex, which received the "Building Healthy Places" award from the Urban Land Institute (ULI), has been under development since 2007. Together with the neighbouring districts of Werksviertel and Berg am Laim, it forms a varied, sought-after office cluster within Munich. The area benefits from excellent transport links: Ostbahnhof station and the Werksviertel district can be reached on foot, the Karl-Preis-Platz subway station is ten minutes' walk away and the St.-Martin-Straße suburban rail station is just five minutes' walk.

The acquisition is further proof of Union Investment's commitment to the German office property market. Acquired by way of forward purchase, the Munich development project is Union Investment's third major investment in Germany this year following the purchase of the Ericus-Contor building in Hamburg and the acquisition of the Medicus portfolio. Union Investment currently manages an office property portfolio in Munich worth around EUR 2 billion.


Source : Union Investment Real Estate