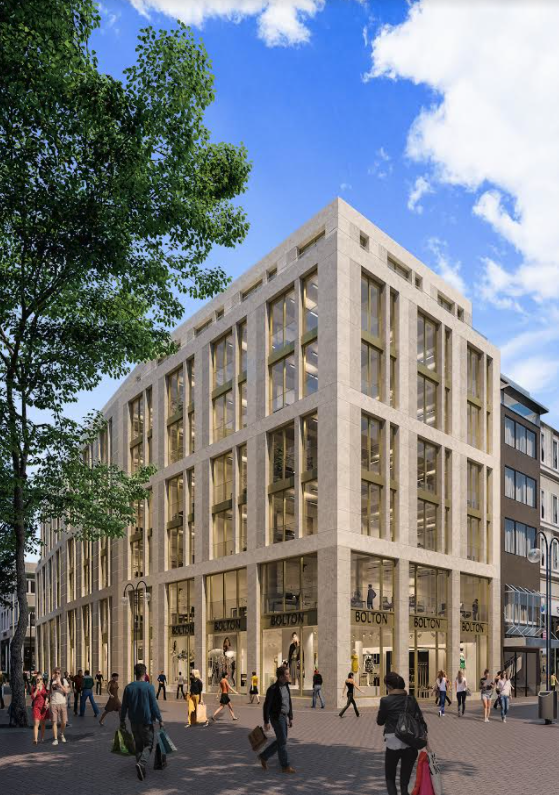 Union Investment has secured a planned office and commercial building on Schildergasse, a well-known shopping street in Cologne, via a forward funding deal. The property at Schildergasse 56–58/Herzogstraße 2–12/Perlenpfuhl 39 is expected to be completed in 2024 and will offer 6,950 sq m of rental space. The acquisition will be added to the holdings of open-ended real estate fund Unilmmo: Deutschland. The vendor is a project company operated by the Bauwens Group.
Following completion in 2024, the seven-storey building will provide a total of 5,450 sq m of office space and 1,500 sq m of retail and storage space. There will be terraces on the first, third and fourth floors, as well as a roof terrace on the sixth floor with a view of the cathedral. The building will be taxonomy compliant and have Gold certification from the DGNB (German Sustainable Building Council).
The offices will extend from the first floor to the sixth floor and it will be possible to divide them into rental units of different sizes. The 930 sq m of retail space on the ground floor and around 550 sq m of storage space in the basement are already let to Deichmann, a major shoe retailer, for a period of ten years.
The office and commercial building is located in the heart of Cologne city centre and has excellent transport links, with the public transport hubs of Heumarkt and Neumarkt only a five-minute walk away. Cologne's main railway station, which offers regional and long-distance rail connections, can be reached on foot in just 11 minutes. There are also various multi-storey car parks and parking spaces in the vicinity.

Source : Company