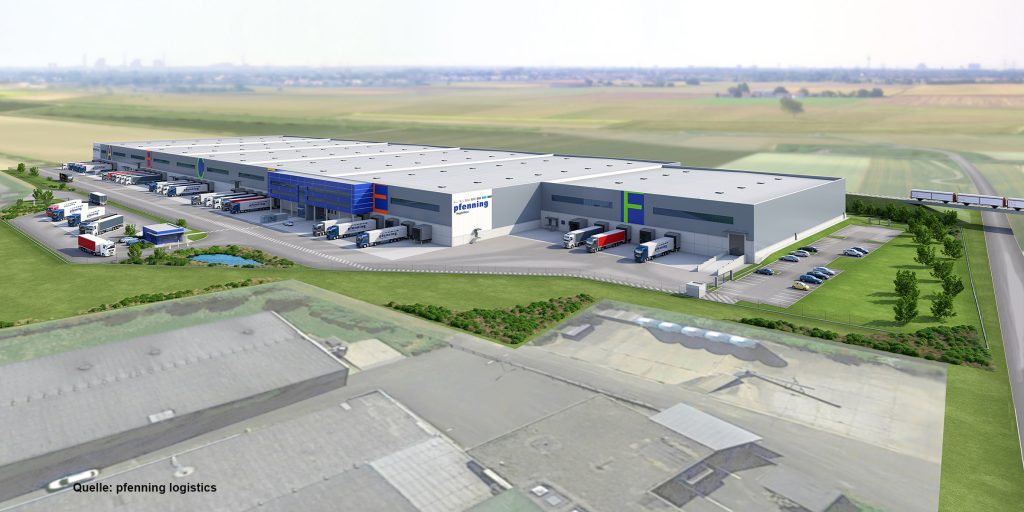 Union Investment has acquired a logistics centre currently under construction and comprising 63,000 sq m of rental space in Monsheim near Worms, in Rhineland-Palatinate. Completion of the property is scheduled for the end of 2018. The vendor and future user is pfenning logistics GmbH. The logistics service provider will initially lease the building for a period of 15 years. The acquisition is being made on behalf of open-ended real estate fund Unilmmo: Global. This is the fund's first logistics property and will further diversify its portfolio. The purchase price was not disclosed.
"The logistics centre in Monsheim is being developed by pfenning logistics to a high specification, resulting in a correspondingly high level of construction quality. Our confidence in that quality is reflected in our early acquisition by way of forward funding," said Alejandro Obermeyer, head of Investment Management DACH at Union Investment Real Estate GmbH. "In addition, the general area is one of the most sought-after logistics locations in Germany and therefore provides excellent conditions for a long-term investment."
The new logistics centre will be called multicube rheinhessen. In 2012, Union Investment acquired the 123,000 sq m multicube rhein-neckar facility in Heddesheim, approximately 40 kilometres away, for Unilmmo: Europa. Union Investment has recently made several investments in the logistics segment as a strategic addition to its portfolio. In 2017, four logistics centres worth a total of EUR 142 million were transferred to the holdings of three different real estate funds.
The 63,000 sq m of rental space in multicube rheinhessen consist of 55,000 sq m devoted to logistics, approximately 7,000 sq m of mezzanine space and 1,500 sq m of offices. A clear ceiling height of 12 metres and above-average floor load capacity of six tonnes per square metre ensure that a wide range of logistics services can be carried out. Gold DGNB certification will be sought for the completed building.
Source :   Company