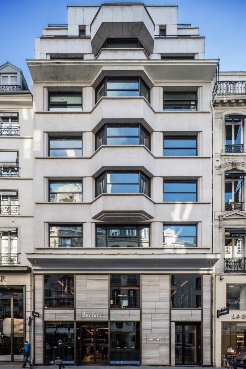 AEW announces the acquisition of a mixed-use building located at 9 rue du Faubourg Saint Honoré in the 8th district of Paris. The asset was acquired on behalf of two French institutional investors, one of which is Assurances du Crédit Mutuel (ACM).
The 2,750 sqm building comprises both office and retail space, with the upper floors being leased to several reputable tenants.
The property is located on an attractive part of the Rue du Faubourg Saint Honoré, the historic heart of Parisian luxury, and is the flagship store of the Berluti brand (LVMH group).
William Kerganevet, Investment Director at AEW, commented: "This acquisition demonstrates that AEW remains convinced of the relevance of the retail sector as a strategic asset class, while remaining extremely selective about its investment criteria."
AEW is one of the world's largest real estate asset managers, with €68.2bn of assets under management as at 30 June 2019. AEW has over 700 employees, with its main offices located in Boston, London, Paris and Hong Kong and offers a wide range of real estate investment products including comingled funds, separate accounts and securities mandates across the full spectrum of investment strategies. AEW represents the real estate asset management platform of Natixis Investment Managers, one of the largest asset managers in the world.
As at 30 June 2019, AEW managed near €31.9bn of real estate assets in Europe on behalf of a number of funds and separate accounts. AEW has over 400 employees based in 9 offices across Europe and has a long track record of successfully implementing Core, Value-Add and Opportunistic investment strategies on behalf of its clients. In the last five years, AEW has invested and divested a total volume of over €20bn of real estate across European markets.
Source : Company